This Month: Astrological Trends * Free Guided Meditations * Inspiration

January 2016 Astrological Trends
This month the Sun snuggles up to Pluto in Capricorn as we usher in the New Year. Through January 10th, while Mercury turns retrograde and Mars and Venus make many wild and crazy aspects, it appears wiser to focus on the still, solid glow of this solar aspect that highlights what we would like to build in our lives. While we practice not believing everything we think, we can instead focus on the heart. The Sun rules our heart, and Pluto in Capricorn, our bodies. When we allow the virtuous pleasures of observing our own unique states of being in order to care for ourselves and others, we're well on our way to building a better world—in the brick-by-brick, day-by-day Capricornian manner that is so powerful as it accumulates over time. The beginning of 2016 can be used to start habits that our physical bodies and spiritual bodies have been longing to implement in order for us to make progress in clicking further into alignment with our Dharma. Particularly, you can make an alter or light a candle on the New Moon in Capricorn on January 9 (6:30 P.M. MST) in order to solidify new and healthy habits and make highest use of this letting-the-body-lead-the-way energy. Listen to your body; enjoy simply being. Avoid the intellect.
The alternative opening act to the month is rather chaotic; I wouldn't recommend it. Unless you take control of your inner state of being, it's possible to face being buffeted by the many outer storms that appear all around you in the environment. Again, the antidote is to stay centered within yourself, knowing that chaos is an illusion, a temporary test to withstand, and ultimately (like Buddha striking the ground against Mara's illusion as his last act before enlightenment) you will find your connection through earth's/Gaia's and/or Spirit's oneness with you. It is humbling to realize we are only as magnificent as everything else—equal to and a part of nature—and it is also boundless and joyful. It means learning the art of allowing and releasing the acts of controlling that have been installed in us like software programs that need to be uninstalled carefully and completely so we don't have too many glitches. Personally, I require a lot of rest and reboots along the way.
If you can avoid life-changing decisions in favor of seeking out inspirational art, videos, audio, etc., that's a nicer use of the Venus-Neptune square and the Mercury Retrograde energy occurring on January 5-6. Also, Mercury will be in square aspect to Mars, so drive safely and defensively, practice loving kindness instead of getting caught up in frustration. Give others a lot of latitude. They might not know they're in a chaotic storm of astrological energy during the first week of January. It's a good time to watch your thoughts go by like they are clown cars on a dysfunctional freeway, and just laugh at how silly they are; especially if they're on a fast loop to nowhere.
The second week, it will feel like puzzle pieces have clicked into place. On the 12th, Venus shifts into a trine aspect with Uranus in Aries, and an unexpected event in the area of relationships, creativity, or finances could occur that is fortunate for you. At the same time, you'll feel the time is right to resolve or let go of something painful in favor of something more positive, as Venus sits in square aspect to Chiron. Cooperation blooms, with Mercury trine the North Node. Then people's good judgment returns in full force on the 14th as Mercury trines Jupiter. The sun then trines the North Node, adding fire to the energy of working together. All the chaos up through the 10th looks to change from cold hard butter to smooth, spreadable butter… It's a magical change of state!
The latter half of the month slows considerably, with two conjunctions of Mercury to Pluto on Capricorn as Mercury hovers in Capricorn before it turns direct on the 25th. From January 18th forward, life asks us to live contemplatively on a deeper level than we've been able to for a long time. Probing the structure of our thoughts and habits, and exposing our personal vulnerabilities in order to deeply analyze how we can grow into the next level of being are the tasks laid before us. Courage and love (for self and others) are required during the last half of the month. Utilize all the resources your have—meditation, support groups, solitude, getaways—and make the most of the support for reforming your inner world. It can be a joyful process.
The Sun enters Aquarius on January 20, which can provide innovative ideas and allow you to feel your uniqueness. It's a good time to enjoy humanitarian pursuits, astrology, electronics, networking (social or electronic), and friendships. Deep conversations may be part of what occurs during the final portion of January.
The Full Moon on January 23 (6:45 P.M. MST) in Leo links back to the idea of living with heart—again, Leo rules the heart—and adds to the theme of relaxation and letting go at the end of the month. Venus also enters Capricorn on this day, again solidifying the link between Capricorn and Leo this month—the heart and the body. Allow yourself to review how your new habits are working for you. Are you inspired? Make sure you fill up with inspiration on the full moon. Think about your relationship with your body and your responsibilities to yourself for the coming year. How will you take very good care of yourself in order to be a shining presence in the world? Self-care is the key to all good works, and it's quick and easy to get off track when external influences pile on.
Perhaps one of the highest uses of the end-of-the month quieter energies could be planning and strategizing.
On the last, final day of the month, astrological energy bursts forth! With the Sun conjunct Venus and Mars sextile Pluto, this is a romance day—and a sexy one at that—so that there's a possibility to meet a partner, or just have a fabulous date night loving the one you're with!
Enjoy the back and forth in January! It should be an interesting month and New Year.
Meditation
Free this month:
Capricorn and the Temple of the Elemental Carrot Guided Audio Mediation
The Eternal Fire: Leo Chile Guided Meditation
Nurture Your Inner Child Guided Meditation
---
Want to read more? How about my article on Virgo at Kajama? "Leo Rules the Chile Pepper": Leo is fixed fire, and the planet ruled by Leo is the sun. It is the center of what we know to be life on earth. While we can't physically stare directly at the sun, we are free to stare right into the heart of Leo energy—it will hold us steady and gaze into our souls with grace and love. Get ready to FOCUS…
---
Inspiration
There's no such thing as selective emotional numbing. There is a full spectrum of human emotions and when we numb the dark, we numb the light. While I was "taking the edge off" of the pain and vulnerability, I was also unintentionally dulling my experiences of good feelings, like joy. Looking back, I can't imagine any research finding that has changed what my daily life looks like any more than this. Now I can lean into joy, even when it makes me feel tender and vulnerable, In fact, I expect tender and vulnerable.

Joy is as thorny and sharp as any of the dark emotions. To love someone fiercely, to believe in something with your whole heart, to celebrate a fleeting moment in time, to fully engage in a life that doesn't come with guarantees—these are risks that involve vulnerability and often pain. When we lose our tolerance for discomfort, we lose joy. In fact, addiction research shows us that an intensely positive experience is as likely to cause relapse as an intensely painful experience.

As the sharp edges have started to come back into my own life, I'm learning that recognizing and leaning into the discomfort of vulnerability teaches us how to live with joy, gratitude, and grace. I'm also learning that the uncomfortable and scary leaning requires both spirit and resilience.

Feelings of hopelessness, fear, blame, pain, discomfort, vulnerability, and disconnection sabotage resilience. The only experience that seems broad and fierce enough to combat a list like that is the belief that we're all in this together and that something greater than us has the capacity to bring love and compassion into our lives

It's not about denominations or dogma. Practicing spirituality is what brings healing and creates resilience. For me, spirituality is about connecting with God, and I do that most often through nature, community, and music. We all have to define spirituality in a way that inspires us.
Brene' Brown, "The Gifts of Imperfection"
---
Nourishing Recommendations
You can learn so much about Tarot from Susyn Blair-Hunt, my wonderful mentor, in her book, Tarot Prediction & Divination, Unveiling 3 Layers of Meaning.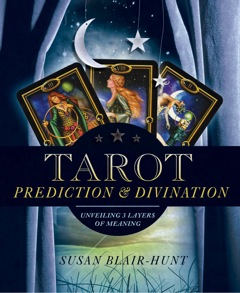 (Llewellyn also publishes the best selection of Tarot decks that I've discovered.)
---
Homeopathy and Core Synchronism have changed my life. First, I was immediately able to breathe after experiencing asthma-like symptoms for years. Many other improvements followed. Here are practitioners I recommend:
Eva Lipton-Ormand, CHoM, CCSP - in Albuquerque, NM
Elizabeth Battarbee of Flourish, Doctor of Homeopathy - available via Skype everywhere and in-person in Louisiana!
---
Elise Hensley, LISW, an amazing healer, specializing in EMDR and Neurofeedback. Elise is one of only a few people trained in Neurofeedback in our area. She is someone who is a skilled and amazing mentor. Better yet, your insurance may cover your sessions.
---
Thank you for enjoying this month's newsletter! You can contact me anytime via email: domikajama@gmail.com for consultations. Visit at Intuitivemoon.com.
Be well!
Blessings,
Dominique
Read in browser »
Recent: