This Month: Astrological Trends * Meditation * Recipe: "Red and Green Gizzards" 
December 2015 Astrological Trends
The big news this December is that the Cancer full moon will fall on Christmas day at 4:11 a.m. MST. There hasn't been a Christmas full moon since 1977, and will not happen again until 2034. Generally, a full moon will fall on a particular day of the month every 19 years, but we're just clicking back into pattern after being out of sync for December 25. For 38 years!
The Cancer full moon is all about nurturing, and I suggest nurturing as a theme for the winter holiday. The stars are not so oriented this year toward ostentatious shows of affection, such as lavishing others with expensive gifts. Instead, the charts I'm observing are asking restraint of the pocketbook and generosity of the heart and soul. Finding ways to reach out and discover how we can truly be a warm presence in the world will be the best present we can give during the cold season holidays.
The New Moon in Sagittarius on December 11 is a day when you may wish to do a little Christmas shopping if you do need to buy some items.
At the beginning of the month, life may feel a little like a stopped-up sink because Saturn in Sagittarius is snuggling up to the Sun for the first few days, reminding us to keep at our tasks. Also, Mars will be in square aspect to Pluto from December 5th through December 10th, which will ask us to be patient despite our desire to move forward. We will want to go faster while the Capricorn and Saturn energy will require us to complete our tasks, dot every "I" and cross each "t." We may as well take a deep breath and dive into the mess to do our part to straighten it out! The days won't last forever even though they may feel heavy.
Saturn is still square to Neptune in Pisces. You may experience this in a couple different ways. Some people may experience this aspect as a tension between reality and fantasy. Others may experience this as an opportunity to dream form into being. You can use dreaming and day-dreaming to bring form to your imagination. On December 21, this aspect moves out of orb so any tension should decrease after this date.
There is an archetypal pattern occurring this month from the first through the 20th that occurs repeatedly and we can view it like a watercolor painting this month, if we would like to flow with its colors. First, we will see the faster planets (Mercury and then the Sun) square Chiron in Pisces and Trine Uranus in Aries as the month opens. Then, the fast-moving planets will activate square, or stress, aspects to Jupiter in Virgo and then the North Node in Virgo. Additionally, Mars in Libra activates Uranus in Aries with an opposition (which occurs once every two years) and also touches on Chiron, which is the point of our wounds (individual and possibly collective as it sits in Pisces).
The brush of our watercolor painting will turn to our pain first. What has wounded us, or what is bringing us pain now? We may revisit how we came to be who we are, and what uncomfortable experiences formed us. This begins on a mental level with Mercury but soon moves into a deeper place as the Sun activates the series of aspects and brings light. This leads to new thoughts and insights—insights that may surprise us with the Uranus influence.
New events may occur from outside, as well, that surprise us. These are inspiring new and pioneering scenarios and solutions that fire us up.  Then, we find our daily lives changing and expanding in ways that are perhaps unexpected through the Jupiter aspects along with the Sagittarius influence. We could find these changes and adjustments stressful at first, but they are cleansing for our lives even if they feel big right now. Then, as the energy moves into the North Node influences, our decisions and destiny intertwine and we realize we are acting in service to our Karma and the depths of our lives at this time. It can be surprising that suddenly we are holding very important responsibilities in our arms and hands, but if we just use our bodies and hearts to help us guide the ripples of the new colors mixing into the watercolor painting of our life stories, we will be led through beautifully.
The Mars influence occurs December 10th through December 14th, highlighting issues of justice and/or harmony—Libra themes.  A strong need for harmony may arise, either within you personally or collectively. You may feel ready to take action related to balancing out your life for greater harmony, or to make your life more beautiful. The "art of living" is a Libran concept. (It may also feel that you are indecisive, but you'll feel better after mid-month about any decisions.)
Mercury walks through this pattern the first ten days of the month. Mercury is the mental, the intellectual expression of energy. The Sun walks through this pattern from the seventh through the 20th of December.  The sun is the heart, the expression of the true self. Venus supports the depth of these transformations with a trine to Chiron and a sextile to Mercury on December 18 – December 20 from Scorpio. Venus then enters into a sextile relationship with Jupiter from December 22-December 25, adding even more fortunate energy to the mix, as Venus and Jupiter together are the two major beneficial planets in the zodiac. This adds a level of supportive, beneficial energy where relationships may come into the process—either in the form of interaction or art/finance. You may want to use art therapy if you have no other way to express or process your individual journey through these astrological archetypes. Others may naturally be dealing with supportive people as this is the holiday season.
On December 21, The Sun moves into Capricorn, which brings earth energy into focus.
On December 27, Jupiter and the North Node begin to come into conjunction in Virgo. They're very close to one another for the next months, and in June will be in exact alignment. We can count on exponential growth in the area on our life where this is occurring. (If you'd like to know where this occurs in your personal chart, Kajama.com has astrologers who can help you develop your personal astrology chart.)  For the next year, we will be experiencing an intense personal passion wherever Virgo occurs. This is a destiny aspect—we will feel a hunger in that area to develop.
With Mars squaring Mercury on December 28 through December 30, it's a good time to realize a lot of people may be experiencing a high level of frustration (I wanted to write petty frustration, but frustration never seems petty at the time it's experienced, does it?). Our job as light workers (or whatever your favorite term may be for yourself) on these days will be to realize people are doing the best they can and to use our skills to add peace into the world instead of fall prey to frustration. Who needs that? It's a great opportunity to practice a spiritual approach – even preventive spirituality—with those closest to us. Wrap them in spiritual energy before they go out the door. Carry a favorite crystal for fun. Use a new essential oil with protective properties. Make it fun and light and full of freedom.
Venus moves into Sagittarius on December 30. Ironically, money will be flowing with greater ease in January, with Venus in Sagittarius, than in December!
Meditation
Free this month:
Libra – Scorpio – Nurture Your Inner Child Guided Meditations!!
www.intuitivemoon.com – Check it out!
Scorpio and the Layers of the Onion Guided Meditation
Nurture Your Inner Child Guided Meditation
The lotus flower is a water lily that grows in the sludge of muddy waters. It's a symbol that reminds us: there is no path to peace; peace is the path. Winter is a season when we often meditate on peace and rest. We think about forgiveness, gratitude, and compassion. We watch the season outside and feel grateful for the comfort that we enjoy. We consider what we can give and the gifts that we have to offer. We make sacrifices for others. We find the grace in our hearts to give and to receive.
Where there is coldness this season, let us bring warmth.
Where there is curtness this year, let us bring kindness.
Where there is a lack of wisdom, let us meet it with patience.
Where there is anger and frustration, let us dissolve it with love.
Great spirit, let our gifts this year be warmth, kindness, patience, and love.
Allow every cell within us to be suffused with them, to emanate light.
May we bring joy to every moment and transmit the beauty of being
to all whom we touch. In deepest gratitude, we offer this winter prayer.
---
Want to read more? How about my article on Virgo at Kajama? "Lettuce Develop the Virgo Vibe" : Virgo is the mutable earth sign in the zodiac, ruled by the planet Mercury. Virgo rules the hands, and in Virgo, Mercury expresses itself as the alchemist and as the archetype of the Egyptian god Thoth, the mentor of Isis, who taught her healing arts. Virgo energy seeks to balance body, mind and spirit. With Virgo, get ready to DEVELOP…
---
Nourishment for the Body and Soul
Red and green gizzards, straight outta New Mexico, can be served over a bed of greens, mixed with pasta (pictured here) or spooned over rice. On its own, it's gluten-free. It's a unique protein alternative loaded with iron, and also treats gizzards without the usual breading and frying. If you have a gizzard-lover in your household, or if you've never tried them and you want an exotic moment, here's an idea for you.
Red and Green Gizzards
Yield: About 8 servings
Ingredients:
2 TBSP butter (unsalted)
1 large red onion, diced
4 stalks celery, sliced
1 ½  cup dry red wine
32 oz. chicken stock
½ cup to 1 cup chopped green chiles (can be fresh or frozen)
3 cloves garlic, minced or frozen
16 oz. chicken gizzards
3-4 leaves from the sprigs of fresh thyme
¼ tsp black pepper
Directions:
Melt butter in a Dutch oven or large pot. Sauté the diced onion and celery in the butter over medium heat until the onion is soft and translucent, about 5 minutes. Add green chile and garlic. Cook for 2-3 minutes.
Pour wine and cook off alcohol over medium high heat for about 3 minutes.
Lower heat to medium again Add chicken gizzards and chicken stock, thyme and black pepper. Bring to a soft boil.
Lower to a medium-low. (Do not cook this at too high a temperature or the chicken gizzards will be too chewy and hard to eat.) Cover and cook for about 2-3 hours.
Serve over greens, pasta, or rice.
Nourishing Recommendations
You can learn so much about Tarot from Susyn Blair-Hunt, my wonderful mentor, in her book, Tarot Prediction & Divination, Unveiling 3 Layers of Meaning.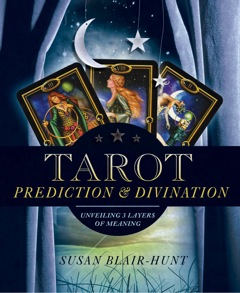 (Llewellyn also publishes the best selection of Tarot decks that I've discovered.)
---
Homeopathy and Core Synchronism have changed my life. First, I was immediately able to breathe after experiencing asthma-like symptoms for years. Many other improvements followed. Here are practitioners I recommend:
Eva Lipton-Ormand, CHoM, CCSP - in Albuquerque, NM
Elizabeth Battarbee of Flourish, Doctor of Homeopathy - available via Skype everywhere and in-person in Louisiana!
---
Elise Hensley, LISW, an amazing healer, specializing in EMDR and Neurofeedback. Elise is one of only a few people trained in Neurofeedback in our area. She is someone who is a skilled and amazing mentor. Better yet, your insurance may cover your sessions.
---
Thank you for enjoying this month's newsletter! You can contact me anytime via email: domikajama@gmail.com for consultations. Visit at Intuitivemoon.com.
Be well!
Blessings,
Dominique
Read in browser »
Recent: