This Month: Astrological Trends * Meditation * Spring Cleaning Secret Recipes 
April 2015 Astrological Trends
April ought to open with one of those comic book bubbles reading "POW!" on April 4 with the Lunar Eclipse stirring up major sensitive points that have occurred recently. After April 4, everything will change, in essence. Look for big things to occur and then for things to quiet down again.
So if you are thinking of aligning yourself to anything that has to do with something like your life's purpose or a revolution of everything… Here you go! And then the fallout will keep you busy for a while. Eclipses generally have an effect that lasts about six months, according to Susyn Blair-Hunt.
Things will happen fast. They are rather destined. Meant-to-be. I guess we can relax within the shift. You may already have a sense of what the shift will look like in your life, since the Uranus-Pluto square has been occurring for the past few weeks. It could be that things you have planned simply come to pass. You may find things you have been waiting on will get the go ahead.
If you find yourself encountering anything that looks like a challenge or an obstacle, I think you can be assured it is simply a step along a path to a greater outcome in the future. It's a calling to a new level of understanding in its disguise as a setback. Instead, it simply means you're on a new level of operating and have gone to the next set of lesson plans after mastering the last level. You need new tools for this job—the old tools won't be appropriate any longer. So what worked once may not work anymore. It's time for new skills. It's a kind of spiritual and experiential Spring cleaning and clearing. You are being shown and led to what you can let go of.
On April 18, the new Moon in Aries offers us the chance to activate new beginnings. Use the time from April 18 onward to make a shift into your dream life. You have lots of power to manifest with the Sun moving into Taurus on April 20, just a few days later.
Allow yourself the gift of envisioning the world you wish to inhabit, and use the latter half of April to put the pieces into place.
Meditation
As long as we are alive, learning, and experiencing new things, we can get ready to encounter situations that kick off waterfalls of emotions inside us. Sometimes these emotions veer into territory that requires our attention, such as sadness, hurt, anger, confusion, worry, or fear. For those of us who carry empathic qualities, it's even more critical to develop methods of processing emotional energies.
One thing to know about emotional energy is that there can be a constant stream of emotions running through your system / body just like there can be a constant stream of thoughts running through some people's brains. The world has developed the term "mindfulness" to describe the management of a busy or chaotic mind. What is the term to describe the much more powerful electromagnetic effect of a well-managed heart?
Various people may use the same term to describe the fact that they have gone into their feeling-state to calm their hearts and feelings, as well. It's important to know that until we shift into FEELING calm and neutral, we haven't really shifted into a new place. It's not enough to change what we're thinking about and/or distract ourselves.
It takes some time and internal focus to change how we are feeling. Here is one method to manage a return to a neutral state of being after experiencing and emotional firestorm.
"Don't Feed The Animals"
Like with wild animals, it's important to avoid offering our wild emotions any further energy, or "food," than they already have. Otherwise, they will be encouraged to stick around for more!
Step 1: Take time out to name what you are experiencing / feeling. I can't tell you how many times I've glossed over or ignored or deferred my feelings in favor of getting through the day, or being nice, or putting the other person first. We needn't take any immediate or uncomfortable action or share our feelings, but naming them for ourselves is a crucial step in self-regulation. I failed to do this for so many years, in fact, that for a long time I could not even recognize that I could feel angry anymore! This resulted in my body holding the anger because my consciousness could not name it. Here is a list of some of the uncomfortable feelings that come around from time to time that might help you when you are at the point when you need to name one of them:
Afraid
Numb
Resistant
Tense
Worried
Sad
Angry
Depressed
Resentful
Guilty
Anxious
Overwhelmed
Guilty
Bored
Blocked
Step 2: Breathe through your heart. With your eyes open or closed, imagine your inhale and exhale happening through your heart. For as long as it takes. With some practice, you may be able to slip into heart-breathing more quickly. Listen, it takes as long as it takes for me. Generally, when I am truly disrupted, I need about ten minutes at least.
The heart brings rhythm to our entire being. Its magnetic field is something like 5000 times stronger than that of the brain. The heart beat's electrical amplitude is 50 times greater than the brain's. So your heart can change your mind. When you bring your heart into alignment and harmony through focusing your breath and attention, the other systems in your body follow suit. I also believe the non-physical parts of you become aligned as well. Studies show that positive emotions—love, compassion, appreciation, caring—bring quick coherence to heart rhythms and improve cognitive performance. The key seems to be to feel these things and not just to have ideas about them. They need to saturate you.
Feeling them requires this quiet time of simply breathing in and breathing out. Allowing our attention to be funneled through our hearts allows a doorway into our bodies and beings that changes us so that we can begin to experience ourselves on an extra-intellectual level and perceive some new wisdom.
Step 3: Close the Emotional Energy Holes. Once we are able to establish breathing, we can scan our bodies from our feet up to the top of our heads to see where the pain exists. Emotional pain often manifests in our bodies. If we catch it early, we can neutralize and release it.
This is what I am labeling "closing the holes." It's the kind of language that ancient spiritual leaders and healers might have used to describe how they were healing an illness. They may have envisioned power being lost from us as energy holes were created in our spirit-bodies. I've actually learned a lot from ancient practices as compared to modern society when it comes to talking about emotions. However we want to envision emotional energy, it's very important to manage it.
Continue breathing and imagining closing holes any place(s) where you feel pain, tightness, a difference in temperature, sensitivity, or any odd or uncomfortable sensation. When you find that you feel fairly comfortable, warm, safe, loved, cozy, and/or neutral—you know you are at a stopping point.
Step 4: Lock-in change with a quick flush of appreciation. Say thank you to whatever you believe in, or simply thank yourself for putting in this effort toward your better day.
There.  You're finished. Energy shifted and released. (This was likely more complex to describe than it will be for you to practice.)
Also, even doing a little bit is good. Life can move quickly and sometimes we do what we are able in the moment. This sort of practice can be done a little at a time. You can practice Don't Feed The Animals repeatedly if you're busy. Even if you release a portion of your emotional charge, you've done a lot for yourself and for others.
The point is to gain a sense of freedom, flexibility, and power over time. Since we know we all will encounter things that challenge us, it's great to have a method to work it out.
You can practice these steps when you feel good so that when you're in a charged situation, you have built up the knowledge to fall into heart-breathing and closing up energy gaps easily.
Namaste!
Nourishment for the Body and Soul
This month we have a few Spring Cleaning Recipes! You may have used these ideas before, but perhaps they are new to you. These are the real-life cleaning solutions that have vexed me over the years. If you are tackling your Spring cleaning like we are, I thought you might like to know about them. I wish you all happy, shiny households this April!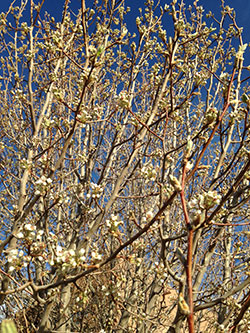 Clearing out the mold from your pipes
Important: DO NOT mix ingredients beforehand! LOL!
Ingredients:
½ Cup baking soda
about 1 Cup white vinegar
A funnel, if you like. I used a glass measuring cup with a pour spout. Vinegar can eat through plastics.
Directions:
Place baking soda down sink pipe slowly. Then slowly pour in vinegar. You will see a bubbling reaction! Don't worry; it's supposed to be this way! Let sit for about 15 minutes.
Next, run hot water for approximately 5 minutes. Then switch to cold water and run for a minute or two.
Repeat for each sink / tub / shower drain that you'd like to clean. I do this about once a year to scour and remove the mildew and mold from the drains around each sink, shower, and tub in the house as part of spring cleaning.
Garbage Disposal Sanitization
Ingredients:                         3 TBSP Borax
Directions:                Put borax down the drain of garbage disposal. Let it sit for an hour. Flush with warm water for 5 minutes.
Clean and Inhibit Mold in Corner of Ceramic Tiles
We have natural ceramic tiles around our shower, and every once in a while we need to watch out for mildew and a bit of mold developing around the caulking at the floor. If you have this problem, too, here is what I've learned to do periodically.
Make a thick paste with borax and water. Smear into moldy area. Let sit until dry, which could be overnight or even longer. Sweep up the powder and rinse off the rest with paper towels or disposable cloths. Dispose of paper towels/cloths.
Nourishing Recommendations
You can learn so much about Tarot from Susyn Blair-Hunt, my wonderful mentor, in her book, Tarot Prediction & Divination, Unveiling 3 Layers of Meaning.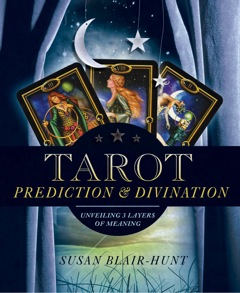 (Llewellyn also publishes the best selection of Tarot decks that I've discovered.)
---
Homeopathy and Core Synchronism have changed my life. First, I was immediately able to breathe after experiencing asthma-like symptoms for years. Many other improvements followed. Here are practitioners I recommend:
Eva Lipton-Ormand, CHoM, CCSP - in Albuquerque, NM
Elizabeth Battarbee of Flourish, Doctor of Homeopathy - available via Skype everywhere and in-person in Louisiana!
---
Elise Hensley, LISW, an amazing healer, specializing in EMDR and Neurofeedback. Elise is one of only a few people trained in Neurofeedback in our area. She is someone who is a skilled and amazing mentor. Better yet, your insurance may cover your sessions.
---
Thank you for enjoying this month's newsletter! You can contact me anytime via email: domikajama@gmail.com for consultations. Visit at Intuitivemoon.com.
Be well!
Blessings,
Dominique
Read in browser »
Recent: