This Month: Astrological Trends * Meditation * Recipe: "Microwave Cranberry Oat Bran Bowl" 
November 2015 Astrological Trends
November is time to pick up the thing you have wanted to do for so long there's probably an ache in your body because you've ignored it. Let the laundry sit a while, let the phone calls go to voicemail, don't try to please anybody else with elaborate meals (unless cooking IS your thing), and relax into yourself maybe for the first time ever. Allow the Mars and Venus conjunction with the North node in Virgo to pivot you into a new level of self-actualization in an easy manner as you use the energy from the universe to manifest and bring into reality the still, silent dreams that lurk inside the quiet, sacred corners of your being. It will probably turn out to be what the world needs most.
The month opens with this influence and it lasts well into the first week of the month and beyond. For a lot of people this may represent a creative pursuit that has been on the back burner. (For others, it may bring a new love interest or rekindle the passion in a current relationship—the traditional Venus/Mars meaning.) Mars and Venus are moving through the final degrees of Virgo together. On November 7, Venus will conjunct the North Node, the point of destiny that helps us unlock and unfold our karma in this lifetime. It's a window into our fate, a place where we can peer into what is called the "akashic records" in some circles. So what we feel compelled to do right now, with Mars in the mix, is likely a big part of our destiny. With the placements in Virgo, it's nice to know our egos are probably not in charge. Because Virgo is a fairly humble placement for these energies, a placement that gives us earthly expression and attunement, we can channel destiny right down from the heavens, through our spines and knees and feet, and into our lives in a way that can benefit us. This is provided the energies are in the hands of fairly well-managed spiritual persons here on the planet, which my readers tend to be!  Yay!
The beginning of November also brings a change of mental focus as Mercury changes signs from Libra to Scorpio, following the Sun to put focus on deeper, transformative thoughts and conversations. On November 6, Mercury will trine Neptune in Pisces, adding to the spiritual depth available the first week in November. During this time period, it is a fantastic time for the healing of the mind. Any kind of mental health practice is highly advised, from copious meditation to seeking therapies that help to relax your mind and nervous system. (Core synchronism which I recommend at the end of the newsletter each month is one method that I can personally recommend.) Simple writing, reading, listening to relaxing music, and tranquil walks or drives are also good methods to clear one's mental state.
Furthermore, Venus is entering Libra on November 8, and Mars is entering its exact conjunction with the North Node on November 9-10. Mercury, then, sextiles Pluto on the 9-10 of November. This set up is seriously asking us to consider how we are dealing with our minds and how gentle we can be within ourselves in order to take depth of action. The HeartMath Institute teaches about the heart mind, with its electromagnetic field, being faster and smarter than the brain mind, in case you haven't encountered them yet. We have many types of minds in our bodies—the brain mind, of course—the heart mind—and the gut mind. These three are major systems that "think" in us. We probably have more parts in our bodies that think differently and perhaps better than our highly-trained brains.  We have a lot of places in us that could be trained—but our culture chooses not to train those parts of us as much as we train our intellectual brains. We have an opportunity in November to decide, with destiny's help, which part of us truly SHOULD lead. That may be different for different folks—and it's a wonderful world that this is true.
Destiny shows us each what we were made to do by what we love to do. We can look back to what we've always loved, since we were young—frollicking about with abandon—playfully. That's a clue to our destiny on this planet. What do we like to do when we're unselfconscious? Then from that point, how can it be made kind and contributing to a social circle? How can we fit into and become part of a society? How can we positively change and affect the culture around us once we gain insight and wisdom? These are lifetime questions I'm posing here—but what is destiny doing except processing our lives alongside us?
These are Virgo themes, North Node/Mars/Venus themes, and human themes.
On November 11, the New Moon in Scorpio then arrives. If you thought things were complex, we are just getting started! This New Moon conjuncts the Sun and Mercury in Scorpio. It trines Chiron in Pisces and sextiles Jupiter in Virgo. There is also a quincunx to Uranus in Aries, which sets up a Uranus/Jupiter/Sun Yod pattern (a strong destiny signal that it's a good time to look at new philosophies). It sets off an arrangement for all these planets for three days, and the sun and Mercury stay in conjunction through November 23. In fact, they both switch signs from Scorpio to Sagittarius together on the 21-22 on November. At the same time, Venus sextiles Saturn and Mars enters the sign of Libra.
All very technical. But what does it mean?
I think it means you ought to let the deep integration happen to you and hold on to very little. Listen, there is an ocean happening all around us and we need to be buoyant enough to float to the top in order to breathe. As I've been walking around each day, doing things such as appreciation and meditation (the practices I've learned through the past decade) I notice people getting caught on things that I'm really grateful I can swim right past a lot of the time now. I can let go of much of the self-criticism, obsession, ambition, and other things that used to plague me. Now when these things come up for me I laugh or cry or sweat it out. I feel it and it's moved through me and then it's gone. Very seldom do I see myself hurt anyone else and sometimes I even handle relationships in ways that help others now. Wow, I'm really happy about that! It helps me to like myself a lot. There's a broadness of being that's very different from a decade ago that makes me very happy. It provides flexibility and is expanding even now. Personally, I have a lot more to learn. It's exhilarating that what I have to learn involves helping others because I'm fairly comfortable in my own skin a majority of the time nowadays. I guess once I really explored the fact that there's no such thing as "getting there," like our culture teaches—when I debunked that myth—it was time to look around for what else there was to do worth doing in life. Learning to be buoyant enough to breathe and float to the top of the ocean of experience and then see who is drowning around me was the best I have come up with today. The elements we humans are made of allow us to float in the ocean.
What might your answer be for what is worth doing?
This new moon and all the planetary support energies in play are asking you to assess your strengths and the things you care about. Look at your journey up to now—your past wounds and also what you have built and where you've succeeded and dreamed your way into happiness and joy. What does your imagination tell you is the beautiful life? What are your secret dreams? What secret kindnesses make your heart thrum? That might be what life would like you to enact pretty soon. Mid-month is a deep contemplation and the new moon can be a day of prayer and asking for help from your higher source(s) to support you in your journey and process. With Uranus in Aries, the powerful warrior spirit is surprisingly helpful to us at this time to start new things and help us make adjustments in our lives based upon our dreams. Using the higher side of these energies is rather important; the lower side can be over-indulgence, aggression, etc. I say, just sidestep that stuff! (Unless the indulgence is a little bit of dark chocolate and tea! LOL!)
During the final third of November, I thought we might have some easy-peasy time… but alas, no. this is one intense month! So, as Venus squares Pluto on November 20 while quincunxing a moon/Chiron conjunction, it's a good time to use its traditional meaning of being soothed by love. OK, really it's a time when there's powerful romantic connection… so it's a great date night! If you feel  any of the "stress" part of the aspect, immediately let that go and use it to "destress" and heal instead!! Let go of any conflicts that arise and find something else to do with that ego. Find something to agree on instead of disagreeing. It can be so healing to love on this day instead of fight.
On November 23, Mercury trades the Sun for Saturn as its companion and stays in conjunction to Saturn through the 28th. The high side of this time is delving deeply into contemplation of Sagittarian themes such as freedom, travel, higher education, learning/teaching/mentoring, the big picture, animals, detoxification/cleansing, global ideas, and synthesis and integration of large questions.
Mercury / Saturn low side energies can cause depression, so if you feel yourself on the down side, exercise a bit, get some Vitamin D, and practice excellent self-care during this time. (Self-care and self-indulgence are two different things—a lesson that's poignant for me since I have this aspect in my natal chart!) Make sure to enjoy your thoughts during the final third of this month—there is so much to enjoy about the planet earth, and this aspect is asking you to practice expanding your mind in order to enjoy seeing a bigger picture and identify how you can be flexible and free.
At the same time, Venus is opposing Uranus. This allows for an unexpected jolt of fire or experience of either the pioneer or the warrior archetype to enter our relationships, finances, or creativity in order to help us resolve something we have been struggling with in one of those areas, probably mentally. We may come to think about something in quite a new fashion, all of a sudden, or see ourselves in a new light. Sudden insight can be enjoyable.
The Full Moon in Gemini on November 25 is a time to write. Write all about the insights from the past few months. If you've not been writing all along, now is the time to get the thoughts down on paper. Perhaps you need to edit finally or just gather your journal, napkins, slips of paper in various places together. Bring together your efforts at communication in ways that make sense. You have been doing the footwork; now consolidate it. It may not be writing—this may look different for you. It could be a number of things. But something is coming to fruition at the full moon, to finish up in the next few weeks. The full moon is the time to organize and take the final lap on your project(s).
By the end of November, there are sure to be so many things to be thankful for—your basket of appreciation will be overflowing!
Meditation
Free this month:
Libra – Scorpio – Nurture Your Inner Child Guided Meditations!!
www.intuitivemoon.com – Check it out!
Scorpio and the Layers of the Onion Guided Meditation
Nurture Your Inner Child Guided Meditation
As we walk along through the autumn leaves, it is so fun to realize how connected we are to generations past and future. We have funny ideas in our culture, for example, that keep us falsely idealized as "better" than the forepersons who came previous to us. We might characterize it as psychological depression or schizophrenia and give it a diagnosis from a classification system that was set up so insurance companies will pay people who care for us. Other times throughout history, people have thought demons were possessing people who were experiencing disturbances. Shamans talk about the dysfunctional systems we have as "parasites" within us.
We think that in our times we have come up with an answer that is the one answer because it's the currently used answer, and we've internalized it as "right." However, I was listening to a lecture by Robert Sapolksy the other day, and he found there are viruses that actually take over the brains of animals and change their thinking—that control their actions and thoughts. This sounds very much like the ancient shamanistic "parasite" model of understanding and processing illness.
Before I believe what I'm taught by my culture, I like to think about things like this—what could I learn from ancient observations about the experience of living—without dismissing it just because we now have the scientific method. There are many methods of observation.  The only smart humans aren't the ones who are alive presently.
It also expands my mind to think that humans are not the only smart organisms, and that I'm not the only intelligent individual. Expansive thinking… right here as the leaves fall in the autumn and the colors change in preparation for a new season.
---
Want to read more? How about my article on Virgo at Kajama? "Lettuce Develop the Virgo Vibe" : Virgo is the mutable earth sign in the zodiac, ruled by the planet Mercury. Virgo rules the hands, and in Virgo, Mercury expresses itself as the alchemist and as the archetype of the Egyptian god Thoth, the mentor of Isis, who taught her healing arts. Virgo energy seeks to balance body, mind and spirit. With Virgo, get ready to DEVELOP…
---
Nourishment for the Body and Soul
A Fast-Food, Sugar-Free, Meal-For-One during Autumn's busy season
.
Microwave Cranberry Oat Bran Bowl
Yield: 1 serving
Ingredients:
½ Cup Oat Bran
¼ Cup Flax Seed or Flax Seed Meal
¼ Cup Wheat Germ
1 TBSP cold butter
1 Cup Sparkling Cranberry or Sparkling Blueberry Juice
Optional: Berries on top (fresh or frozen), whip cream on top
Directions:
Place dry ingredients in a microwaveable bowl.  Stir together with a fork or whisk. Cut butter into small pieces and sprinkle over top of dry ingredients. Pour sparkling juice over top.
Microwave for 2-4 minutes, depending on your microwave. Most will take 3 minutes.
Let sit one minute, then enjoy!
Nourishing Recommendations
You can learn so much about Tarot from Susyn Blair-Hunt, my wonderful mentor, in her book, Tarot Prediction & Divination, Unveiling 3 Layers of Meaning.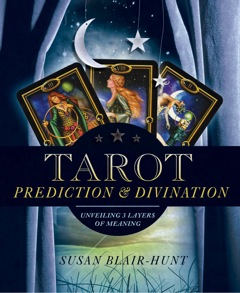 (Llewellyn also publishes the best selection of Tarot decks that I've discovered.)
---
Homeopathy and Core Synchronism have changed my life. First, I was immediately able to breathe after experiencing asthma-like symptoms for years. Many other improvements followed. Here are practitioners I recommend:
Eva Lipton-Ormand, CHoM, CCSP - in Albuquerque, NM
Elizabeth Battarbee of Flourish, Doctor of Homeopathy - available via Skype everywhere and in-person in Louisiana!
---
Elise Hensley, LISW, an amazing healer, specializing in EMDR and Neurofeedback. Elise is one of only a few people trained in Neurofeedback in our area. She is someone who is a skilled and amazing mentor. Better yet, your insurance may cover your sessions.
---
Thank you for enjoying this month's newsletter! You can contact me anytime via email: domikajama@gmail.com for consultations. Visit at Intuitivemoon.com.
Be well!
Blessings,
Dominique
Read in browser »
Recent: