This Month: Astrological Trends * Meditation * Recipe: "Vegetarian Fajita Salad" 
June 2015 Astrological Trends
The full moon on June 2 is in Sagittarius will give us a preview of all the "yes" answers we will be experiencing in June. While the first few days of the month will be slow, we will be catching fire this month, and the full moon will allow us to feel the first spark and intuitive flash. Use it to honestly assess our heart's passions and embrace our freedoms and release rigidity.
The Sun, along with our infamous Mercury Retrograde, is configured in what's known as a square aspect, or relationship, to Neptune on the first four to five days of June. On the high side, these two can be used to amp up our conscious contact with our higher selves or the divine. We can spend our time using this energy for artistic expression, meditation, inner focus, and dreaming.  Get recharged, connect with nature, pray and meditate, love your loved ones, love YOURSELF!—these are some great ways to connect the divine energy to our physical world. Enjoy a music performance that inspires your spirit from your hairspray down to the tips of your boots. June 4 is the perfect astrological time to contact some old friends you haven't talked to in a while if you feel inspired to do so.
On the low side, you may recognize this energy as lack of clarity, errors in judgement, sloppiness, and the urge to escape however escape is possible (addictions likely). If you recognize these things—it's definitely time to pull back and take a walk in the woods, do something with your hands instead of your brain, enjoy some music, do some serious meditation, and get some help from someone with clear and happy energy to help pull you up to the positive side of what can be practical and lovely energy! If you see someone in a chaotic state, do your best to help them back to baseline. Simply breathing well while you are close to them can be the quiet coherent leadership they need to be steady again.
This is really setting us up for the rest of the month, however. On June 3-5, Mars will hit Jupiter in a way that sets off the air-and-fire energy for mid-to-late June that will make us feel like a fire has turned from a coal to a flame inside of us. Whatever tinder you have carefully been nurturing you will want to put flame to at this time.
(There are two fire grand trines. June 5-6: Venus is at 0 degrees Leo, Saturn is at 0 degrees Sagittarius and Vesta is at 0 degrees Aries almost… This is a fire trine… Plus, shortly thereafter, Jupiter at 17 degrees Leo along with Juno at 21 degrees Aries is in a grand trine with Pallas Athena in Sagittarius and Uranus in Aries.)
There's a lot of benevolent fire energy sparking on these days…
However, the north node is in Libra, asking us to learn about cooperation despite a tendency to want our own way. It's important not to force our opinion onto others at this time, and to remain sensitive to the needs of other people. Maybe take the puppy approach in all things. Just constantly remain glad to see and hear and sense the presence of others even though we ourselves are exploding with creativity at this time. Everyone will be anxious to share their creative impulses, so learning to be the receiver and hear others' creative inputs will be just as important as developing our own. It is an act of love to say "yes" at this time instead of bombarding ourselves and others with the need to set our boundaries.
That's not to say we keep ourselves from good nurturing and self-care. Saturn and harmonious Venus in the mix can help us set a good schedule so we keep ourselves fresh and clear with enough sleep, rest, and balanced energy. Instead of over-doing activity, let's just consciously allow ourselves to embrace the hum of energy moving through us like electricity at the beginning of the month. It can be an exciting chapter, allowing us to perceive and share in revolutionary ways. Let's move into the new with our eyes wide open and awaken to the possibilities as we choose and create our future as wisely as we know how to at this point in our development.
Basically, it's a high point in the year, allowing us to really enjoy activity. Despite the end of mercury retrograde stuff (which on the high side can mean reconnecting with old friends!), this entire fire energy means sparkling business is about! Moving from the predominantly air element last month into the predominantly fire element this month is quite interesting, because air and fire are both action elements. They build upon one another, and fire is carried upon the air!
What was created, imagined, and started last month can really be carried forward this June. That's some nice news, isn't it? You have a lot of support headed your way from the invisible winds around you. This is spreading the embers through the tinder of your creativity.
The New Moon on June 16 provides the apex of the year for seeking psychic answers from the divine. If you wish to plan a time around asking and receiving guidance in some way such as automatic writing or downloading information from the divine in an intelligible way—asking at the new moon is an excellent time! Carpe Diem on June 16! You also have Mars lining up in Gemini so take ACTION! Ask and you shall receive. The divine wants to talk with you during this time frame.
Alternatively, it's a good time to be assertive. Initiate ideas and spread information around the New Moon time period. Kick off any information campaigns, start a Web page, etc.
Mercury turns direct on the 10-11 and traces its way back toward the Sun and Mars in Gemini, all moving toward Cancer and the water element at the end of the month. Further, Saturn returns to Scorpio on June 15 (it is retrograde right now) until September. June 21, the Sun enters Cancer. This is followed on June 24 by Mars entering Cancer. Water energy will add intensity, resourcefulness, emotionality, family-focus, higher-purpose, sensitivity, and a sense of depth to the environment and to all activity.
It's perfect because for the 4th of July, for every firework—we need to enjoy the sparkler for a little while and then have a place to douse it. Enjoy your June—and make the most of it!
Meditation
The case of the emotional hail storm:
At times, we can nurture our emotional states like a garden until we are in nearly constant joy. Then a situation can come along like a hail storm in the Spring or Summer that summarily appears to wipe out our carefully tended crop of good work like a hail storm wipes out a farmer's whole season of work in a few minutes.
Farmers say they simply bow to the power of Mother Nature, and I think we can humbly do the same. It's simply a principle of nature that we are never so far along that we are beyond the place where a situation can wipe us out. We may have to rebuild ourselves by replanting the soil of our situations at any time a storm hits. It is simply the nature of the business of being human.
To observe this is to learn compassion for ourselves.
Self-compassion is important and crucial. Gentleness and introspection helps us to have understanding for ourselves at the ego-level of our personalities, as well as at other levels of our being. Experiencing self-compassion helps us to be strong in the face of any weather in life, whether skies be clear or stormy.
The more practice we have at bathing in gentle feelings when we are troubled emotionally, the stronger our seeds of compassion will grow. Not only will we feel strong in our own being, but others will begin to feel our strength as well. It will be a natural consequence of living in the state of compassion.
When the storms gather on the horizon and drop their hail on our garden (and sometimes they will no matter how advanced our methods or how wise we become), we can rely on compassion for ourselves and for others in our process and in our recovery.
Nourishment for the Body and Soul
One of my favorite staple dinners, this fajita salad can go atop the corn chips of your choice or enjoyed alone as-is. You can substitute the yogurt based dressing with the ranch dressing of your choice, mixed with salsa. It's vegetarian, so enjoy!
Vegetarian Fajita Salad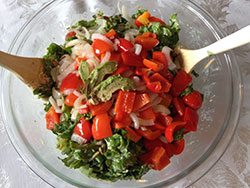 Yield: Serves 3-4 for a full meal or 6-8 for a side salad.
Ingredients:
Salad:
16 OZ. greens such as spinach, baby greens, arugula, or romaine lettuce
1 cup cheddar cheese
About 2 cups grape or cherry tomatoes, cut in half
1-2 avocadoes, sliced or chopped
2-3 TBSP olive oil or sunflower oil
2-3 yellow or red onions, sliced
4 red, orange or yellow bell peppers, sliced or chopped into half-inch pieces
1/2 TSP cumin
1 TSP paprika
2 Dashes cayenne pepper
Dressing: (You could also just mix together 1 cup of ranch dressing and 1 cup of salsa)
1 CUP plain yogurt
1 CUP fresh salsa
2 TBSP Mayonnaise
3 TBSP Milk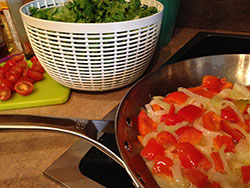 Directions:
Dressing:
Whisk together yogurt, salsa, mayonnaise, and milk. Set aside to dress the salad just prior to serving.
Salad:
Wash lettuce in a salad spinner and then spin to dry. Add tomatoes and cheddar cheese and toss.
In a large pan, sauté the sliced onions and peppers in the oil along with the cumin, paprika, and cayenne pepper until the onions are translucent.
Toss the dressing into the lettuce mixture. Top with the sauté mixture and avocado pieces. Serve immediately.
Serving suggestion: Serve on a bed of corn chips. 
Nourishing Recommendations
You can learn so much about Tarot from Susyn Blair-Hunt, my wonderful mentor, in her book, Tarot Prediction & Divination, Unveiling 3 Layers of Meaning.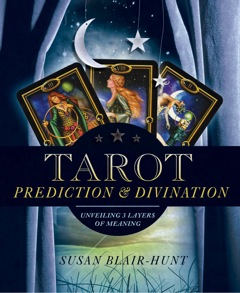 (Llewellyn also publishes the best selection of Tarot decks that I've discovered.)
---
Homeopathy and Core Synchronism have changed my life. First, I was immediately able to breathe after experiencing asthma-like symptoms for years. Many other improvements followed. Here are practitioners I recommend:
Eva Lipton-Ormand, CHoM, CCSP - in Albuquerque, NM
Elizabeth Battarbee of Flourish, Doctor of Homeopathy - available via Skype everywhere and in-person in Louisiana!
---
Elise Hensley, LISW, an amazing healer, specializing in EMDR and Neurofeedback. Elise is one of only a few people trained in Neurofeedback in our area. She is someone who is a skilled and amazing mentor. Better yet, your insurance may cover your sessions.
---
Thank you for enjoying this month's newsletter! You can contact me anytime via email: domikajama@gmail.com for consultations. Visit at Intuitivemoon.com.
Be well!
Blessings,
Dominique
Read in browser »
Recent: