This Month: Astrological Trends * Meditation * Recipe: "Summer Squash Superfood Stew" 
July 2015 Astrological Trends
In July, get ready for some serious Cancer depths and a lot of Venus energy as well!
Now, Venus is the ruler of my chart and June proceeded and July opened with such a bang astrologically, that it hit me personally! There was simply no getting the newsletter finished until life allowed for it. The revolutionary changes are revolutionizing my life as well, suddenly letting me know it's time to try a go at another degree (the last thing I thought I'd do—in fact had decided against it—we'll see how it goes!). How is the revolution treating your life?
The decades-long Uranus-Pluto square is still brewing its effects, with the U.S. legalization of gay marriage being right in alignment with the Cancer energies of home, family, and the Pluto in Capricorn energies of structural transformation. (If you recall, in a previous newsletter, I said the Pluto-Uranus square would likely have its influence in the realm of gay marriage! Yay!)
July opened with a Capricorn full Moon on the 1st with a Moon / Pluto conjunction in Capricorn to complete a transformation, a Venus / Jupiter conjunction to expand whatever energy was already present in you, Neptune trine the Sun in order to provide the choice for either intense spiritual connection or over-indulgence, and Mars in Cancer combining with the Sun and squaring the Nodes to make you wonder how much in alignment your actions are with your purpose for being on earth.
That's just the highlights, and only day one.
As we move further into July, Mercury, Mars, and the Sun are traversing the sign of Cancer, which asks us to actively nurture ourselves and others. The themes of family, home, security, safety, the past, and what lies beneath everything are due to emerge. The extreme sensitivities of cancer mean it's a good time to slow down after the extreme activity we've been experiencing recently. If there is any way to retreat or get lazy, please do so! Alternatively, a "house-cleaning" may be in order if relaxation is not an option at this time. Instead of focusing on people, focus on improving your environment and making it more comfortable and secure for yourself. Focus on doing the things that make a difference for your family or finding out what really matters to you. Mercury enters Cancer July 8, and Mars communicates with Neptune on the 8th to make things relax a bit and help us all begin to relax and get into visualization and meditation more than we've been able to in the past month.
More evidence that our soul's purpose is up for evaluation this month comes from the Venus – Saturn square on July 14. Saturn asks us to realistically examine the realm it's traveling through, and Venus asks us to love everything about ourselves and our lives, our relationships and our creativity. It may be that we need to curb spending, need to pull back from over-giving, or set some limits in a relationship. However, that's OK. That's good stuff that helps us grow into even better partners overall. Mercury and Mars in Cancer may help to support us in saying what we need to say in the Saturn / Venus square. There's also an aspect that shows… support for libidinous interaction on this day… so perhaps the two go hand-in-hand in some cases…? Set an emotional limit and also have a hot date! "You can't do this but you can do that." In relation to this relationship energy, watch out for the Mars-Pluto opposition on July 15, which can either add passion and personal power to your energy on the high side, or anger and explosive energy on the low side. (Use the force well, jedi!)
There will be some things we let go of when we claim our personal power and transform during cycles like this one. What is that like? In a water energy, it might be as follows:
There are things parts of us will want to cling to, but this is a time for us to let go. You can imagine floating in a tranquil lake, and as the waves slowly support you, you can simply open your hand and allow the thing you are clinging to so desperately to simply float away on the lip of the wave. Effortlessly and easily, you still have all that water surrounding your hand, you can more easily swim back to shore or you can rest there, floating, as before. You are safe, natural, and all is well.
The new moon in Cancer on July 15 is a cardinal new moon, so this means an opportunity for a new start in an area you would like to nurture—especially something around you home. If there's a new home project you're trying to get off the ground—I'm not sure there could be a better time to begin.
In fact, there's a grand water trine from 7/13 to 8/6 that supports healing and mentoring. It may be that during July, we all end up focusing on something that needs to be healed within our environments. This also may be unexpected, as Uranus is thrown into the mix. We may not even know what will come up yet.
On July 25, Venus turns retrograde in Virgo. We will be enumerating the themes of relationships, creativity, and finances even further and deeper during Venus retrograde. Until September 6, when Venus turns direct again, it's a fabulous time to meditate on how we are approaching these things. In the signs of Virgo and Leo, the themes of service, shamanism, hygiene, fairness, leadership, true love, self-actualization, children, and ego vs. higher calling may arise in your life. They are both personal signs where we can look at ourselves. Are you living your deepest nature?
Finally, the Aquarius July Full Moon on July 31 allows for an entirely unexpected and intuitive communion with our lunar sister in the sky. If you have the chance to plan a moon outing on this date, spend a ritual night with the moon because the Aquarius Full Moon can yield unexpected joy, release, and gifts that none of us can yet imagine! Aquarius allows us to realize our most original gifts and intuitive insights—so use this energy to your benefit!!
Meditation
Free this month:
Cancer – Leo – Virgo Guided Meditations!!  www.intuitivemoon.com – Check it out!
"A great number of herbs that were once well known are less familiar today, and tend to be overlooked except by gardeners or serious cooks who are always searching for unusual ingredients. Occasionally, they are rediscovered and enjoy a resurgence of popularity; rocket (arugula) and coriander (cilantro) are typical. Pliny believed that rocket was 'a great provocative of lust' and recommended that it be combined with lettuce, so that 'the excess of cold in the one [be] compensated by the equal degree of heat in the other.' Rocket has been a popular salad green in Europe for ages but was rediscovered in American kitchens only in the last decade or so. Calamus, or sweet flag, was familiar to the ancient Egyptians, who used it medicinally, and as an aphrodisiac. Today, its essential oil is an ingredient in some teas and liquers: Altvater, Benedictine, Campari, some gins, vermouth, and both yellow and green Chartreuse."
Gary Allen, "Herbs: A global History"
In this month all about relationships, it is fun to focus on a few things as we meditate. Both the combination of hot and cold that has always run throughout history and throughout the balancing act of relating to one another—and the idea of searching for the unusual flavors in our lives that we have overlooked for a while—are themes that matter. It's good enjoy our passions and laugh at ourselves like we can laugh at Pliny's comment about arugula. In our times, and in our culture, we are used to strong flavors. They make us happy and we seek them out. In other cultures, strong flavors have not always been available.
Likewise, strong feelings and emotions may or may not be comfortable for everyone. Maybe we are someone who loves the roller coaster ride of ups and downs and that makes us happy and alive-feeling, but it causes anxiety for the energy system of the person sitting next to us. Are we aware of this? Perhaps we are expressing our dissatisfaction with an unfair situation in a public forum. Do we take responsibility for our electromagnetic heart energy as we emit wavelengths of rage and anger at those around us, even if to us that feels compelling? Maybe it causes a lot of harm that we're unaware of even though we are excited in our righteousness of expression. Getting into a space where we understand the use of our energy can also be compelling. Learning how to express anger wisely instead of displace it onto unwilling bystanders is a nice skill to acquire.
Like serving hot and cool lettuces, there is a balance even in our time and our particular culture. There are shared themes that run amok in the U.S., too, such as people not knowing how to express any emotions except anger.
Also, it's a very nice time to go inward and really ask spirit to bring us a new delight. Or an old delight we can re-remember. What can we enjoy or enjoy again that is exotic to us? It could be a food. It could be a romantic gesture, with all the Venusian and Mars energy this month. It could be an activity. Or a television show. Or a hobby. Or maybe a creative endeavor w liked long ago.
Maybe you can spend a little time in meditation or prayer recalling your young self. Recall what delighted you as a child when you were alone with your dreams. Did you love nature, singing, trucks, language, fabric, painting, butterflies, animals, cooking or games? What can you do to honor and spend time with that part of yourself who dreams and enjoys life to the fullest?
Nourishment for the Body and Soul
Summer Squash is in season, and this stew uses it in two ways—once in the soup itself and once as a delicious savory garnish that melts in your mouth!
Summer Squash Superfood Stew
Yield: Serves 8 or more. Leftovers are even better the next day.
Ingredients:
1 CUP dry quinoa
2 TBSP butter
3 Medium yellow summer squash, washed
1 Onion (preferably red), chopped
3 Carrots, peeled and washed
1 Bunch or 3 cups chopped kale (leaves only)
3 potatoes, peeled and washed
6 cups vegetable broth (low sodium preferred)
1 tsp cayenne
2 tsp paprika
3 tsp thyme
salt for the summer squash
Directions:
Prepare carrots by chopping in cross-sections. Prepare potatoes by chopping into half-inch pieces. Chop onion into small pieces if you have not already done so.
Chop kale leaves into pieces. If you haven't done this before, fold each kale stalk in half and slice close to the stalk. Remove the stalk. Then chop the remaining leaf into generous pieces (they will reduce in the soup as it cooks).
Prepare 2 of the summer squash for the stew by chopping into small pieces to toss into the pot. Use the third squash for the garnish. Set it aside for the moment while the stew is assembled…
Heat butter until slightly melted in a large Dutch oven or soup pot. Sauté quinoa for 3 minutes, stirring almost constantly, over medium heat. Then add onion and stir. Wait about 2 minutes. Then add potatoes and carrots. Stir, then add squash and kale. Add cayenne, thyme, and paprika, stir, and then immediately add the vegetable broth to more than cover the vegetables if you can. The quinoa will cook and absorb a lot of the liquid.
Bring to a boil, then cover and simmer for about 40 minutes.
Meanwhile, using a vegetable peeler, peel the remaining summer squash into a colander. When you get to the seeded center, stop and turn and peel the next side. (I generally turn the squash as I peel, peeling evenly all around until I reach the center.) You can chop the seeded center and add then rest of this squash to the soup, too if you like.
Once you have peeled squash in the colander, add about a tablespoon of sprinkled salt all over it, and rub it in / toss it. Let it sit for about half an hour in the colander. Before serving it atop the soup, rinse it off pretty well to get most of the salt off. However, the process allows the squash to bend like cooked noodles and taste very savory! They are delicious!
To serve: Ladle the stew from the pot into a bowl. Take a portion of salted summer squash and top each bowl with it. Enjoy!
Nourishing Recommendations
You can learn so much about Tarot from Susyn Blair-Hunt, my wonderful mentor, in her book, Tarot Prediction & Divination, Unveiling 3 Layers of Meaning.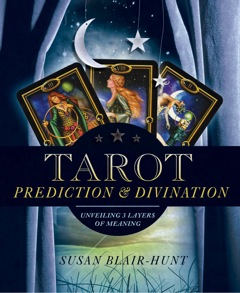 (Llewellyn also publishes the best selection of Tarot decks that I've discovered.)
---
Homeopathy and Core Synchronism have changed my life. First, I was immediately able to breathe after experiencing asthma-like symptoms for years. Many other improvements followed. Here are practitioners I recommend:
Eva Lipton-Ormand, CHoM, CCSP - in Albuquerque, NM
Elizabeth Battarbee of Flourish, Doctor of Homeopathy - available via Skype everywhere and in-person in Louisiana!
---
Elise Hensley, LISW, an amazing healer, specializing in EMDR and Neurofeedback. Elise is one of only a few people trained in Neurofeedback in our area. She is someone who is a skilled and amazing mentor. Better yet, your insurance may cover your sessions.
---
Thank you for enjoying this month's newsletter! You can contact me anytime via email: domikajama@gmail.com for consultations. Visit at Intuitivemoon.com.
Be well!
Blessings,
Dominique
Read in browser »
Recent: