The Art of Mindful Eating
March is National Nutrition Month and this year the theme is "Bite into a Healthy Lifestyle". The truth is, "diets" will come and go and with it weight goes up and down. This "yo-yo" dieting of losing weight and regaining weight actually lowers your metabolism and makes losing weight harder. Typical diets are very restrictive and may exclude favorite foods or even whole food groups. Restricting foods and having a strict diet sets you up for failure. When we tell ourselves we cannot have something we want it even more, so instead of eating just one piece of candy we eat the whole box! And with this comes feelings of guilt and negative thoughts, which starts a vicious cycle of dieting, bingeing and guilt.

Ready to ditch the diet? This month I would like to inspire you to bite into a healthy lifestyle instead of spending more money on the newest "diet". Build a better relationship with food and learn to become mindful of what you are putting into your mouth.

Happy National Nutrition Month!

~ Miranda

The Art of Mindful Eating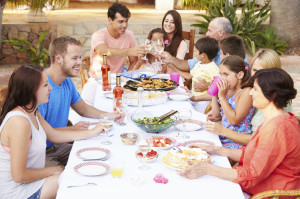 Mindful eating is practicing awareness. Being aware of what you eat, why you eat and when you eat is the key to staying mindful. Mindful eating is a lifestyle not a diet. When you start to eat for your health it is easier to stick to healthy eating habits. Remember that looking and feeling good comes along with it. Working with a registered dietitian can help you learn how to transform your eating habits and behavior from a "diet" mentality to a more mindful approach to weight loss.

Start with these easy tips below to begin eating mindfully:

Build a better relationship with food. Learn to enjoy food and be mindful while doing it. Instead of just eating an apple, think about where the apple came from, the people who grew it, the way it tastes and the nourishment it is providing to your body.

Listen to your hunger cues. Ask yourself are you really hungry? You may find that you are eating because you are bored, stressed, anxious, or sad. Whatever the reason, find out what's "eating" you? Understanding your triggers for emotional eating is the first step in changing behaviors. If you tend to eat when you're stressed, find an activity to do to combat the stress rather than eating for comfort. Call a friend to vent, take a brisk walk, listen to music, do a yoga video, etc. Have an action plan in place so that you are not tempted to reach for that tub of ice cream.

Avoid distractions. Try to avoid distractions such as watching TV, reading or driving while eating. When you eat without distractions you are fully aware, in the moment and can focus on how it tastes, how it feels in your mouth, how your body responds to it, etc. Without distractions, you can pay closer attention to your satiety cues and know when you've had enough versus mindlessly eating through a bag of potato chips during your favorite TV show.

Take time during and after meals. To avoid eating meals too fast, try putting your fork down in between bites and chewing food thoroughly. Slowing down during meal time will allow your body to know when it is full. Have a planned activity right after you finish a meal to get your mind off of eating and avoid the temptation of eating further, such as taking a walk, washing the dishes, reading a book, etc.

Mindful eating takes practice to achieve. Remember to eat for your health, savor and enjoy your food. With time mindful eating will become a way of life. Diets are temporary and so are the results, but a lifestyle change will have the most beneficial impact on your health and well-being.