Jesuit Centre for Faith and Justice Examines Treatment and Needs of Young Adults in Irish Prisons

contributed by Eoin Carrol, JCFJ

The Jesuit Centre for Faith and Justice, Dublin, Ireland has embarked on an extensive review of the needs of young adults aged eighteen to under twenty-five in Irish prisons. This is a first for young adults in Irish prisons and is aimed at influencing policy and how the prison service responds to the specific needs of this group. Due to be published in the next couple of months the research highlights key issues and provides policy recommendations.
Within the report is an extensive review of best practice in the detention of young adults as well as an examination of current research on age and maturity. Psycho-social research on young adults has found that this age group is maturing later in life which impacts on ability to make good decisions and manage impulsivity. Importantly, however, the research shows that young adults have a greater capacity to change and be positively influenced compared to the older adult population. In fact young adults have more in common with teenagers than adults in their 30s. In many respects we should not be surprised by this research, for surely a young person who blows out their birthday candles at age eighteen is not any different to the previous day. With this evidence a different approach is needed.
Despite this, in Ireland, and many other countries once they turn eighteen, people in detention are treated as adults. The Jesuit Centre for Faith and Justice's (JCFJ) forthcoming research highlights the need to treat young adults in a unique and distinct way. Currently eighteen to under twenty-five year olds in Irish prisons are accommodated with the rest of the adult prison population, despite the evidence highlighting their vulnerability. The JCFJ's analysis has uncovered that young adults are disproportionately disciplined which negatively impacts on their ability to access education, work and training as well as maintaining contact with family. Elements crucial in preventing repeat offending.
The aim of the JCFJ policy report is to influence Government policy in Ireland and will be of international interest to everyone working towards progressive prison reform. When published the report will be available at: www.jcfj.ie
By Julie Edwards
CEO, Jesuit Social Services


For most of us, education is the solid foundation to life. It teaches us, it nurtures us, it inspires us. Education can set us on the path that defines our adult lives and our careers.

But not everybody is fortunate enough to receive the type of education that many of us take for granted. Jesuit Social Services works with many marginalised members of our society, including people in and exiting prison.

The links between education and disadvantage – not just prison – are clear. Across all of our programs (in areas including justice, employment and training and mental health), just 13 per cent of people have completed high school and many have exposure to issues such as substance abuse and family violence.

It is a similar picture within the prison system in Victoria, Australia, where Jesuit Social Services is headquartered, and where just six per cent of male and 14 per cent of female prisoners have completed secondary school or higher education.

We know that without the foundation of education, many vulnerable people can find themselves dealing with a web-like structure of disadvantage. For example, a lack of education makes finding employment more difficult which in turn can lead to housing insecurity or homelessness, mental health problems or criminal activity.

Victoria's recidivism rate is also at a 10-year high of almost 40 percent, meaning close to half the people who exit prison return. This comes at a significant cost to the state's budget, and also at the expense of vital community services such as education, housing and mental health that work to prevent crime before it occurs. In order to break this cycle of disadvantage, poverty and lack of opportunities, we have partnered with Victoria's correctional system and other community service organisations to create supported pathways into education, into community, and into employment for people who have been engaged with the justice system.

We work with men and women leaving prison to support them to identify their work opportunities and what they need to do to obtain a new position and to maintain their employment. With funding support provided by the Sisters of Charity in Australia, we also provide women exiting prison with one to one mentoring and support to re-enter their family and community life.

In addition to this we have assisted more than 400 people who have received a community work order in place of a prison term to not only contribute positively to the community, but to also improve their skills so that they have better opportunity to undertake further education or employment .

Our focus is on practical, hands-on project work with flexible assessment strategies to accommodate the various learning styles and needs of participants. We also employ skilled and qualified trainers and volunteers, who are carefully matched to each program. These programs help participants to gain real-world skills and qualifications that will assist them to find ongoing employment – in addition to the valuable experience they receive in working as part of a team, collaborating with others and developing a healthy routine.

Two examples of such programs are:

Fix the Cycle is a program for young men aged 18 to 25, who have had contact with the criminal justice system. Participants help to repair and assemble bicycles, which are later donated to community members in need, while developing mechanical skills, problem solving, planning and literacy and numeracy skills. Units of competency are also embedded into the program to formalise skills and learnings and create pathways to further employment. The Dandenong Drug Court Project is a community work program for adult men on community service orders. Participants work as a team to landscape the Drug Court's garden and local surroundings, and like Fix the Cycle, units of competency are embedded into the program. As well as training in landscaping and horticulture, participants develop skills in teamwork and project management.

To understand how these programs literally change lives, we only need to look at the example of a young man who engaged with Fix the Cycle and gained ongoing employment as a motor mechanic at a major car dealer in addition to completing an apprenticeship. He says "my participation in the program gave me discipline, taught me about fixing things and mechanics and the importance of being on time."

These are just two examples of innovative programs in which we partner with some of the most vulnerable members of the community, ensuring that their pathway out of prison and into the community is a positive one.

About the author: Julie Edwards is CEO of Jesuit Social Services, an Australian social change organisation working to build a just society. This article first appeared on www.edujesuit.org

Prison Network Members Invest in Educational Programs

It is well-documented that education levels amongst prisoners are very low. Poor literacy and numeracy skills are a barrier to full participation in society and can be a significant contributing factor to a person's involvement in crime. Gaining meaningful employment is difficult without basic skills, while even day-to-day living presents challenges.
Recognising this, many Jesuit organisations already involved in prison ministry have expanded their involvement to include educational programs for inmates. They do this in the hope of equipping offenders with skills to assist successful reintegration into the community upon their release. The International Jesuit Prison Network, a network of Jesuits and Jesuit organisations working in prison ministry and prisoner support, highlights the importance of education in its founding principles, one of which is that:

"Prisoners must be afforded the chance to rehabilitate. Appropriate supports within prison are in the interests of both prisoners and the community as a whole. Offenders should be able to access drug and alcohol treatment, mental health services and education and training."

If we truly wish to create a safer and just community, where everyone has the opportunity to reach their full potential, then it makes sense to invest in education of prisoners, who are amongst society's most marginalised and disadvantaged.

A study of prisoner attitudes to education conducted by the UK's Prison Reform Trust noted that: "At its best, prison education can open up opportunities, enlighten people, broaden their horizons and build their self-confidence. It can increase their awareness of options, giving them a real choice of a life away from crime. Education can open up the legitimate means of achieving success."

The same study quoted a number of prisoners on the benefits of education. Comments included: "Using the time properly: it gives you encouragement"; and "Time drags if you're doing nothing. I can't break out, I don't want to be crawling out, I want to be walking out."; and "It's good to make a positive out of a negative."Another reflected the sense of empowerment that can come from education, commenting: "I feel that I need to do this for me, for nobody else, just for me."

The International Jesuit Prison Network brings together a diverse group of members operating in very different justice systems and prison environments. Despite – and in some cases because of – these differences, the network provides a valuable forum for the exchanging of ideas and expertise. This includes the field of prisoner education, and a number of members have shared news of their activities in this area.

The Philippine Jesuit Prison Service is actively involved in the education of both inmates and their children. For almost ten years, a full-time volunteer has taught a twice-weekly class on values formation for young offenders. In addition, a volunteer from Jesuit Missions Switzerland teaches geography, sports and yoga every week.

Several employees of the Philippine Jesuit Prison Service also teach in the various education units of the Bureau of Corrections, instructing inmates in the Medium Security Camp of the National Bilibid Prisons. At the college level, Eli Rowdy SJ, Executive Director Philippine Jesuit Prison Service, teaches various accounting subjects. The college is attached to the University of Perpetual Help and grants a diploma to those who finish the course. Another staff member teaches marketing to second year students. The course provided in the college is Bachelor of Science in Entrepreneurship.

Creative pursuits are also provided for. One Jesuit, for example, teaches portraiture to inmates through the School of Fine Arts.

In addition, the Philippine Jesuit Prison Service operates a scholarship program for children of prisoners, conducting a monthly formation session for children and a simultaneous one for their parents.

In Spain, Mariano Moragues Zaforteza SJ works with a team of volunteers to support prisoners at Spain's largest prison in Valencia. The facility houses 2,400 inmates and 400 in semi-freedom. The prison itself has a number of contracted teachers, so the Jesuit focus is on informal training. Volunteers run workshops in skills such as sewing, Spanish for foreigners, education for deaf-mutes, crafts, media, sport, social skills, preparing for freedom, and reducing dependence on drugs and alcohol. Mariano has also run a summer school for both youth and adult offenders covering literacy and numeracy, manual skills, basic computer training and sports. On the religious level, courses are also offered in bible studies and preparation for baptism, first Eucharist and confirmation.

Reflecting the need for ongoing support as people transition back into the community, the Spanish ministry also runs programs for ex-prisoners in basic schoolwork (reading, writing, mathematics), job search skills and social and computer skills, as well as sports and museum excursions. Along with fellow Jesuits, Mariano provides accommodation to ex-prisoners, who live alongside the Jesuits learning basic money management, hygiene, social and living skills.

Financial restrictions can limit the services that organisations can provide to prisoners. Jesuit Prison Ministry in Thailand does not currently offer education inside prisons, focusing instead on accompaniment. But the group is active in teaching skills to ex-prisoners.

"We started small by helping one ex-prisoner at the beginning to work with us and to accompany him to start his new life after imprisonment," explains Kep Vilaiwan, director of Prison Ministry Thailand. "It was a chance for him to see his potential, what career or job he could be good at, how he might see the future, how he might make his dream come true." After initial success with the first participant, Prison Ministry Thailand began with a second person, and hopes to grow the program over time.

The organisation also recently began a scholarship program, currently operating in Laos and Nepal, for the children of prisoners. The scholarship program grew out of visiting the families of prisoners and identifying a clear need for this type of support. "It brings a lot of relief to prisoners to know that we can help a little for the education of their children," says Kep.

Jesuits in Africa have also been instrumental in linking children of prisoners with potential supporters.

The International Jesuit Prison Network connects members in all six Jesuit Conferences, and more than 20 countries including Cameroon, Zimbabwe, Cambodia, Australia, India, Ireland, Spain, the UK, the USA, Mexico and Chile. The activities and involvement in prison ministry work varies from member to member, and the Network offers a chance for members to share ideas and experiences, and potentially work together on global advocacy priorities. This article outlines just some of the efforts being made by International Jesuit Prison Network members to improve the prospects of prisoners and their families through education. More information is available from the groups mentioned.
Jesuits Welcome Decisions on Juvenile Justice, Solitary Confinement
(from the website of the US Conference of the Society of Jesus)
On January 25 the Supreme Court of the United States and President Obama both announced important decisions that will improve [the] nation's justice system for the better. During his address to the U.S. Congress last September, Pope Francis offered "encouragement to all those who are convinced that a just and necessary punishment must never exclude the dimension of hope and the goal of rehabilitation." It is in the spirit of Pope Francis' words that the Jesuits of the United States applaud the Obama Administration and the Supreme Court for these life-changing actions.
The Supreme Court's 6-3 decision in Montgomery v. Louisiana will now give individuals, who as children were sentenced to mandatory life in prison without the possibility of parole, an opportunity to appeal for judicial review and new sentences. Prior to the court's decision, individuals sentenced in this manner as juveniles did not have the opportunity to challenge their sentences despite the Supreme Court's finding in Miller v. Alabama (2012) that mandatory life without parole sentences for juveniles are cruel and unusual.
In addition to the Supreme Court decision, President Obama announced a ban on the use of solitary confinement of juveniles in the federal prison system, as well as stricter guidelines for the use of solitary confinement on adult inmates. On any given day in the United States there are between 80,000 and 100,000 inmates in solitary confinement. World opinion, as expressed by the United Nations, has called for an absolute prohibition on the use of any form of solitary confinement beyond 15 days, stating that such a practice constitutes psychological torture. In the United States, 46 states use some form of solitary confinement that lasts between 30 days and indefinite confinement.
In response to these decisions, Fr. Timothy Kesicki SJ, President of the Jesuit Conference of Canada and the United States, released the following statement: "These decisions reflect important truths about children and our justice system. First, all people, but especially children, have an inherent capacity to grow and change over time despite their worst mistakes. Any sentence that rules out the possibility of change is fundamentally flawed. Second, we have seen time and again the traumatic damage that solitary confinement causes young minds. The reliance on this practice has particularly impacted youth of color. Going forward, we hope lawmakers will further limit the use of solitary confinement to internationally accepted standards for all inmates."
Despite these important victories, much more can and must be done to create a justice system that recognizes, in the pope's words, that "God is in everyone's life. Even if the life of a person has been a disaster." As a first step, Congress should pass the Sentencing Reform and Corrections Act, which would provide some relief for nonviolent drug offenders during sentencing and offer additional anti-recidivism programming for inmates in federal prison.
We must embrace a path toward more fundamental change in our criminal justice system. In order to confront mass incarceration, lawmakers must abolish excessively harsh sentences, including the death penalty, and address the racial and economic disparities in policing and prosecutions that continue to undermine our shared values of fairness and equality before the law. Policymakers must ensure access to adequate legal representation for impoverished individuals, and prison conditions must be reformed to offer constructive punishment that facilitates rehabilitation and reduces recidivism.
In order to give individuals the chance to reintegrate successfully in society, lawmakers must reevaluate policies that bar former offenders from accessing educational, housing and other opportunities. More resources should go to proven and innovative crime prevention methods rather than costly punishments with poor outcomes. In short, we must stop relying on the justice system as the answer to poverty, addiction, and unmet mental health needs in our country.
News From Beyond the Network
If you have not yet visited or "liked" our facebook page, you're missing out on a wealth of news about prisons, prisoner rights and justice issues from around the world. Each week we post links to dozens of reports, news items and interesting events and other happenings. If you now of an event or news item worthy of sharing, please let us know. Here are a few links you may have missed:

* Italian Cuisine Worth Going to Prison For - a New York Times article profiling a restaurant in Italy's Bollate penitentiary, a medium-security prison with 1,100 inmates on the outskirts of Milan. The waiters, dishwashers and cooks have been convicted of homicide, armed robbery, drug trafficking and other crimes. "It is a matter of pride, a way to make people happy and show them that even inmates can change and evolve," says one prisoner working in the restaurant.

* Shocking Number of Ontario Inmates in Solitary - a piece from Metro revealing that 1600 prisoners in two jails in Ontario were placed in solitary confinement over a five-month period last year. "Clearly, correctional authorities across the province are not getting the message that segregation is a very harmful tool that should be used only in exceptional circumstances," says a lawyer quoted in the piece.

* How Prison Visits Restore Families - an article from Prison Fellowship. "A prisoner who gets visitors is less likely to commit another crime and return to prison, because they know that their family cares about them and depends on them."

* Prison Workers Expect Pope's Visit to have a Lasting Impact on Inmates - an article anticipating the Pope's visit to Juarez. "Imagine what a public icon and man of God like Pope Francis can do with a lot of the prisoners," says the director of a juvenile facility in Juarez. "We've seen several young kids get it because most of them just need someone that sets them on the right path. They just need a little push, and guest speakers that come in are effective in doing such thing."

* Rights Groups Decry Decrepit Conditions in Cameroon Prisons - one of many stories in the last few months about issues of overcrowding, poor sanitation and inhumane conditions in prisons across the world.
Letter From Pope Francis Helps Save Teen Prisoner's Life

Article from Carbonated.TV (www.carbonated.tv) by Mandy Hollman.

When 18-year-old Carlos Vazquez wrote to Pope Francis from an L.A. prison, he was shocked to get an answer. The Pope's compassionate response gave Vazquez new hope.
Pope Francis proclaims, "The name of God is mercy." This week he exemplified that mercy by answering a teenager's letter from jail.
Carlos Adrian Vazquez Jr., a Los Angeles 18-year-old, is serving an 11 year sentence for involuntary manslaughter. In an interview with CNN, he discussed his painful past, his spiritual transformation, and his new lease on life.
At 15, Vazquez dropped out of high school and joined one of L.A.'s many gangs. A year later, he was arrested for his involvement in a fight that left a rival gang member dead. Though he did not slay the man himself, he was judged guilty for his participation.
During his incarceration, Vasquez has become a different person. His first months at the juvenile detention center were filled with violence, as he continued to identify with his gang and fought with other inmates. In his despair, he considered ending his life.
Gradually, however, compassionate volunteers and weekly visits from his parents restored his hope. Rev. Michael Kennedy, head of the Jesuit Restorative Justice Initiative, has been working with Vazquez and other juvenile inmates. He encourages the teens to repent and embrace forgiveness, not to let their pasts define them. This message of mercy changed Vazquez's life.
Kennedy led several inmates in writing letters to Pope Francis. Vazquez told the Pontiff,
"If only the world were filled with more love, compassion, forgiveness and mercy. Being an outcast of society, I want the world to see us for who we truly are; human beings, who make mistakes like everybody else. But we are able to rise again like a Phoenix … I will become a leader some day, like Cesar Chavez, Martin Luther King Jr., Nelson Mandela and Malala Yousafzai. Thank you for your loving and your merciful example to all of us."
He was astonished when the Pope actually wrote back. "I couldn't believe it," he told CNN. "I didn't think the Pope would write to someone who's behind bars."
Pope Francis warmly replied, "Dear Carlos, May the peace of Jesus Christ be with you! I was pleased to receive your recent letter." He proposed that the Jesuit ministry conduct the rite of the "Holy Door to Mercy," in which people walk through a symbolic door to receive forgiveness. The Pope's closing words exude love and respect:
"I pray that as you and your fellow residents celebrate the opening of the Holy Door, you may receive these gifts and be filled with peace and hope. Know that the Holy Father is thinking of you and praying for you. And please remember to pray for me, because I greatly need your prayers."
The inmates' letters and the Pope's reply are available online.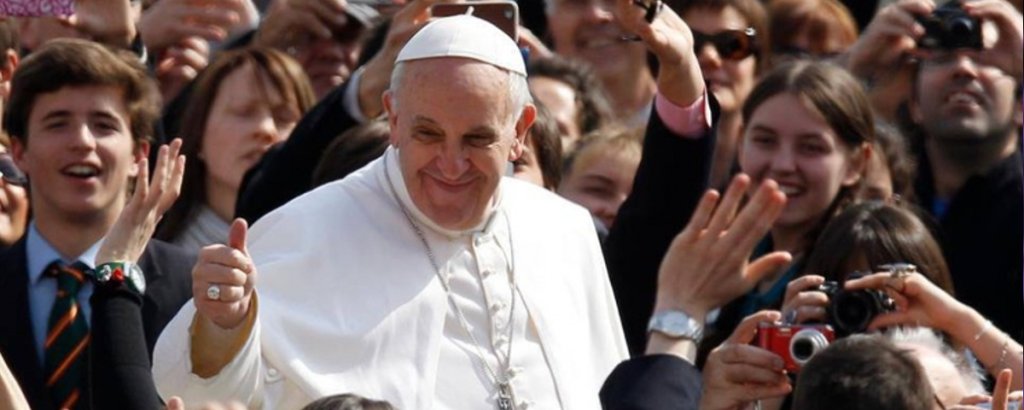 This Pope has distinguished himself as an ally for the oppressed. In this year's Jubilee of Mercy mission, he is focusing on people behind bars. Pope Francis has made numerous prison visits, publicly challenged harsh penal codes, and even ceremonially washed prisoners' feet.

Carlos Vazquez is now an ambassador of hope. His transformation challenges society to change how we treat prisoners. Punishment in itself will not solve anything; lasting change requires compassion. Our prison system will remain broken until lawmakers respect offenders' humanity. As Saint Paul wrote two millennia ago, "Mercy triumphs over judgment."

.
Have You Got News to Share?
Don't forget to send us the latest news of your work with prisoners, ex-offenders, or relating to the justice system in your country. We are always delighted to hear from members and friends of the International Jesuit Prison Network, and to receive contributions for the newsletter.
We acknowledge the following photographers whose images have been sourced from flickr and the web used in this newsletter: EastEndImages, Chris-Havard Berge, Epicantus, Matthew Thompson, Bruce Guenter, N Carson/PA, Martijn van Exel, CNN