U-M BUSINESS & NEWS UPDATES
---
Requests for FSRs Will Come Earlier and be Due Earlier

For those who work on Financial Status Reports (FSRs), beginning in December, you'll hear from Sponsored Programs 30 days earlier than in the past for Department of Health and Human Services (DHHS) grants final reports.

While you still will have a total of 30 days to review, sign, and return to Sponsored Programs, the process will begin earlier, or closer to the project's end, as depicted below.


This will allow Sponsored Programs time to ensure that it meets a new hard-line set by NIH requiring payments and expenditures to match at the time of Federal Financial Report (FFR) submission.

This new NIH policy change mirrors existing requirements by the other DHHS Operating Divisions announced on 9/22/2022, effective 10/1/2022 (NOT-OD-22-215).

Sponsored Programs did not want to add to the burden of the busy season for financial reporting, so we are starting this in December. That said, if you are currently in possession of a DHHS final FSR, please do your best to review and return signed memos ASAP. Thank you! Sponsored Programs appreciates your help!
---
NIH - Data Management & Sharing Policy
Beginning January 25, 2023, NIH will require researchers to submit a Data Management and Sharing Plan (DMS Plan) with all new grant applications. This policy applies to all research, funded or conducted in whole or in part by NIH, that results in the generation of scientific data.

To help researchers across U-M adapt to these new changes and securely share their research data, the Research Data Stewardship Initiative webpage curates the information provided by NIH and other resources available at the university.
See: myumi.ch/nihdata
---
Updated Roles & Responsibilities on ORSP Website!

With thanks to the RAAC Process Subcommittee, we have updated documents on the Roles & Responsibilities page of the ORSP website. The Roles & Responsibilities documents serve to identify "who does what" during each phase of the research project lifecycle.





---
Additionally, you will find links to these individual documents throughout the site on the landing page for each of the respective lifecycle phases.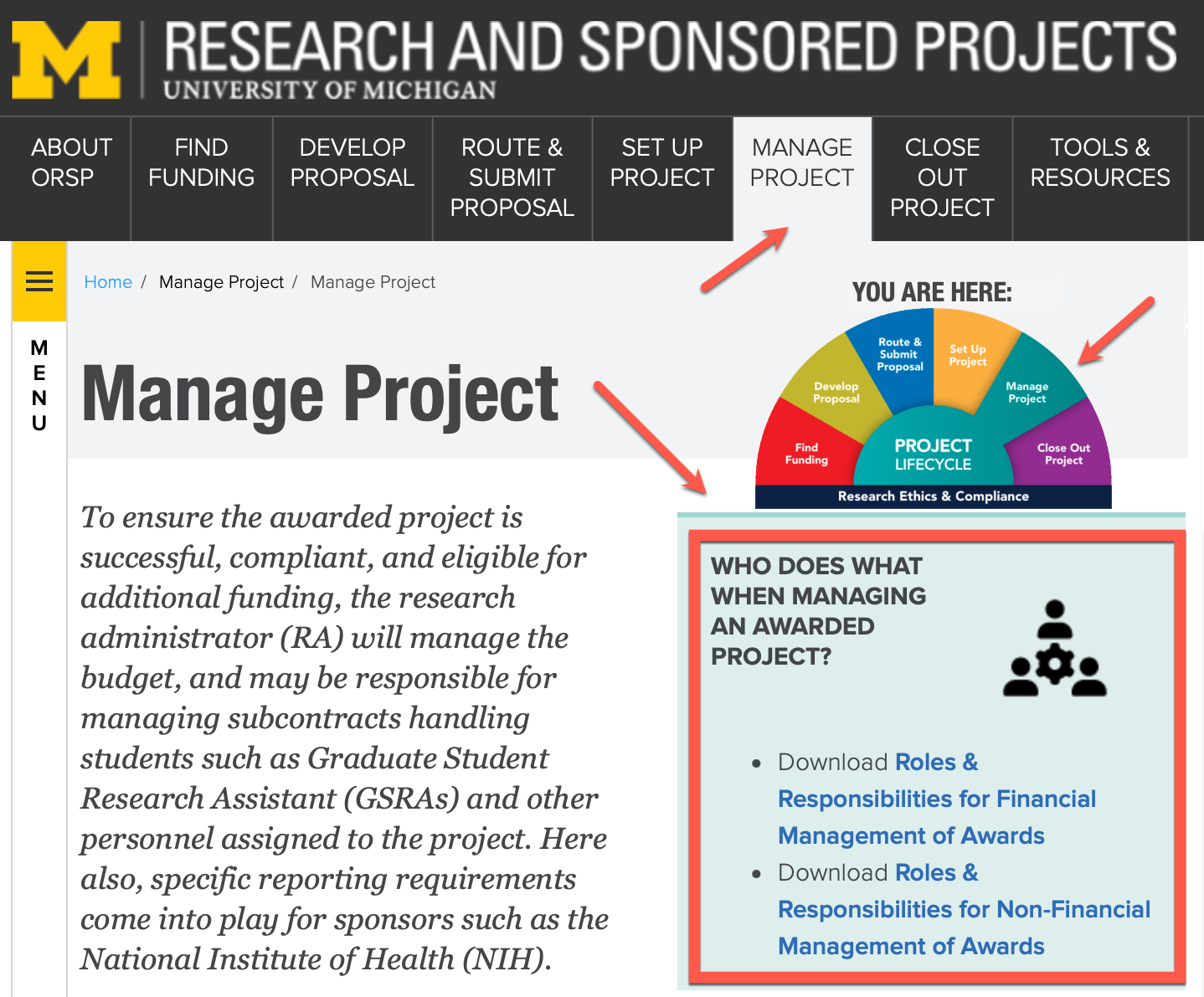 Example:

Here's a brief synopsis of what is new/updated: Congratulations to RAAC Process for completing this final phase of the Roles & Responsibilities project!
---
---
SPONSOR & SYSTEM UPDATES
---
Sponsor System, Agency & Policy News
---
Federal Agencies Resound Warnings on Timely Reports

In recent letters, research funding officers have repeated previous warnings. Not only can research funding be withheld from another principal investigator for delays, but timely reporting has a direct correlation to budget renewals.


Delays in this can negatively impact other U-M PIs and project teams.

Final reports need to be submitted by the due date.

Principal Investigators (PIs) are responsible for the management and conduct of sponsored research. As part of that responsibility, they are required to understand and comply with the reporting requirements associated with their awards and for submitting the final report and/or other deliverables within the timeframe specified in the agreement.

If you are notified of a delinquent report, please follow up accordingly.
---
NSF PAPPG Now Available!

A version of the NSF Proposal & Award Policies & Procedures Guide (PAPPG) (NSF 23-1) is now available.

The new PAPPG will be effective for proposals submitted or due on or after January 30, 2023. Significant changes are detailed in this announcement.

The current PAPPG (NSF 22-1) guidelines continue to apply in the interim.
---
Fall 2022 NSF Virtual Grants Conference

NSF will present information about these changes at the upcoming Fall 2022 NSF Virtual Grants Conference! This virtual conference will be broadcast live on Zoom during the week of November 14 – 17, 2022. (The new PAPPG will be discussed during the November 17 session.) Additional information and no-cost registration are available at: https://nsfpolicyoutreach.com/22-grants-conference/.
---
NIH Loan Repayment Program
Last call for the Loan Repayment Program (LRP) Application program! The cycle is Open until November 17, 2022.


The ORSP Institutional Business Official is Amanda Reel, ORSP Project Representative, who must be listed on the application. Learn more about application details.
---
BusinessObjects upgrade

SAP BusinessObjects, a reporting tool that supports many key functions, such as financials, procurement, recruiting and admissions, human resources, eResearch, donor and alumni relations, and more was upgraded on October 16. Since the upgrade, it may take your staff members additional time to perform their job duties in BusinessObjects as they adapt to the new interface. Review documentation and get support.
EVENTS AND PROFESSIONAL DEVELOPMENT
---
RAN is Today at 2 p.m.! - You must register for access.
October 27, 2022, 2:00 p.m. - 3:30 p.m.
---
The next Research Administrators Network (RAN) meeting is from 2:00 p.m. to 3:30 p.m. on October 27, 2022. You must register to receive a personal link to the Zoom meeting.See you there! ~ The RAAC Communications Subcommittee

---
Research Data Stewardship Initiative - Fall Seminar Series
The Research Data Stewardship Initiative Fall 2022 seminar series provides an opportunity for members of the research community to hear from faculty experts across a range of disciplines at U-M on research data sharing practices, the value of data stewardship, and best practices for how to structure research programs or scholarship with these issues in mind.

View upcoming Research Data Stewardship News & Events.
---
NCURA Updates

The NCURA Region IV 2023 Spring Meeting will be held
April 30 - May 3, 2023, in Sioux Falls, SD.


As chair-elect for the Region, U-M's Julie Olivero will officially become Region IV Chair-Elect and meeting organizer.

She would love to see a strong U-M presence at the event and says, "We have such a great RA community here at U-M, and it is always exciting to be represented at these regional meetings with our peer institutions. Please attend, and if anyone is interested in presenting at this meeting, I encourage you to submit a session proposal!"

Additional Updates If you have any questions about the meeting, please feel free to reach out to Julie Olivero at jolivero@umich.edu (Region IV Chair-Elect and meeting organizer).
---
SRA International Updates

Can't make it to Las Vegas for this year's Annual Meeting?

SRAI designed a special Encore iSeries for those who are unable to travel. Launching in November 2022, this series will provide its members access to the hottest, most relevant and highly rated sessions from our annual meeting. Encore registrants will have access to all 18 iSessions and the recordings until April 30, 2023.
Don't miss out, and register today!

If you have questions about SRA International, reach out to
U-M's Patricia Turnbull, Assistant Director for Research Administration, pawatson@umich.edu, who is an active SRAI member and president-elect for the next term!
---
Navigate Offerings for Fall 2022
The Navigate program is pleased to announce webinar and course offerings to be conducted virtually through Zoom sessions this fall.
---
Webinar:
The New NIH Data Management & Sharing P
olicy
Register by 12:00 p.m. on Monday, October 31, 2022.
For more information, visit the Navigate: Webinars - Upcoming Sessions web page.
---
Course:
Uniform Guidance Cost Principles

Dates:
Day 1: November 10, 2022
Day 2: November 16, 2022
Time: 8:30 a.m. - 12:30 p.m.
Attendance at both sessions is required.

Register by Friday, October 28, 2022.
For more information, visit the Navigate: Uniform Guidance Cost Principles web page.
---
Navigate eLearning Modules

Interested in self-paced eLearning? Visit the newly updated E-ssentials eLearning Modules webpage for online training on a variety of topics related to research administration!

The page organizes modules according to the workflow and business processes of the sponsored project lifecycle.

There are also Additional Topics for Research Administration, such as the newest offering: Sponsor Reporting: Research Administrator Best Practices for Supporting Compliance, which provides an overview of:
sponsor reporting requirements
the importance of compliance
It includes ways the RA can assist the PI in fulfilling reporting sponsor obligations that avoid potential consequences.
---
Other Workshops
MICHR - Budgeting for Research Grants Workshop, Tuesday 11/1/2022

Are you a junior investigator putting in a new proposal? Do you need help getting started with budget planning? Would you like to learn how to calculate indirect costs, determine calendar months for effort, complete other budget components, and write a budget justification?

Attend a highly interactive workshop to help you work on all aspects of creating a budget and writing a budget justification. Register here.

Or watch a recording of the Budgeting for Research Grants workshop that was put together by the MICHR finance team in October 2021 here.
---
Tableau training

​An introduction to Tableau, covering the basics of data connection, visualization creation, and best practices for those just getting started with building (not consuming) reports and dashboards in Tableau. The course taught by experts from Data Innovations, Systems, and Cloud, is open to all faculty, staff, and students. Please share widely and register here.
Wednesday, November 2: 8 a.m. – 4.30 p.m.
---
Acronyms Used Throughout
ASAP: As Soon as Possible
DHHS: Department of Health and Human Services
FFR: Federal Financial Report
FSR: Financial Status Report
LRP: Loan Repayment Program
NCURA: National Council of University Research Administrators
NIH: National Institutes of Health
NSF: National Science Foundation
PAF: Proposal Approval Form
PI: Principal Investigator
PAPPG: Proposal & Award & Procedures Guide
RA: Research Administrator
RAAC: Research Administration Advisory Council
RAN: Research Administrators' Network
SF-424: Standard Form 424 (for Grants.gov)
SRAI: Society of Research Administrators International
U-M: University of Michigan
The RAP and RAPid newsletters are a joint communication effort brought to you by:
---