U-M BUSINESS & NEWS UPDATES
---
Planning Ahead for U-M End-of-Year Season Days
With the 2022/2023 U-M end-of-year season days upon us, staffing may be limited for ORSP, Sponsored Programs, and our external sponsors, from now and through January 2, 2023.
---
Proposal Submission Deadline Policy
Reminders from ORSP
ORSP wants to remind you that season days will impact internal proposal submission deadlines and whether your proposal receives a Full Review, a Limited Review, or is At Risk.

Sample scenario: A proposal is due to the sponsor on Monday, January 2, 2023, at 5:00 p.m. (or as early as Friday, December 23, 2022, at 5:00 p.m.).
For a Full Review, that proposal is now due to ORSP by Monday, December 19, 2022, at 5:00 p.m.
For a Limited Review, that proposal is now due to ORSP by Thursday, December 22, at 9:00 a.m.
Any arrival to ORSP after those dates, then the proposal is At Risk and may not be submitted.
Review the Proposal Submission Deadline Policy, utilize the PAF and Proposal Checklist, and reference the Calendar Examples of Deadline Policy to work through your scenarios.
---
Submit FSRs by December 15, 2022
Reminders from Sponsored Programs
Sponsored Programs needs Financial Status Reports (FSRs) earlier. Please be prepared to submit FSRs by Thursday, December 15, 2022. We have 2,504 to complete by the end of the calendar year!
External Reports Due
09/01/22-12/31/22

Total due

2,504

Less: Reports outstanding as of 11/18/22

805

Reports Completed

1,699

% of goal completed

67.85

%
We thank you for your attention to this and helping us meet our goal!

Also, remember as we shared last month in The RAP - October 2022 issue, for those who work on FSRs for DHHS projects, you'll hear from Sponsored Programs 30 days earlier than in the past. This is in order to address requirements announced by DHHS on 9/22/2022, (NOT-OD-22-215).

Need help with FSRs?

Do you need help with FSRs? There is a Navigate E-ssentials eLearning module for that!
Financial Status Report (FSR) - Builds on concepts in the Pre-Closeout Analysis module re: Financial Status Reports. Information specifically on FSRs and extracted from the longer (30 minute) Project Closeout module. (10-15 min)
Reach out to your department's Sponsored Programs Customer Service Coordinator with any other FSR questions.
---
RAAC Priorities Survey - Due December 12, 2022
Help us shape the future of research administration at U-M!
The Research Administration Advisory Council (RAAC) Subcommittee Chairs and Project Manager would be grateful if you would take 10-15 minutes of your time to respond to the 2022 RAAC Priorities Survey. This survey will help the RAAC Subcommittee Chairs gain a better understanding of the needs of research administration and work collaboratively to address the feedback received. Over the years, various RAAC subcommittees have conducted their own surveys, leading to demonstrable improvements in research administration at U-M.

We strive to do the same with this survey, and we appreciate your help in doing so. We will be collecting responses to the survey through Monday, December 12, 2022.
SPONSOR UPDATES
---
DHHS Cognizant Office Contact Change

The new DHHS Cognizant Office contact is Olulola Oluborode, replacing Matt Dito. This information has been updated on the Frequently Required Proposal Data page.
---
NIH FORMS-H: Instructions, Forms, and Checklist

NIH requires FORMS-H forms for grant application due dates on or after January 25, 2023. NIH has updated forms and instructions to support the new sharing requirements.

This Extramural Nexus article about FORMS-H includes significant changes, checklists and related links to help you navigate the changes.
---
NSF PAPPG Now Available

A version of the NSF Proposal & Award Policies & Procedures Guide (PAPPG) (NSF 23-1) is now available.

The new PAPPG will be effective for proposals submitted or due on or after January 30, 2023. Significant changes are detailed in this announcement.

The current PAPPG (NSF 22-1) guidelines continue to apply in the interim.

National Science Foundation (NSF) Electronic Research Administration (ERA) Forum webinar on November 30, 2022, from 2:00 - 3:30 PM Eastern Time. To participate in this Forum, please Register Now.
---
NSF ERA Forum Webinar on ORCID, SciENcv, and Research.gov
The NSF Electronic Research Administration (ERA) Forum is presenting a webinar on November 30, 2022, from 2:00 to 3:30 p.m., that will cover ORCID and SciENcv, Research.gov – Proposal Submission Modernization updates, FastLane to Research.gov Transition – Supplemental Funding Requests, Notifications and Requests, Award Documents, Continuing Grant Increment Reports, Award Notices – Schedule of Expenditures of Federal Awards (SEFA) Reporting, and Unique Entity Identifier (UEI).

Details and registration: https://www.nsf.gov/bfa/dias/policy/era_forum.jsp
---
Tracking GSRA Compensation for NIH-related Sponsored Projects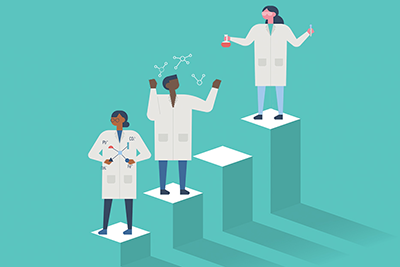 NIH has requirements related to compensation levels for GSRAs working on NIH research grants. At U-M, the maximum graduate student research assistant (GSRA) compensation rate is determined at the school/college level. On our GSRA Cost Estimates page, you can find salary, tuition, and benefits information.

Additionally, on our NRSA Stipend Levels and GSRA Max web page, those who reconcile statements and sign off on Federal Financial Reports (FFRs) can reference the rates from other schools and colleges.
EVENTS AND PROFESSIONAL DEVELOPMENT
---
RAN Materials Available!
---
The Research Administrators Network (RAN) meeting was held on October 27, 2022. The video and meeting packet (with slides and additional information) are now available.
---
Navigate Program Update

New Promotional Video
The Navigate program is pleased to share a new video promoting our offerings.

---
Materials Available from NIH Data Management & Sharing Policy Webinar
Materials from the November 1, 2022, Navigate: Webinar on the NIH Data Management & Sharing Policy are now available.

In this webinar, Sara Samuel, Informationist, Taubman Health Sciences Library, and Diane Wilson, Assistant Director at the Office of Regulatory Affairs, presented an overview of the new NIH Data Management and Sharing Policy, which goes into effect on January 25, 2023.
---
Have a topic idea for a webinar?
Contact the Navigate team at navigate-research@umich.edu.
---
Virtual Networking - Save the Dates
Building on the success of this past summer's pilot sessions, RAAC Communications is pleased to announce our next two informal virtual networking sessions.
Topic: BusinessObjects
Day/Date: Thursday, December 8, 2022
Time: 11:00 a.m. -12:00 noon

Topic: U-Year vs Academic-Year Appointments & Effort
Day/Date: Tuesday, January 10, 2023
Time: 1:00 p.m. - 2:00 p.m.
More information and details on how to register will be forthcoming on the RA Forum on Slack and via your RAAC representatives. Space will be limited, so we encourage you to register early, once we make that available. For now, please save the dates!
---
Public Engagement Faculty Fellowship
The Public Engagement Faculty Fellowship (PEFF) works in partnership with units across campus to foster faculty public engagement at U-M. The fellowship supports faculty by providing an opportunity to develop skills and incubate project ideas, while also encouraging recognition of and experimentation with all forms of public engagement. The program brings together an interdisciplinary, intergenerational group of faculty members interested in building community and learning from each other and campus experts to effectively engage the public for larger societal impacts.

2023 Cohort Applications Due December 1
Apply for the 2023 cohort by 11:59 p.m. on Thursday, December 1, 2022.

Coffee Hours
We will also be hosting the following coffee hours on Zoom.
Monday, November 21, 3:00 p.m. - 3:50 p.m.
Tuesday, November 29, 9:00 a.m. - 9:50 a.m.
Have Questions?
Complete this inquiry form to send an email to peff.admin@umich.edu
---
Research Data Stewardship Initiative Fall 2022 Seminar Series
Research Data Stewardship Initiative Fall 2022 Seminar Series
Friday, December 2, 12 – 1 pm
Zoom Webinar Registration Link
The Materials Commons: Establishing a Repository/Collaboration Platform for Highly Heterogenous Data on the Frontier of an Emerging Data Community
John Allison, Ph.D.

William F Hosford Collegiate Professor of Materials Science and Engineering; Director, UM Center for PRedictive Integrated Structural Materials Science (PRISMS)
Increasing the Demographic Diversity of Research Databanks
Kayte Spector-Bagdady, JD, MBioethics
Associate Director, Center for Bioethics & Social Sciences in Medicine; Assistant Professor, Obstetrics & Gynecology
---
NCURA Conference Dates
Listed below are all the NCURA Conference Dates at a glance.
| | | |
| --- | --- | --- |
| NCURA | Dates | Location |
| FRA (Financial Research Administration) | March 6-7, 2023 | Las Vegas, NV |
| FRA/PRA Workday | March 8, 2023 | Las Vegas, NV |
| PRA (Pre-Award Research Administration) | March 9-10, 2023 | Las Vegas, NV |
| Region IV | April 30 - May 3, 2023 | Sioux Falls, SD |
| National | August 6- August 9, 2023 | Washington, DC |
---
SRAI Conference Dates
Listed below are key SRAI Conference Dates at a glance. The website has more details on these and other conferences and training offerings.
| | | |
| --- | --- | --- |
| SRAI | Dates | Location |
| Michigan | April 28, 2023 | MSU |
| Regional | June 11 - June 14, 2023 | Louisville, KY |
| International | October 2023 | Seattle, WA |
---
SRAI Michigan Chapter - Virtual Happy Hour, December 1
Join us for a virtual happy hour for informal conversation, meeting new research administrators, and just having a drink of your choice to unwind from the day!

When: Thursday, December 1, 2022 @ 7:00 pm EST
Where: Zoom Meeting ID: 976 8811 8223 (Passcode: MISRA)
---
---
Acronyms Used Throughout
DHHS: Department of Health and Human Services
FFR: Federal Financial Report
FRA: Financial Award Administration
FSR: Financial Status Report
NCURA: National Council of University Research Administrators
NIH: National Institutes of Health
NSF: National Science Foundation
PI: Principal Investigator
PAPPG: Proposal & Award Policies & Procedures Guide
PRA: Pre-Award Research Administration
RA: Research Administrator
RAAC: Research Administration Advisory Council
RAN: Research Administrators' Network
SF424: Standard Form 424 (for Grants.gov)
SRAI: Society of Research Administrators International
SSP: Special Sponsored Project
UFA: Unfunded Agreement
U-M: University of Michigan
---
Visit the ORSP website to subscribe, view archives, or submit content for The RAP/RAPid newsletters.
The RAP and RAPid newsletters are a joint communication effort
brought to you by:

---