Edition #45 November 2020
Welcome to the latest edition of Community Media News
Welcome to the November edition of Community Media News. We hope that you are all continuing to stay safe and healthy.

In Sector News, we share a message from the new Chair of the Community Media Association, Dom Chambers.

In Community Updates, there is news of the Scotland High Street Heroes Awards with a number of community radio stations being recognised.

In Strategy, Policy and Licensing, we share a link to the videos and presentations from the virtual stakeholders' events on small scale DAB licensing hosted by Ofcom in September, a summary of the actions so far with the first round of SSDAB Licensing and a call to open up BBC Sounds to community radio.

In Audio & Digital, we share details of 'Our journey' a 6-part radio documentary that captures the UK's first-ever Black-led civil rights campaign. And there's the story of how the United Biscuit Network shaped community radio in the UK.

In Funding & Awards, the shortlist for the Community Radio Awards is revealed! The Audio Production Awards winners are announced and the Audio Content Fund issues another £397K in its biggest single funding round so far. The World Teenage Reporting Project is looking for teenage journalists for stories about tolerance and diversity and The Sandford St Martin Trust Awards are open for content faith and belief-oriented content.

In Events & Training, we have details of BBC Tech Meetups taking place in London, Salford and Glasgow and the Women in Journalism mentoring scheme, now in its 6th year. The 2020 World Press Freedom Conference will be streamed live from The Hague in December.

And finally, in Tech Corner, we share the story of how Digital One kickstarted the evolution of digital radio in the UK, a new device that does not require headphones to put music in our ears, and 5 things you cannot do on British television.

As usual, there's too much to cram in here so please check out the Chat Forum for more information and check out our social media channels (Twitter, Facebook) to keep up to date with more news and information.

We have also created a wiki site to try to manage the wealth of information relevant to the current situation such as advice on Fundraising, Business Continuity, the BBC Local Radio Content Scheme, and other General Information.

Do you have a story about your community radio station or community media project to share? Email your news, press releases, event details and stories to editor@commedia.org.uk
A message from the CMA Chair


Welcome to the November newsletter and my first as Chair of the CMA. I am very thankful for the faith my fellow Council members have put in me to help influence the positive growth of the CMA and its capacity to support community broadcasting in the UK.

I believe with a passion that there are opportunities for grassroots media at the moment and that the CMA is well placed to lead on achieving them. I'll have more to say about this in our December newsletter when we will reflect on the tumultuous year that has been. In the meantime, rest assured I am working with Bill Best and everyone at the CMA to continue the positive direction so firmly established by our retiring Chairman, Danny Lawrence.

Huge congratulations to Bill Best, the CMA's Operations Manager, who was awarded a Radio Academy Fellowship this month. The trustees bestowed this honour in recognition of his extraordinary levels of dedication, support and knowledge that has helped licensed community radio move from concept to a firm place in the radio landscape with 300 licenses broadcasting across the UK. Bill celebrated 20 years at the CMA this month and I could not be more pleased that the radio industry has honoured his phenomenal contribution in this way.

Conversational connecting is what I do. Members are welcome to contact me at any time on chair@commedia.org.uk

More from me in December.

Best wishes,

Dom
CMA Chair
Scottish Local Community Radio Stations Nominated as High Street Heroes

Heroic efforts providing vital lifelines to communities across Scotland as the coronavirus pandemic took hold have been honoured by the Scotland High Street Heroes Awards.

The Awards recognise businesses, groups and individuals who have worked tirelessly to support their communities and customers at a time when they have never been needed more.

River Radio, Leven, West Dunbartonshire - Regional Champion
Alan Caldwell and his small team started up Leven Lockdown Radio to keep people connected. What started as a project for friends and relatives has now changed into an online community radio station, River Radio, providing great support for the area. River Radio is looking to apply for a C-DSP licence to be carried on the Inverclyde SSDAB multiplex.

Other High Street Heroes honourable mentions go to the following
On 29 September 2020, Ofcom hosted two virtual stakeholder events on small-scale DAB licensing. These events were open to parties who were interested in applying for small-scale multiplex licences, or C-DSP licences to broadcast programme services on those multiplexes, in the first round of 25 small-scale DAB licence advertisements.

Intended to provide potential applicants with a high-level overview of the licensing processes for these new types of licences, each session consisted of an initial presentation which was followed by an opportunity for participants to put questions to Ofcom colleagues.

It is expected that nearly all of the content from these events will be directly relevant to future small-scale DAB licensing rounds, and Ofcom has therefore made them available on their website in the form of videos of the slide presentations, plus written summaries of the Q&A sessions.

SSDAB Round One Round UP
On our Chat Forum, we have a brief summary of the action so far with the first round of SSDAB licensing. Applications for Round One of small-scale DAB (SSDAB) licensing closed at 5pm on Monday 23rd November.

It is expected that Ofcom will publish the non-confidential sections of the licence applications within 3-4 weeks. In the meantime, some applications for C-DSP licences have already been published on the Ofcom website.

The CMA wishes all community-led bids for multiplex licences every success with their applications and we wish the best of luck to all community radio groups applying for SSDAB licences.
CMA wants BBC Sounds to include more outside content
The Community Media Association called on the BBC to consider opening BBC Sounds to community radio and independent producers. Ofcom had called for evidence and information in relation to the market position and impact of BBC Sounds, and an excerpt of the CMA's response is below:

"Radio and audio listening worldwide is in the process of rapid and accelerating change. What and when it's listened to – and the platforms and devices being used.

Unsurprisingly younger listeners are increasingly listening online – on phones, tablets and laptops with an effectively limitless choice of services, in contrast with broadcast radio. As devices including smart speakers and connected cars continue to grow in popularity, this listening behaviour will be rapidly adopted by all age groups.

However, live linear broadcast radio – around 600 stations broadcasting on FM, DAB and medium wave – continue to reach almost nine out of ten UK adults – offering familiarity, companionship and easy discoverability in contrast with the blizzard of online choice. Community radio, in particular, has a renewed relevance in 2020, offering a genuine local connection through the pandemic crisis – but also as a direct consequence of commercial radio's retreat from local identity and the move to generic national radio brands." More from Radio Today here.
'Our Journey' is a six-part documentary series capturing the UK's first ever Black-led civil rights campaign. It is a story of activism, determination and hope and celebrates the achievements and significance of the post-war African and Caribbean Pioneers that we have come to know as the Windrush Generation.

'Our Journey' tells the story of the Bristol Bus Boycott in 1963 and hears from experts about the impact and significance it had then and today. The series features contributions from the Windrush Generation, describing their compelling journeys and telling the often shocking stories of their arrival and first years in the UK.

Contributors include: Marvin Rees (Mayor of Bristol); Professor Madge Dresser (historian and expert in black history); Dr Edson Burton (historian, writer and performer); Roger Griffiths MBE (author and expert in black history); Vernon Samuels (Olympian, and son of Bristol's first black bus driver); Jendayi Serwah (community activist) as well as voices of the Windrush generation.

The documentary series broadcast in October across 11 stations including Resonance FM, Riverside Radio, ALL FM, Ujima Radio, Radio Tyneside, Lionheart Radio, Spark FM, Soundart Radio, Somer Valley FM, Swindon 105.5, and Bradley Stoke Radio.

For more details about the series, please contact Miranda Rae at soundwomensouthwest@gmail.com
Cracker Factory Records: The Surprising Story of United Biscuits' Radio Station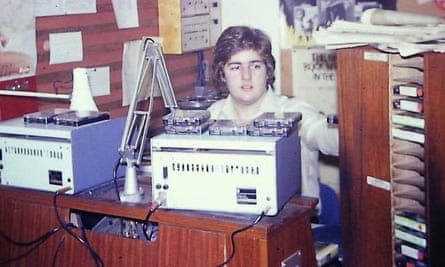 "Unless you spent your summers packing Jaffa Cakes into boxes in the 70s, you are unlikely to have heard of the United Biscuits Network (UBN). It was a radio station for biscuit-makers, broadcasting around the clock to factories in London, Manchester, Liverpool and Glasgow. One part industrial psychology, another part community radio, UBN was intended to make factory life more bearable, but over its nine-year lifespan, it emerged as one of the most daring, anarchic and pioneering stations to hit the UK airwaves."

Read the full article on the UBN by Kieran Morris in the Radio section of The Guardian.


Image from The Guardian
The shortlist for the 2020 Community Radio Awards has been revealed.

Across a wide variety of specialisms and topics, a shortlisting in the awards is recognition of a commitment to community, craft and causes.

More than 460 entries from 90 licensed stations have been whittled down to five per category.

See the shortlist and more details here.

The awards ceremony takes place virtually this year on Saturday 12 December wherever you are. Streamed on YouTube and the Facebook page from 7pm, follow along and get involved in the chat, and on social media with #CRAs2020.
Audio Production Awards 2020 Winners Announced
The winners of the 2020 Audio Production Awards were announced in an online audio show on the evening of 26 November, hosted by Snoochie Shy and Jeremy Vine at Spiritland Studios in London.

The prestigious 'Production Company of the Year' Award went to the Prison Radio Association. Hilary Ineomo-Marcus, also of the Prison Radio Association, was Highly Commended in the Best Presenter category. Cambridge 105 took Silver in the Best Live Event/Outside Broadcast Producer category for their 'Virtual Strawberry Fair'. Louisa Adams from the Prison Radio Association was nominated in the Best New Producer category. The Prison Radio Association also took Gold in the Grassroots Production Award. Read more online here.

Biggest ACF Funding Round results announced
Audio Content Fund issues another £397k, in its biggest single funding round so far
Latest round benefits from cash injection from DCMS, to replace funds used during lockdown
Projects include drama, comedy, music heritage, youth issues, and first community radio soap
More than 5 million listeners likely to hear the projects, across 84 different radio stations
The Audio Content Fund (ACF) has announced the latest recipients of grant funding to make public service content for commercial and community radio, with its biggest single funding round.
The new funded projects will broadcast across 84 different radio stations, and will be produced by 15 different independent production companies. The fund, which is financed by the UK Government, has allocated £397k to the projects, which it estimates will be heard by more than 5 million listeners.
This funding round is the first to benefit from an additional £400k contribution to the ACF from DCMS, which was announced by Minister of State John Whittingdale MP last week. The new funds replace money that was brought forward by the ACF to support audiences during the first national lockdown, and have enabled the ACF to restore its ambition for the 2020-21 financial year. Read more here.
The World Teenage Reporting Project seeks teenage journalists from around the world to make profiles of teens and of adults worthy of admiration who are making progress in the field of tolerance and diversity despite differences that can make some people appear to be the "other." This project began on 16 November 2020, the United Nations International Day for Tolerance. Deadline: 15 December.
The Sandford St Martin 2021 Awards are open for entries. This is for faith or belief oriented content. This year they have two new categories covering Coronavirus and community content.

All entries or nominations must have been first published, screened or broadcast between 1 January and 31 December 2020.

Entries for the 2021 Awards will close at 5pm on Friday 29 January 2021. Read more here.
BBC Tech Meetup
Welcome to the BBC Tech Meetups! These are events held across London, Salford and Glasgow with talks covering a range of tech topics from front and backend, to product, design and data science. Next Meetup - Wed 2nd Dec at 6pm via YouTube.

For this meetup, there is a security theme with three speakers - link here.

Up to 95% of all "cyber" breaches can be attributed to human error or manipulation a practice known as Social Engineering. In this talk, lifelong ethical con-artist and lifelong social engineer, Jenny Radcliffe, will discuss how social engineers "hack the humans" in order to breach organisations, scam individuals and steal victims' money, identity and peace of mind. She will discuss the psychology and methodology of the practice and give examples of social engineering from the media as well as from her own long career simulating criminal attacks. Finally, we'll look at how the pandemic crisis has been incorporated into the narrative of scams and cons of all kinds, and look at advice and tips on how to prevent yourself and your organisation from becoming a victim too.

Join the Meetup group to RSVP and find out how to join in online.
Women in Journalism Mentoring Scheme
The Women in Journalism network is made up of some of the most influential and supportive female print, broadcast and online journalists and editors of our time.
The mentoring scheme, kindly sponsored by Tesco, matches them with other women journalists in need of personal, one-to-one advice for a sustained period of time. It might be, for example, help with planning a career move, setting goals, a job application or CV – or just a supportive voice to turn to in confidence when egos need a boost.
It can work both ways – mentors remark how they learn a lot from mentees who have new insights and skills.
After a very successful five years and 400 happy mentees, the network is delighted to be launching the 2021 scheme in November 2020.

To find out more and to apply, visit the Women in Journalism website here. The application deadline is Friday December 4.

The World Press Freedom Conference 2020 (WPFC 2020) is a free conference, taking place as a digital event. Streamed live from The Hague on 9 and 10 December.

The World Press Freedom Conference's list of speakers features many prominent international journalists, media professionals and human rights experts. Amal Clooney is one of the speakers who will be taking part in the digital event, broadcast from the World Forum in The Hague, on 9 and 10 December.

Visit the Conference Pre-event Page: WPFC2020-digital.com for an overview of the programme, speakers, FAQ and more.
The story, from Matt Deegan, about how Digital One kickstarted the evolution of digital radio in the UK.

"Digital One launched in 1999, and was commercial radio's big shot at competing with the BBC. They'd launched their own national multiplex a few years before, but it mainly just simulcast their national radio stations. Digital One was going to bring together the initial commercial national stations and host a whole load of new ones too. It was also designed to push digital radio as a consumer proposition.

When they applied for the licence in 1998, it was going to be a joint venture between GWR (who owned Classic FM), Virgin Radio and the company behind Talk Radio alongside the transmitter business NTL (now Arqiva). This idea was somewhat derailed by Chris Evans taking over Virgin at 1997 and getting out, and then Kelvin Mackenzie, the new owner of Talk Radio, pulling out just after it had been awarded. This left GWR and NTL to hold the thing together. "

Read more here.
New device puts music in your head — no headphones required
Imagine a world where you move around in your own personal sound bubble. You listen to your favourite tunes, play loud computer games, watch a movie or get navigation directions in your car - all without disturbing those around you.

That's the possibility presented by "sound beaming" - a new futuristic audio technology from Noveto Systems, an Israeli company, that has recently showcased a desktop device that can beam sound directly to a listener without the need for headphones.

The listening sensation is straight out of a sci-fi movie. The 3-D sound is so close it feels like it's inside your ears while also in front, above and behind them. Read more here.
Five things you cannot do on British Television
Five Things You Can't Do On British Television
No doubt we are all intimately familiar with every nuance, nook, and cranny of Ofcom's Broadcasting Code as it applies to community radio... But here's a recent video from Tom Scott about some of the rules that UK TV shows must follow in order to broadcast.