Welcome to the latest edition of Community Media News
Welcome to the April edition - our 50th! - of Community Media News. We hope that you are all continuing to stay safe and well and looking forward to the lockdown easing.

We start the Newsletter off with a message from Dom Chambers, the CMA Chair.

In Strategy, Policy & Licensing, we have Ofcom's coronavirus update to broadcast licensees. And recent news has prompted community radio stations to review their obit procedures,

In Sector News, there's a Zoom meeting for CMA members on 8th May. And the CMA has a meeting with Ofcom next month so please raise any issues that you have for discussion on the online form.

In Community Updates, ExmouthAir has rebranded and we have the news of the 2021 Charles Parker Prize.

In SSDAB, Ofcom has awarded a second wave of small-scale DAB multiplex licences - and there's an addendum to the published multiplex guidance notes. Mighty Radio in Leeds has been awarded a C-DSP licence and we share news of a free online conference on DAB+ in cars. In the Irish Republic they've closed down the DAB network - however in Switzerland DAB+ is now the most widely used radio reception method.

In Audio & Digital, the Radio Academy has appointed Sam Bailey as its new Managing Director.

In Funding, groups are urged to bid for a share of confiscated cash from the proceeds of crime and the Audio & Radio Emergency Fund enters its final round.

In Events & Training, the Audio Content Fund has a 'Meet the Commissioners' Webinar later this week and on 13th May there's an online event called "Lessons from Community Media". Our good friends, The Radio Hub, have another online event on Saturday 22nd May.

In Awards, the New York Radio Awards are still accepting entries until 20th May, the ARIAS will be live from London on 26th May, and the Community Radio Awards have launched an Honours programme.

And lastly, in Tech Corner, we share five things you need to know about Facebook's new audio features, there's a nostalgic look back at a newsroom of yesteryear, and we have one man's search for the last true analogue radio.

As usual, there's too much to cram in here so please check out our Chat Forum for more information and check out our social media channels (Twitter, Facebook) to keep up to date with more news and information.

We also have a wiki site to try to manage the wealth of information relevant to the current situation such as advice on Fundraising, Business Continuity, the BBC Local Radio Content Scheme, and other General Information.

Do you have a story about your community radio station or community media project to share? Email your news, press releases, event details and stories to editor@commedia.org.uk
A Message from the CMA Chair
It feels like we are slowly coming out of a long winter. Keeping in contact with one another has been essential during lockdown. There has been good debate on the various forums and Bill and I have taken lots of calls from members looking for signposts to solutions. As we look ahead into the year we are exploring ways of engaging with our members, stakeholders and supporters. We are starting to plan the annual Community Media Conference and keeping an open mind about exactly how that will shape up with some level of restrictions expected to be in place during the autumn. Like so many other organisations wanting to engage with their members, it feels like some sort of hybrid between physically meeting and digital inclusion will be the solution. We have an excellent team of Council members, led by Terry, working on this and we will keep you posted on developments.

In the shorter term, we are keen to find a new platform for us to meet up and share the successes and challenges we face in delivering community-oriented media. We had good support for the EGM in November and the more recent AGM both of which we held remotely. Building on that, we want to launch a series of themed calls open to members. These will be informal and open with a theme. We are thinking broadly of an hour-long call on a Saturday morning with plenty of time to share points. Our first will be at 11am on Saturday 8th May on the theme of sponsorship. Kevin Scott from Hot Radio in Poole will lead the discussion by giving us the benefit of his considerable experience in this field. Please put the date in your diary and I'll look forward to seeing you in the call. Register here.

Other things to look forward to in May include the Radio Hub meeting on Saturday 22nd. Danny has sent out the details. We have the industry awards, the ARIAS, coming up on 26th May. I know what I want to win the Radio Times Radio Moment of the Year and it is a strange choice for someone immune from the pleasures of football!

Spring is in the air and let us hope this heralds better times for us all.

Best wishes,



Dom
CMA Chair
Office: 01761 411222
Ofcom Coronavirus Update to Broadcast Licensees - April 2021
Since the beginning of Coronavirus restrictions, Ofcom has provided regular guidance to all broadcasters on how they have reflected the changing situation in their regulatory approach.
This letter provides an update to broadcasters on the current position (previous guidance can be found here: 23 March, 27 April, 26 May and 9 November 2020).
Please note that Ofcom says:
With this in mind, we believe that all licensees should be in a position to start to return to meeting all of the programming and production commitments in their licence. We recognise that restrictions currently remain in place across the UK, and that the planned routes to easing these restrictions over the course of the Spring and Summer varies by nation. As such, in order to give all broadcasters time to make any necessary arrangements and mitigations, we will expect all broadcasters to be meeting all of the conditions within their licence no later than 30 September 2021. This would mean that daily and weekly requirements are met in full from this date, and that best endeavours are made to ensure programming and production levels are broadly in line with annual quotas, noting that these typically run by calendar year.
Obit Procedures for Community Radio Stations
In his latest blog post,
The Mood of the Nation
, media consultant
Matt Deegan
reflects on the obit (obituary) policy at the BBC after the death of the Duke of Edinburgh.
There is no obligation for community radio stations to have a formal obit procedure. However, the Community Media Association has updated its page on
example obit proecedures that community radio stations might find useful
or consider following.
CMA Members' Zoom Meeting - 8th May, 11am
The first in a series of themed sessions open to CMA members. These will be informal and focused on a theme.
We are thinking broadly of an hour-long call on a Saturday morning with plenty of time to share points.
Our first will be at 11am on Saturday 8th May on the theme of sponsorship. Kevin Scott from Hot Radio in Poole will lead the discussion by giving us the benefit of his considerable experience in this field.
Please put the date in your diary and we look forward to seeing you in the call. Register here.
May 2021 - CMA Meeting: Ofcom
The Community Media Association has a virtual meeting with Ofcom in May. The main agenda items for Ofcom will be progress with SSDAB, analogue licensing concerns, and sector funding. Please detail any specific additional issues that you would like the CMA to raise for discussion here. The notes from the last meeting may be viewed here: https://bit.ly/3ewjCYW
ExmouthAir rebrands to East Devon Radio
ExmouthAiR has changed its name to East Devon Radio and has recruited local broadcaster Ben Clark to host its breakfast show. The station, which launched originally as Bay FM in 2013, relaunched on the 6th April 2021.

Ben said."I'm excited about presenting the breakfast show across East Devon and Exeter and talking to the audience I know in the part of Devon I love. I believe listeners need local radio more than ever. The station already has an incredible following and it can only grow!"

Station manager Andy Green added: "With Ben Clark on the breakfast show we now have a well-loved presenter on our team. I've listened to Ben since his early days on the Gemini FM breakfast show and now he's with us. It's incredible and I'm very excited. We have come a long way since our 2013 launch on 106.4FM. Last year we added 95 and 94.6FM which gets our signal further across East Devon and Exeter, so more listeners than ever can enjoy our shows."

Image: Ben Clark in the East Devon Radio studio. Credit: East Devon Radio
Charles Parker Prize 2021
The Charles Parker Prize is awarded each year for the Best Student Radio Feature. The prize is open to any student studying radio production at Further or Higher Education establishments throughout the United Kingdom.

The winners of the 2021 Prize were announced on Friday 23 April – read the details here or watch a video of the announcement.
Ofcom Awards Second Wave of Small-scale DAB Multiplex Licences
Ofcom has awarded four more small-scale DAB radio multiplex licences in England and Scotland. Following a competitive process, where each applicant was judged against specific criteria, multiplex licences have been awarded for the following areas: The following small-scale radio multiplex licence awards were announced by Ofcom on 31 March:
Further licence awards for the remaining 16 areas that were advertised in Round One will be announced over the coming weeks. Round Two licence areas in the North West of England and North East Wales will be advertised on 1 June 2021.

Small-scale multiplex applications and awards are listed on the the Ofcom website here.

Community digital sound programme (C-DSP) licence applications and awards are listed on Ofcom's website here.

The documents for applying for a small-scale radio multiplex or digital sound programme service licence are on Ofcom's website here.
New C-DSP station to launch in Leeds
Mighty Radio Leeds is set to launch in the Wortley area of Leeds later this year. The station has been awarded a community digital sound programme (C-DSP) licence by Ofcom for the city and is welcoming volunteers from the community to get involved.

Director and station manager Trevor Ford said: "It's going to be a great challenge working with all the volunteers in Wortley and also with networking within the community. We already have emails of interest from volunteers to help with the station, the local content and with local programmes. I'm excited for the volunteers and for the output of Mighty Radio Leeds."

Station Manager Paul Tasker, originally from Mighty Radio Southport added: "I know it has been a tough year with the economy, the pandemic and day to day life, but I will help with regular zoom meetings from Southport to Leeds, to ensure that all the team at Leeds get my full support. I want the volunteers at Mighty Radio Leeds to gain the same skills, same enjoyment and passion for Radio as I have."
WorldDAB Automotive 2021 Registration Now Open
DAB+ digital radio is now included in all new passenger cars sold in Europe, but with more connected entertainment options available, the role of radio is coming into question. How do vehicle manufacturers see the future of audio in the car, and what can the radio industry do to embrace connected technologies and keep broadcast radio central to the in-vehicle audio experience? For more information and how to register for this free event on the 23rd June (10:00 - 15:00 CEST) click here.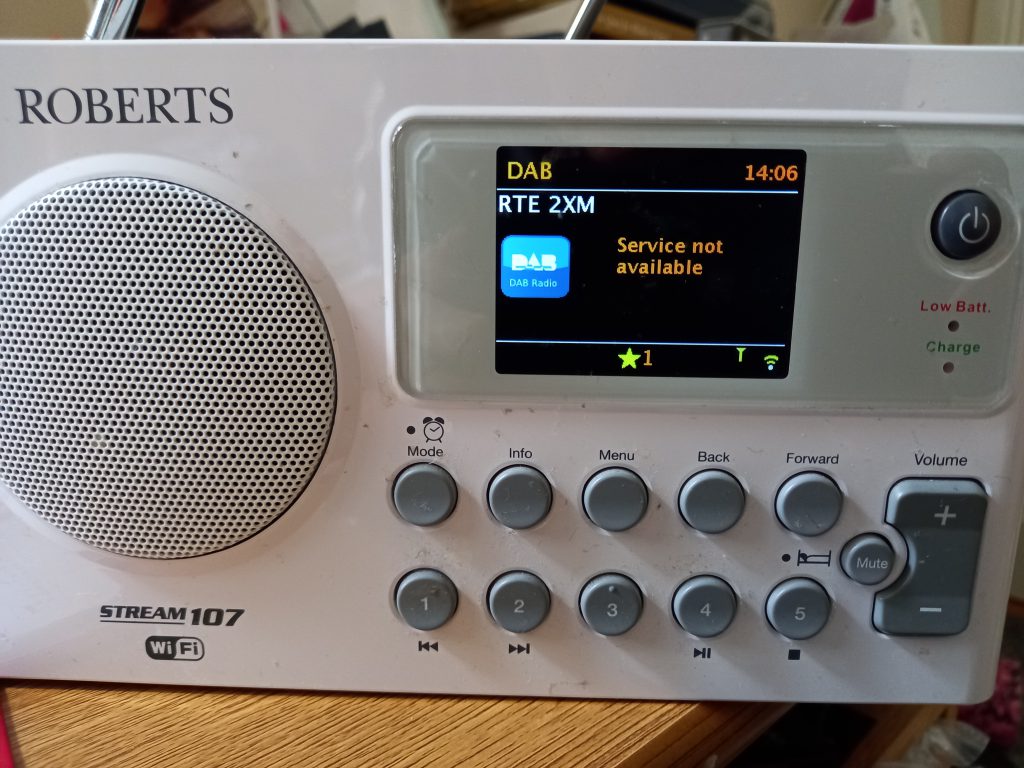 Wireless Flirt - Ireland Radio News
In the April 2021 edition, Wireless Flirt speaks to to Simon Maher of Ballyfermot College of Further Education and 8Radio.com about the recent decision by RTÉ to close down its DAB transmission network. Dr Rosemary Day, Head of the Department of Media and Communication at Mary Immaculate College, University of Limerick, tells us about her submission to the Future of Media Commission.

Switzerland goes digital – DAB+ is now the most widely used radio reception method
The trend towards digital radio is continuing: three quarters of radio usage in Switzerland is now digital. DAB+ is the most widely used radio reception method, in all parts of the country. Only one in eight people say they still tune in exclusively to FM radio. Read more here.
Radio Academy Appoints Sam Bailey as Managing Director
The Radio Academy has appointed former Trustee and Chair of the 2020 ARIAS, Sam Bailey, as its new Managing Director. Sam will be responsible for the day-to-day running of the charity and the ongoing development of its programming, membership schemes and events. Sam was previously a Commissioning Executive at BBC Radio 1, where he held a number of posts over a 14-year period. For the last two years, he has been the Managing Director of the Audio Content Fund, a role he will continue alongside his Radio Academy responsibilities.

Commenting on his new role, Sam said: "I'm really excited to be taking over this role at such a crucial time for The Academy, and to be joining an energetic leadership team with the Radio Academy Chair Helen Thomas and Deputy Chair Nick Pitts. My focus for the year ahead is to massively increase the value of being a Radio Academy Member for everybody in the industry, with new event programming, new training and development programmes, and the hope of finally bringing people together again in one place before the year is out. The Radio Academy is an organisation that means so much to me, and I'm determined to make it the best it can possibly be."

Groups Urged to Bid for Share of Loan Sharks' Confiscated Cash
Cash seized from loan sharks is once again up for grabs in the latest round of funding from the Stop Loan Sharks Community Fund.

Community organisations, charities, and groups are being asked to bid for grants of up to £5,000 from the England Illegal Money Lending Team (IMLT). Projects must raise awareness of the dangers of loan sharks, reduce crime and disorder, and have a positive impact on communities.

Collaborative bids between multiple agencies are also welcome. If any project is interested in making a collaborative bid then please contact Peni Whelan on the CMA Council.
Audio & Radio Emergency Fund Enters Final Round
Organisers have announced the Audio & Radio Emergency Fund (AREF) will be closed at the end of its current funding round. AREF is currently open for its final round, which closes for applications on 26th April 2021.

The Radio Academy created the fund in April 2020, to help those in the radio and audio sectors who were facing hardship because of the coronavirus crisis. Since then, over £77,000 has been awarded in 165 grants of up to £1,000 to those experiencing hardship or needing help to continue working from home.
AREF was a joint response to the pandemic from The Radio Academy and AudioUK, with significant funding from the BBC, Audible, The Whickers, Folder Media, ReelWorld and Radio Today. Their support built on the existing Radio Academy Benevolent Fund and was supplemented by £20,000 of generous individual donations through the Show You're Listening initiative.
The need for AREF was made clear in the hundreds of applications received and assessed by the AREF funding panel, who were often confronted with the desperate and heart-breaking circumstances facing the industry's freelancers.

The chair of AREF, Radio Academy Trustee Dom Chambers, said: "There has been an amazing response to the fund at this time of national crisis, which reveals the deep levels of support individuals and organisations have for their fellow workers in the industry. A number of people have really stepped up to help out with their time and expertise. I would especially like to show appreciation and thanks to Will Jackson, John Dash, Nicci Holliday, Aradhna Tayal, Dixi Stewart, Cathy FitzGerald, Ahmed Hussain, Stuart Morgan, Anthony Gay and Tim Pemberton. In AREF, we have now established a mechanism of grant making which can be revived in the future if it becomes necessary."

Any remaining funds will be held in the Radio Academy's Benevolent Fund for future needs.
Meet the Commissioners webinar - Wed 28th April, 1-2pm
The Audio Content Fund was set up two years ago and provides funding for the creation of original radio and audio production in the UK. They have commissioned radio programming that is traditionally more difficult to support on a commercial basis such as drama, documentaries, events and comedy. Recent successes include Voice of Hope, Hit the Streets and Bars - music therapy for prisoners.
Exciting and creative ideas are welcome,and production companies that bid must have an agreement with a station to broadcast the content. Recently the ACF has had additional funding for ideas around loneliness and in May they are launching a new commissioning round.
To hear what types of ideas the fund is looking for, join Mukti Jain Campion (Member of the independent funding panel) and Sam Bailey (Managing Director of the fund) for the Audiotrain commissioning webinar.
When: 28th April, 1-2pm
Cost:This is a free event, available to all people subscribing to Audiotrain. (This event will not be recorded. Voluntary donations welcome)
"Lessons from Community Media" - 13th May, 6pm
Event by Media Reform UK
Online: TBC
Date: Thursday, 13 May 2021 at 18:00 UTC+01
Price: Free
Public · Anyone on or off Facebook
This event, organised by the Media Reform Coalition and Soundart Radio, looks at the future of community media in turbulent times. What could accountability look like, if we thought of it less as following government rules and more about being responsible to each other? How could national broadcasters positively support and learn from community media? And what do we do when the idea of 'community' is often weaponised against the people that need it most?
The next Radio Hub Workshop will be online on Saturday 22nd May, 12pm to 2pm featuring: Ian Hickling on 'Radio Antennae', Carl Roberts on 'Becoming a Dementia Friend', and The Community Radio Awards. Free to Attend – to book, email dannylawrence@gateway978.com.
The
2021 New York Festivals Radio Awards
are still accepting entries.
The Awards inspire, encourage, help build careers, mark achievement and celebrate creativity. They reward passion, courage and intensity and can change your life!
The Storytellers Gala honoring Radio and TV & Film Award winners will take place on October 12 at the NAB Show.
The Radio Awards receives entries from radio stations, networks, and independent producers from over 30 countries around the globe. The mission of the competition is to honour the achievements of the men and women who make up the global audio storytelling community.
The deadline to enter the 2021 Radio Awards competition is 20 May 2021.
See radio.newyorkfestivals.com for more details and to enter.
The 2021 Radio Academy ARIAS Live from London, 26th May
The Audio & Radio Industry Awards (ARIAS) recognise the talented individuals and teams in UK audio and radio sector who excel at their craft and produce the very best body of work in the world.
The award categories cover a diverse range of genre, talent and output from public service radio, commercial radio, podcasters, community radio, student radio, independent production, audio books and beyond.
This year the ARIAS will be available via a live video stream for the first time, and the event will be free for all Radio Academy Members to watch. Register now to join the live stream on 26 May.
Please note, members of the Community Media Association are eligible for Affiliate Membership of the Radio Academy. Apply for Affiliate membership here.
The Community Radio Awards have launched an Honours programme to recognise those who have made a significant impact to the community radio sector. Nominations can be of any age, or experience in regard to community radio. They may have worked within or be connected to the wider sector; they do not need to have been directly associated with a particular station.

THE CRA are looking for people who have displayed outstanding or exceptional service, for example people who have implemented change, demonstrated innovation and entrepreneurship, sustained selfless voluntary service, or brought distinction to the sector. Find out more and Submit your nominations here by the DEADLINE of 8pm 31st May 2021.
5 things you need to know about Facebook's new audio features
Podcasts, Soundbites, and Live Audio Rooms are all on the cards for Facebook users.

Following reports that Facebook was planning to launch a new range of audio features, the company has now confirmed some of the additions users can expect to see over the coming months.
There will be audio-creation tools. Audio-creation tools are first on the agenda.
You'll be able to make Soundbites.
Podcasts are coming to the app.
You'll get to listen to live conversations.
Users can make money through Facebook audio.

Here's a nostalgic look back at the newsroom of The Sydney Morning Herald.

"In 1996, when I started at the ABC, an interview would be recorded on reel-to-reel tape. If any cuts were needed, the tape would be cut using a razor blade, the two ends then stuck together with a thin sticky connector. If many cuts were involved, care had to be taken when hitting "rewind" that the whole thing didn't fall apart."

Read more here.
Searching for the last true analogue radio - Panasonic RF-562D versus the 5 Core
Here's one man's account of trying to find a rarity in 2021: a radio with a true analogue tuner rather than a digital tuner pretending to be one. Candidates include the Panasonic "Retro Design" RF-562D and the 5 Core "Sound of India" T-22. One for the radio receiver geeks.