It's been a very busy month, and in this edition we report on the DCMS response to the industry consultation on the development of Small Scale Digital Audio Broadcasting. We also share news of events across the UK, , Rethinking Digital Inclusion and discounted tickets for RadioTechCon. There is news from Awaz FM, Ujima Radio, Sheppey FM, Radio Tyneside and Angel Radio. We have some guidance on applying to the and information on the Audio Content Fund and the Big Lottery's Digital Fund. We have podcasts from Radio Today, the inRadio podcast, the Decentered podcast, and the Earshot podcast on imaging radio. We also share a link to six films which document the influence of unlicensed radio in the UK, the DAB+ branding kit and a survey on community radio advertising collecting information about current practices. And there's actually quite a bit more so you'd best go hunting for all the goodies we have for you this month

Email your news, press releases, event details and stories to editor@commedia.org.uk
Strategy & Policy Updates
The Department for Digital, Culture, Media & Sport (DCMS) has published its response to the industry consultation on the development of Small Scale Digital Audio Broadcasting (SSDAB).
Whilst the Community Media Association welcomes the development of SSDAB as an opportunity for community radio to gain carriage on DAB we are disappointed that the Government has not taken on board several substantive proposals from the community radio sector that, when taken together, would increase the likelihood that community radio services will take up the SSDAB opportunity and would bring greater public value in terms of local media pluralism.
Furthermore, the CMA's recommendation to limit ownership of multiplex licences to single entities was proposed to develop a plurality of media ownership and provide a robust broadcasting ecosystem better able to withstand the vicissitudes of market circumstances. We acknowledge some concessions from DCMS to the CMA's position but we have reservations that concentrations of multiplex ownership will still arise and stifle sector diversity.
We welcome the commitment in the DCMS plan to guarantee carriage for community radio services however we remain concerned that the ownership proposals are likely to lead to commercial for-profit multiplex operators seeking to cherry pick the most attractive urban coverage footprints to extract rental value from the SSDAB licences without any commitment to return that value to local communities. The risk of the ownership proposals from DCMS is that where there is profit to be made, commercial multiplex operators will benefit and community radio services will pay, whilst in unprofitable locations it will be left to non-for-profit operators to try to develop alternative economic models.

The CMA's full commentary on the Government's Consultation response may be found here.
The
Community Media Association
recognises the need to widen its research remit so it can better support community media groups with evidence that can be used to assess the social impact community media has. Community media practitioners and activists need an independent and recognised evidence base when talking with UK government, regulators, local government, NGOs, funding bodies and civic development groups. The
Mapping Community Media event
will bring together researchers and community media practitioners to assess and map where and how community media is being produced and studied in the UK, with a view to determining how it can more productively be evaluated. Led by
Dr Katie Moylan
from the
University of Leicester
and
Dr Rob Watson
from the Community Media Association, this free event is on Saturday 24th November, 10am to 2pm at the University of Leicester. Register on Eventbrite
here
.
Monday 26th November. The event is a great opportunity to network and find out more about the technical side of the radio industry.

RadioTechCon is once again supporting the community media sector by discounted tickets to CMA members. Contact the office for the discount to use to reduce the ticket cost to £125 + VAT. Please do not share the code on social media - it's exclusive to CMA members.

Also, two respondents to the feedback survey on the 2018 Community Media Conference will be drawn to receive a free ticket to attend Radio TechCon and the draw will take place shortly and the lucky recipients informed.
UNITED is calling on civil society, community organisations, schools, local authorities and individuals to join forces and confront hate with direct action under the slogan 'Speak up now! Fighting Fascism is Not Radical, it is necessary!'. In the past UNITED network organisations have coordinated a huge range of activities for International Day Against Fascism and Antisemitism, which this year commemorates the 80th anniversary "Kristallnacht" pogrom of 1938 on the 9th November 2018. Activities include screening of topical films, public talks, demonstrations and radio broadcasts. If you would like to get involved in this day and need some inspiration for your activity, you can always check the list of Best Practices on the International Day Against Fascism and Antisemitism website as well as other resources on how to organise activities on a budget, and how to organise last minute activities - checkout the How to Organise An Activity Guide here. Also, the Media Against Hate resources might be useful when planning activity.
As part of the #NotWithoutMe programme, the Carnegie UK Trust is hosting an interactive, provocative and user-focused afternoon on the theme of supporting digital inclusion with vulnerable young people, with a particular focus on practice outside mainstream education 'Rethinking Digital Inclusion' will bring together a cross-sector of participants to further explore the barriers and enablers to digital inclusion. Participants will be challenged to think critically about what we 'know' about digital inclusion and how applicable or relevant this learning is for working with vulnerable young people today. The afternoon will include sharing the latest research, discussion groups and hands-on activities. Places are free but spaces are limited. General booking will close on Monday 12th November. To find out more and register visit the event page. Carnegie UK Trust is offering participants the opportunity to host their own deep-dive session and has a small number of travel bursaries on offer. Further information around both can be found on the events page.
1pm-5pm Tuesday 27th November 2018, Barbican, London, EC1A 4JA
Podcasting for Beginners Workshop, Bristol, 8th November
Want to launch your own podcast but not sure where to start? Or perhaps you have already started one but would like to improve it or develop it further? If either applies, this is the workshop for you! Podcaster, producer and broadcaster Miranda Rae (Radio 4, Sony & MMG Award Winner, Galaxy Radio, Ujima Radio) will guide you through a two-hour crash course that will give you all the confidence and know-how you need to start your very own podcast! You will learn: What makes a great podcasting story | Masterclass in presenting | How to conduct a good interview | How to get your Podcast out there | Branding your Podcast | Basic technical skills (Recording/Editing) | What equipment and software need to produce a Podcast | How to Monetise your Podcast. Thursday 8th November 2018, 7pm-9pm at BBC Bristol. Tickets cost £30 per person. For more information on how to book email MirandaRae007@gmail.com
The Small Charities Coalition is a national membership organisation that helps trustees, staff and volunteers of small charities access the skills, tools and information they need to get going and do what they do best. Check out the upcoming programme of training events across the UK here.
Martin Steers of the Community Radio Awards and other community media organisations has created a survey to collect information to help create a picture of the community radio sector and to assist with conversations about future advertising opportunities.
Awaz 107.2 FM is currently raising awareness of dementia amongst the Asian and African Communities in Glasgow and across Scotland with a series of programmes and fundraising activities. The Alzheimer's Society reported that there are tens of thousands of people living with dementia in the UK who are not getting the services they are entitled to and disproportionately it is people from black, Asian and minority ethnic (BAME) communities who are being failed by the system.

The Alzheimer's Society recommended a number of measures to counter the imbalance and these will be discussed and highlighted in programmes and fundraising activities. Awaz FM presenter Hameeda Haseeb is leading the campaign, along with Javed Sattar, which they hope will raise awareness all the way to the Scottish Parliament to improve funding to support local dementia groups and to recruit bi-lingual health professionals who can directly communicate with the older generation in the BAME communities affected by this illness.

Awaz FM is a community radio station broadcasting to the Asian and African Communities across Glasgow on 107.2FM and online. Support the project via its JustGiving page and download the Dementia Does Not Discriminate report here.
The
Rise Up breakfast show
has now launched on the award-winning community radio station
Ujima Radio 98FM
across Bristol and worldwide. Ujima Radio Broadcast Manager and veteran presenter
Miranda Rae
said "I am extremely proud to be part of the team of this award-winning radio station and to announce the launch of our own Breakfast show, Rise Up. This will be an incredible opportunity for our volunteers to get hands-on training and be part of a new flagship show. It has been our ambition to have a training platform for our volunteers and the Rise Up Breakfast Show will do just that".
Ujima Radio Chair and recent
Lord Mayors medal winner Roger Griffith
said "It has been our ambition to have a training platform for our volunteers and the Rise Up Breakfast Show will do just that. To launch this flagship show in our 10th anniversary and Year of Change is a huge milestone and I am delighted to see our plans come to fruition".
Sheppey 92.2 FM, the community radio station for the Isle of Sheppey are the proud winners of a Swale Business Award 2018 for 'Impact in the Community'. The judges said they were 'blown away by the project and emotionally moved by their community work'. The judging panel added; inspirational, inclusive and high-quality local radio is being produced and at the same time is providing a diverse mix of volunteers with an opportunity to express their talents, over the radio waves. As a first time entrant, Sheppey FM showed the judges the significant impact that they are having within Swale area and the undoubted positive influence that the station has on a very large number of local people's lives. Station Manager Julie Nicholls said; "Of the 30 finalists at the Swale Business Awards, there were 9 winners...which included us for "Impact in the Community" We are so pleased and proud!"

It's been an award-winning few years for Sheppey FM who also won two silver awards at the 2018 Community Radio Awards in the 'Community Development Project of the Year' category for its Mental Health Community project and for 'Newcomer of the Year' Abbie Clive who presents from the studio using Braille. In 2017, Jack Bee from the station won a Gold award for "Volunteer of the Year" and a Bronze award was given to Jamie Long for the 'Speech & Journalism' category.
Launch of Burgess Hill 103.7FM
Community radio stations are a thriving part of our media landscape. There are hundreds of them across the country, reaching millions of listeners.
In West Sussex, another station hit the airwaves for the first time after being given an FM frequency and ITV News was there to cover the story.
HRH Prince Edward, Earl of Wessex visited Radio Tyneside to present the hospital and community radio station with the Queen's Award for Voluntary Service. The Queen's Award for Voluntary Service is equivalent to the MBE and is the highest award that can be made to a voluntary group. Dave Nicholson MBE has volunteered at Radio Tyneside for over forty years and today acts as Chairman for the station. Dave said: "This year has been really exceptional for Radio Tyneside. Not only did we win five awards at the National Hospital Radio Awards, we also secured a licence from Ofcom to broadcast on FM allowing us to expand our reach and promote health and wellbeing across the Tyneside area".
Lord Lieutenant of Tyne and Wear, Susan Margaret Winfield MBE, added: "Hospital radio provides a vital service to many at a time when they are most vulnerable and the fact that Radio Tyneside has been doing this on a totally voluntary basis for nearly 70 years is an incredible achievement.
"I am absolutely delighted for such a wonderful community organisation in the North East to be recognised for their voluntary service, and to be awarded it in person by HRH Prince Edward himself is a real honour.

A TV report from BBC Look North can be viewed online here.
Germany's international broadcaster Deutsche Welle has created a short film called Great Britain: Nostalgia on the Radio featuring multi award-winning community radio station Angel Radio in Havant. The video features interviews with some of the presenters who continue volunteering well past retirement age because for their listeners "Angel Radio is a conversation partner, comforter and it helps combat loneliness".
Ofcom has published guidance to help stations which intend to apply for Community Radio Fund grants. The guidance sets out the information that the awarding panel is likely to look for when considering grant applications. Grants to holders of community radio licences are made by Ofcom's Community Radio Fund Panel twice a year, in April and October. The fund is allocated by the Department for Digital, Culture, Media and Sport.

Applications to the fund opened on the 9 October 2018 and will close on 6 November 2018.
The Government has announced the launch of a new Audio Content Fund which will assign up to £3million to support a broad range of public service audio content, for all ages, on a wider range of UK radio stations.

Examples of the sort of programmes eligible for funding might include: long-form documentaries or speech programmes; comedy; drama; educational content; outside-broadcasts or events. Content will be expected to reach significant audiences, with allowances made for UK minority indigenous languages, younger audiences and diversity.

Applications for funding will require a guarantee of broadcast from an Ofcom-licensed radio station and will be judged against a set of agreed criteria including Quality, Innovation, Additionality, Nations & Regions, Diversity, New Voices, Audience Reach and Plurality.
The Digital Fund is a new UK wide £15 million funding programme to support charities and community organisations from the Big Lottery Fund. It is about helping the charity and voluntary sector to use digital tools and approaches to support people and communities to thrive. To find out more about the fund and how to apply click here. You can submit outline proposals from 22nd October 2018 until 5pm on the 3rd December 2018. There will be further opportunities to apply in 2019.
Radio Today
There were quite a few podcasts from the Radio Today channel since the last newsletter. Stuart Clarkson recorded a podcast at the Drive to Digital Conference held at the British Museum at the end of September. The Conference featured senior speakers from Government, broadcast, automotive, retail and manufacturing. There is also a discussion about the Government's response to the Small-Scale DAB Consultation with David Duffy and Ash Elford and, finally, a podcast recorded at the 2018 ARIAS in Leeds.
If any community radio station would like a radio play for Remembrance Sunday,
Radio Verulam
has a co-production with their local 'Company of Ten'. "The Old Fighting Cocks" is the story of local men going to fight in the First World War. There are some local references but it would probably translate to other stations fine. Will be posted to Dropbox - contact
Nick

Hazell
. Here is the
trailer
.
inRadio Podcast
The latest InRadio podcast from Dom Chambers was published in October. The podcast. New Beginnings, explores business models, audience engagement, educational links and community development featuring and
A clutch of Decentered podcasts this month from Rob Watson who discusses in Podcast 05 the role of multi-language-based community radio with Vijay Umrao, studio manager and presenter at Eava FM. In Podcast 06, Rob talks to Sam Hunt from Leicester Community Radio about building a community of listeners in a multimedia and digitally-enabled world. Lastly in Podcast 07, Rob visits Steve Faragher of Liverpool Community Radio which starts broadcasting in 2019 to find out more about the ethos of the station, and how to focus on distinctive voices that come from across communities in a different way
The sound of BBC Radio 1 is heard by more than nine million people in the UK every week. In the latest edition of the Earshot podcast, producers Ben Stones and Liam Hadley explain how they and their team create the imaging production and promos for Radio 1 Breakfast. We hear also from host Greg James and ReelWorld music director Erik Huber who created the show's theme.

Earshot is full of ideas and technique to help you promote and image radio. Play or download the podcast from the Earshot website here.
Are you Obit Ready?
Advice from radio programmer and producer Chris Stevens to help ensure your radio station is ready to respond to a major news story or a death with significance to your community. Read the full article on the Chris' blog here.
London's Radio Pirates Changed Music. Then Came the Internet
This article from the New York Times shows how the rise of community radio and Internet radio has impacted on the number of unlicensed radio stations in London and references community radio stations Reprezent, Rinse FM, and Flex FM.
"Long before the advent of Facebook or Twitter, pirate radio was a vital social network. In the 1980s and through the '90s, rebel transmissions and illegal stations dominated the airwaves – in London especially, but also across the UK – providing an outlet for forms of music shunned by the mainstream." Read the full article on the Redbull website with links to six documentaries that chart unlicensed radio in the UK.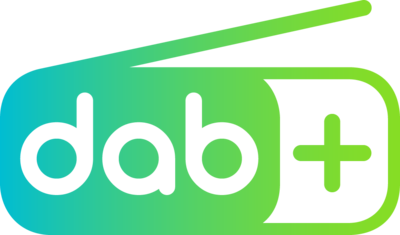 A full DAB+ branding toolkit from World DAB is available for download here to ensure consistent marketing of DAB+ internationally. The DAB+ logo is free to use for industry stakeholders in the promotion of DAB+. Based on a universally recognised radio receiver, the logo is supported by modern fonts and a dynamic colour palette.
5G TV & Radio: Broadcasting Tests Start Soon
High up on the edge of the Alps, tests of the next generation of digital terrestrial broadcasting are starting. Bavaria's public service broadcaster BR has been officially assigned frequencies for the world's first "high tower, high power" 5G FeMBMS* transmitter, located on the 1828 metre high Wendelstein mountain, with a transmission power of 100kW ERP.

Once on-air, the tests will allow the portable and mobile reception of test signals in southern Bavaria and Munich. Since this is a test operation, there aren't yet any devices available to the public that can access these signals. In the future, with this technology, broadcasting services aimed at large numbers of users can be widely distributed at low cost and received, for example, with smartphones, but possibly also with classic radio and television sets. Read more on this next step in digital terrestrial broadcasting at a516digital website here.