Welcome to Community Media
News #36 February 2020
Welcome to the second edition of Community Media News for 2020.

As always there is loads going on - too much to cram in here - so please check out the Chat Forum for the news of a number of East Sussex community radio stations working collaboratively, Ofcom's five-year review of public service broadcasting in the UK, and a new review by DCMS of Digital Radio and Audio. The CMA is also engaging with a range of government contacts on the coronavirus issue.

In Sector News, we have details of the 2020 Community Media Conference and four new community radio licences awarded by Ofcom.

In Community Updates, Ofcom visits Gateway 97.8, Erewash Sound celebrates 10 years on air, Bristol's BCfm reopens, and Radio Verulam is recognised and accredited for its volunteer management.



In

Strategy, Policy and Licensing

, DCMS appoints its new ministerial team and Dame Melanie Dawes is appointed as the Chief Executive of Ofcom. And the Local Radio Alliance is surveying the need for a report evaluating the social impact of community radio.



In Events & Training, we share details of Women Make Radio workshops from Derby Sound and the upcoming Community Business weekend celebrating community-run businesses.

In Funding & Awards, we focus on the Audio Content Fund with a grant budget of £1,000,000 for 2020, including details of previous success stories from the sector. The Bright Ideas Fund is also now open.

In Podcast, Audio & Digital, we celebrate World Radio Day 2020 with an inRadio podcast, there's a bumper crop of the latest Decentred podcasts, and the 4Q2019 MIDAS data from Rajar.

In Tech Corner, we have an amazing Introduction to Broadcasting from RadioTechCon, details of Subly for adding captions to video content on social media. and a new AI platform for radio stations. We finish with a recording of the first-ever radio phone in from 1968.

As always, do check the CMA Chat Forum for more news and information and keep up-to-speed via the usual social media channels.

Have a story about your community radio station or community media project to share? Email your news, press releases, event details and stories to editor@commedia.org.uk
Save the Date: 2020 Community Media Conference
Saturday 27th June Luton
The date for the 2020 Community Media Conference has been confirmed - Saturday 27th June at the University of Bedfordshire in Luton!

The CMA is interested in hearing your views on the sort of sessions you would like to see at this year's Conference. Post your suggestions here. Given the current media landscape with increasing consolidation and centralisation of broadcasters and the demise of local newspapers, a strong theme is again likely to be citizen journalism. And of course, SSDAB will be an important subject this year with the first SSDAB licences to be issued.

Tickets for this event will be released shortly, so book your hotel accommodation now for the best deals!
At the end of January, Ofcom announced the award of four new community radio licences in England and Northern Ireland. Congratulations to all of them!
Licences have been awarded to:
Border City Radio, Carlisle, Cumbria
Chiltern Voice, Amersham and Chesham, Buckinghamshire
Wallingford Radio, Wallingford, Oxfordshire
Radio Ballymena, Ballymena, County Antrim
A news release with more information is available.
Ofcom Visits Basildon Community Radio Station Gateway 97.8
Some of the Ofcom Spectrum Team and Broadcast Licensing Team visited Gateway 97.8 in Basildon to meet a few of the younger radio club members and for a tour of the station. Gateway 97.8 discussed with the Ofcom team how the community radio station is run, the work undertaken by volunteers, and the media qualifications that the stations' participants can receive. Ofcom also saw how the recent improvement to the station's coverage area has enhanced engagement with the local community and presented a clearer picture of what community radio is all about.
Chairman of the Community Media Association, Danny Lawrence said: "I'm delighted to invite Graham Plumb and some of his team to Gateway 97.8 and I hope that today's visit builds stronger relationships with Ofcom and other community radio operators".

Tom Connolly, Broadcast Licensing and Programme Operations at Ofcom, said: "Thank you so much for your hospitality today. I found it enlightening visiting your studio, particularly with regards to the clear social gain that Gateway 97.8 offers its community."

Graham Plumb, Ofcom's Director of Spectrum Broadcasting, said: "I'd like to pass on thanks from our team for taking the time to show us your station and the work that you do. We were blown away by your passion and commitment and the help that you and your volunteers provide to your community, and particularly the young and vulnerable."
Community Radio Station Marks 'Ten Year with You'
Erewash Sound 96.8FM began broadcasting full-time in March 2010 from a former headmaster's study at a local school. Run almost entirely by volunteers, the station later moved to a new Media Centre on the same site where it has remained to this day. Erewash Sound has since developed an NCFE accredited training academy and has supported scores of local community groups, charities and non-profit organisations to raise their profile. The radio station has also picked up a number of business and radio industry accolades in recent years.

To mark the anniversary, the station will be broadcasting from various local locations. On the 6th March,
Breakfast Show presenter Paul Stacey will be presenting his show live from Trentbarton bus services and talking to local listeners as they tour the borough.
On Saturday 7th, the radio station will broadcast live from the window of Richdale Sofas, which occupies part of the former Ilkeston Co-op Buildings and presenters will be speaking to a number of special guests in-store. There is also a celebratory 80s night at The New Manor Ground, the home of Ilkeston Town FC on Saturday 28th March. Local business Ron Brooks Toyota in Ilkeston will be sponsoring celebrations throughout the year, including the launch of a second FM transmitter serving Long Eaton, the south and south-west of the borough.

Ian Perry, Press and Media Spokesperson for Erewash Sound, said: "It is hard to believe that a whole decade has passed for Erewash Sound which has continued to evolve in that time, whilst remaining true to its word of being "the radio station JUST for Erewash".

"But it goes without saying that we could not do any of the things that we do without a truly dedicated team of volunteers who carry out everything from marketing to finances, HR to PR, production to training, engineering and IT to admin and fundraising and much more besides".

"We can't wait to celebrate ten years with you!"
One Love as Bristol Community Radio Station Reopens After Fire
Bob Marley's face featured on a giant poster to celebrate the reopening of BCfm's studio six months after a devastating fire. The team behind the much-loved community radio station in Bristol chose the late reggae legend's birthday to officially mark their move back into the newly-renovated and improved main broadcasting room during the One Love Breakfast Show on Thursday. The fire broke out while the Silversound show was live on air in August 2019, leaving just the charred remains of equipment and furniture in its wake.
Image: L-R BCfm's Christina Robino, Sherrie Eugene-Hart and Victoria Tiley. Photo by Ellie Pipe
Community News From Radio Verulam
The local community radio station for St Albans, Radio Verulam, has been recognised and accredited for its volunteer management by Communities 1st , the membership organisation dedicated to supporting the Voluntary, Community, Faith, CIC, Social Enterprises and small to medium-sized businesses based or working in the districts of St Albans and Hertsmere. More here.

And, if you've always wanted to know a bit more about the people who are your St Albans Councillors (and there are in fact 49 of them), Radio Verulam has produced a podcast series recorded with a number of the St Albans District councillors where they talk to Nick Hazell about their personal lives, their responsibilities on the council and how they are looking to improve the lives of the St Albans communities. More here.
DCMS ministerial team confirmed
Oliver Dowden CBE was appointed Secretary of State for Digital, Culture, Media and Sport on 13 February 2020. The Secretary of State has overall responsibility for strategy and policy across the department and management of Brexit for the department.

He was previously Paymaster General and Minister for the Cabinet Office from 24 July 2019 to 13 February 2020, and Parliamentary Secretary at the Cabinet Office from 9 January 2018 to 24 July 2019. He was elected Conservative MP for Hertsmere in May 2015.

John Whittingdale was appointed Minister of State for Media and Data in the Department for Digital, Culture, Media and Sport on 14 February 2020. He previously served as Secretary of State for Culture, Media and Sport from May 2015 until 14 July 2016. He was elected Conservative MP for Maldon in 1992.

Caroline Dinenage was appointed Minister of State for Digital and Culture in the Department for Digital, Culture, Media and Sport on 13 February 2020. She was elected Conservative MP for Gosport, Stubbington, Lee-on-the-Solent and Hill Head in 2010.
Dame Melanie Dawes Appointed as Chief Executive of Ofcom
The
Community Media Association
welcomes the appointment of
Dame Melanie Dawes
as Chief Executive of Ofcom. Dame Melanie's experience in the Civil Service will be essential in leading the organisation through this critical time for communications industries.
We are also delighted that Dame Melanie is a trustee of the Patchwork Foundation which promotes the participation of under-represented young people in democracy. She will bring to her new role an understanding of the impact that community media, and in particular community radio and television, can have in ensuring that under-represented voices can be seen and heard in the media. We look forward to working with her in this regard.

Equality of opportunity and training in broadcasting: Request for information

On 26 February 2020, Ofcom sent a hard copy of a diversity information request to the registered office (if a company) or principal office of all Ofcom-licensed community radio stations.

This was in the form of a letter and two annexes and sets out what information Ofcom is requesting and why it is needed. Please click the link below to complete the survey here.

You are required to respond to this information request by 5pm 11 March 2020, preferably by completing the online survey. You may be found in breach of your licence if you fail to do so.
The
Local Radio Alliance
is looking to establish need and appetite (if any) for a report that will provide an evaluation of the social impact of community radio. The LRA defines social impact as the effect that the actions of organisations have on the wellbeing of people and communities. If you are a radio station director or manager. please take 5 minutes to do the
survey
and share with your networks.
Women Make Radio are monthly sessions hosted by M-prez Enterprise in partnership with Derby Sound Community Radio that give women the opportunity to find out how radio is made, pre-record interviews, select and play their favourite songs and create talk radio and radio stories.
Sessions are relaxed and fun and children are welcome. Once a show is created, there is the opportunity to record it at Pride Park Derby and air it on Derby Sound Community Radio. The sessions are free and tea and coffee and biscuits are provided, donations welcome.
Book a space on Eventbrite here. #womenandradio #girlpower #airwavetakeover
Community Business Weekend 14-17 May 2020
Community Business Weekend is an annual, national celebration of communities running businesses to spark change in their neighbourhoods. From Thursday 14 May to Sunday 17 May 2020, people across the country are invited to visit a community business near them during
Community Business Weekend
.
This year, we're celebrating how community businesses are climate confident, and can help local people take small local actions to tackle the global climate crisis. From saving bees, to generating renewable energy, growing food locally to preserving green spaces, the 9,000 community businesses in England are making a difference. For more information visit the website
here
.
Building on the success of the Audio Content Fund (ACF) in 2019 – in which £656k was distributed to 25 projects – the ACF is pleased to announce their funding timeline for 2020, for which the grant budget is set at £1,000,000.

In the spirit of the pilot project the ACF is part of, the aim in 2020 remains to distribute those funds as widely as possible, whilst also exploring some different ways for the budget to have an impact on commercial and community radio, and the independent audio production sector.

As such, the ACF is announcing two standard rounds of funding, modelled on the successful template of 2019's distribution, and a third round of funding focused on high impact projects with higher budgets. The assessment criteria will be same for all three rounds (since these are derived from the overall aims of DCMS's Contestable Fund pilot), but there will be differences in the expected scale of the projects.
Round 4 – Standard Round – 2 March to 30 March 2020
Round 5 – High Impact Round – 29 June to 27 July 2020
Round 6 – Standard Round – 28 Sept to 26 Oct 2020
Read more here.
The Audio Content Fund holds several funding rounds per year, and requires all projects to be produced and broadcast within 12 months. Click here for a list all funded projects, and links to hear the output where available.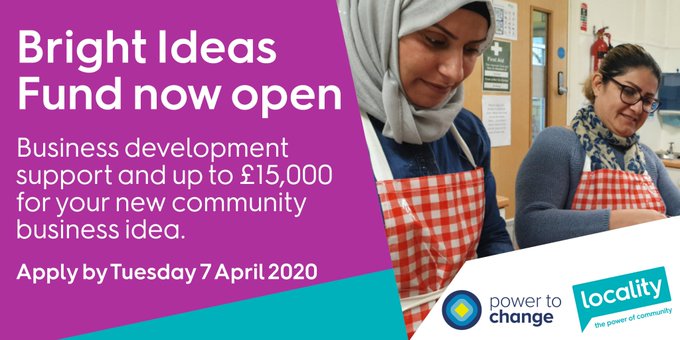 Do you have a bright idea for a community business? Need a bit of help developing it and making it a reality? The Community Business Bright Ideas Fund is now open for applications until Tuesday 7 April 2020! Apply and discover more here.

Funded by Power to Change, the £3.2m Bright Ideas fund offers tailored support and grants of up to £15,000 to develop their projects. The fund gives community groups the early-stage finance they need to work with local people to develop a community business idea the community wants and needs. It also gives them support and tools to start setting up their community businesses.

#WeAreDiversity World Radio Day 2020
Proclaimed in 2011 by the Member States of UNESCO, and adopted by the United Nations General Assembly in 2012 as an International Day, 23th February became World Radio Day (WRD). In this episode of the inRadio podcast, host Dom Chambers explores some of UNESCO's themes in celebrating World Radio Day and talks with Somer Valley FM's Women's Power Hour presenter Yvonne B." Listen on Audioboom here.

Decentered Media Podcasts: 052, 053, 054, 055, 056, 057, 058, 059
The Decentered Media Podcasts from Rob Watson are an off-centre look at community, social and sustainable media. With discussions about the role of media in sustainable and participatory communities that provide an alternative to mass media.
Podcast 052 - Josh Aitman Melodic Distraction
Independent community radio is a phenomenon that is becoming increasingly popular around the world as streaming and live media services become more accessible. This evening Rob spent time with Josh Aitman of Melodic Distraction in Liverpool.
Podcast 053 –Community Creativity, Connection & Resilience
Rob and John Coster were joined in discussion at the Documentary Media Center by Jenny Hand the CEO of Reaching People and Kieran Breen CEO of Leicestershire Cares.
Podcast 054 - Design Mindsets and Smart Cities with Carl Quinn
This evenings conversation with Carl Quinn at the Documentary Media Centre gave Rob and John Coster a chance to explore some ideas behind Carl's design ethos.
Podcast 055 – Community Radio for Well-Being with Jerry Padfield
Drawing on Jerry's experience supporting the "A Space to Speak Your Mind" programme on Source FM, Jerry shared his thoughts about how community radio has to follow a unique path which is inclusive, accessible and based on principles of creative participation.
Podcast 056 - Enduring Appeal of Radio With Rupal Rajani & Sujita Barot
Recorded for #WorldRadioDay, Rob and John Coster discuss the enduring appeal of radio with Rupal Rajani, a presenter on BBC Leicester,and Sujita Barot, a former BBC Radio 2 presenter and now a contributor to Leicester Community Radio, who have both blazed a trail for radio in Leicester, and continue to champion inclusion and community connections in their broadcast and community work.
Podcast 057 – Coffee and Social Spaces With Josh and Hannah
Rob and John Coster chat with Hannah and Josh from Cafe Orso in Leicester about how they have developed their independent coffee shop in the centre of Leicester, and what they see as the need for more alternative social spaces.

Podcast 058 – Radio and Podcasts with Jay Sykes
Jay Sykes is a radio producer, podcaster and arts facilitator. Rob chatted to him about the role that podcasting can play in learning, in social wellbeing and in creative engagement activities.

Podcast 059 – Grow Social Capital with Russell Todd and Andy Green
What is the role and the benefit of using a social capital model of community development and engagement? Rob discussed this with Russell Todd and Andy Green and shared experiences and ideas of promoting a more articulate approach to community growth that is more inclusive and supports a longer-term sense of reciprocity for those who want to make a contribution.
Rajar has published the data from their 4Q2019 MIDAS survey. One of the slides shows the rise of podcasting over the past few years.
Introduction to Broadcast Engineering
Radio TechCon
is the UK Radio and audio industry's technical and engineering event. But what if you are new to broadcast engineering and want an overview of the basics? This page is the place to start, with their virtual 'Radio Technology Masterclass - an introduction to broadcast engineering' (
link
).
Tool for journalists: Subly, for adding captions to video content on social media
Subly is a free online tool that quickly and automatically transcribes videos for publication on a range of platforms and a possible alterntive to the mighty Headliner.

Posting video content on platforms such as Facebook, Twitter and Instagram is a must for any news organisation. As some viewers may prefer to watch video without sound or through muted autoplay, including subtitles can help keep a viewer from scrolling through their feed. The process of subtitling video content, however, can be extremely time-consuming.

Launched earlier this month, Subly is a video creation platform which makes the process of subtitling videos for social media much easier by automatically transcribing them in a matter of minutes.