Edition #48 February 2021
Welcome to the latest edition of Community Media News
Welcome to the February edition of Community Media News. We hope that you are all continuing to stay safe and healthy.

We kick the Newsletter off with a message from Dom Chambers, the CMA Chair,

In Strategy, Policy & Licensing, community radio listeners are invited to complete a very important survey as part of a review of the radio industry by DCMS.

In Sector News, we have the details of the CMA's 36th AGM to be held on Saturday 6th March.

In Funding, 53 community radio stations have received emergency funding from Ofcom. Applications are still invited for Windrush-related projects and the Growing Great Ideas programme from the National Lottery Community Fund has opened.

In Community Updates, Gloucester FM is encouraging their listeners to get the Covid vaccine, Platform B kick-starts its new youth-led breakfast show for Brighton and Hove, and Future Radio relaunches the 12th Man Radio Show talking men, music and mental health. Salaam Radio has a new studio and location. Sadly, a popular presenter from the early days of ExmouthAir has fallen victim to the pandemic.

In Audio & Digital, the latest InRadio podcast from Dom Chambers explores the themes from World Radio Day 2021, the Audio Content Fund shares free content for community radio stations to tackle loneliness, and a number of famous faces are set to star in a new soap opera for community radio.

In Events & Training, the Radio Academy celebrates Women in Radio and Audio with a series of talks with leading women in the business such as Dame Melanie Dawes from Ofcom and Lorna Clarke from the BBC. We also have details of a free Legal & Compliance workshop from The Radio Hub with Paul Chantler. The Radio Hub will also be hosting additional online training events.

In Awards, the submission deadline for the ARIAS has been extended and the British Podcast Awards and the New York Festivals Radio Awards are open for entries.

And finally, in Tech Corner, there is a link to a Raspberry Pi image that could be used to support your broadcast tech. And we share the story of Rupert Neve, the 'Steve Jobs of audio'.

As usual, there's too much to cram in here so please check out our Chat Forum for more information and check out our social media channels (Twitter, Facebook) to keep up to date with more news and information.

We also have a wiki site to try to manage the wealth of information relevant to the current situation such as advice on Fundraising, Business Continuity, the BBC Local Radio Content Scheme, and other General Information.

Do you have a story about your community radio station or community media project to share? Email your news, press releases, event details and stories to editor@commedia.org.uk
A Message from the CMA Chair
Hi everyone,

Well a quick blink and it is time for our next newsletter. How are you? Busy, I have no doubt.

Since I last wrote I have had so many positive conversations with members across the UK. It is great to hear how many relationships are developing between community stations and their local authorities. These are monetised relationships as government on all levels are realising they are missing opportunities to access growing community radio audiences. The developing revenue is in public money supporting PSA's but what about the private business sectors in our communities? I have just got off the phone with Lee at Ribble FM who is telling me that advert client interest and sign-ups are on the rise. Is this the sign of green shoots? Let us hope so.

The CMA's current focus is on the DCMS Community Radio Listener Survey. This closes on Sunday 21st February so do please encourage your listeners to do the survey. We have had a very good take-up so far but we want to get over 1000 responses so please help with a last-minute push on this. Remember this is one for listeners and not those of us running radio stations.

Our other deadline, this Saturday 20th February, is for nominations for the CMA's Council. I am hugely encouraged by the interest being expressed from across our sector. Bill has sent out the pre-AGM notifications and papers. This includes a paper I put together on what being a Council member entails. I have enjoyed several conversations with prospective Council members and my office line is open if anyone is thinking of standing. I am confident that we will have a dynamic Council going forward so do let me know if you want to be on the team.

We have the AGM on Saturday 6th March. Don't forget to book your place and I look forward to seeing you there.

With best wishes


Dom
CMA Chair
Office: 01761 411222
The Department for Digital, Culture, Media and Sport (DCMS), is conducting a review of the radio industry. They are very interested in learning more about who tunes in to community radio stations like yours, and about when and why they listen. The CMA would like as many of your listeners as possible to be represented in the review so please circulate this short survey among your station's listeners. It takes about 15 minutes to complete.

The responses received will only be used for research and analysis purposes. All the information submitted is strictly confidential. Respondents will not be contacted by any third parties and will not receive any marketing material as a result of completing this survey.

To answer the questions in the survey, be sure to scroll right down to the bottom of the page in order to click 'Next' to move onto the next question. As a thank you, anyone* who completes the questionnaire before 23:59 on Sunday 21st February 2021 will be entered into a prize draw for the chance to win one of twenty £50 Amazon vouchers.

* Aged 18+ UK only. See terms and conditions at the end of the survey.

Please send this link to your station's listeners. DCMS want to hear from community radio listeners. You could email it to them, or post it on social media, and on your station's website.

The live survey link is here: https://project.tolunastart.com/s/a5ERo3b
CMA members are advised of the Community Media Association's 36th Annual General Meeting.

The formal AGM will take place from 2:00pm to 3:30pm on Saturday 6th March 2021 online via Zoom. The Zoom Waiting Room will be open from 1:30pm.

Please note there is no charge for members to attend the AGM. You may register to attend the AGM online here:

Or you may register by emailing agm@commedia.org.uk.

After registering, you will receive a confirmation email containing information about joining the meeting. The AGM Agenda and Draft Minutes of the 35th AGM held in 2019 is in the AGM Pack which may be downloaded from the link below:

Additionally, the AGM Pack also contains a Guide for Council Members and a form to nominate Council members.

If you would like to stand for the CMA Council, please could you complete a Nomination Form and if possible get another CMA Organisation member to countersign it, and return to us at our postal address below no later than 1:59pm on Saturday 20th February 2021. A scan or photograph of your signed form is acceptable as long as we receive your hard copy in the post by Monday 22nd February 2021. The email address to use is agm@commedia.org.uk.

We are asking all candidates for election to write out a Personal Statement which will be circulated to all members ahead of the AGM. Please read the 'Personal Statement Guide' and the CMA Council Members Guide in the AGM Pack. Your Personal Statement should also be sent to the CMA by the same deadline above for the Nomination Form.

If you would like more information on the CMA Council and the role of Council members please do not hesitate to contact us.

If there are more candidates for election than places available on the Council then a contested election will be held. The CMA will then send out details of all candidates standing for election and the voting process during the week commencing Monday 22nd February 2021.

Access to the Zoom Waiting Room will be from 1:30pm on Saturday 6th March 2021 and the AGM is scheduled to start at 2pm.

We look forward to seeing you on the day.

With best wishes

Community Media Association
The Workstation
15 Paternoster Row
Sheffield
S1 2BX

Tel: 0114 279 5219
Fifty-Three Community Radio Stations Receive Emergency Funding
Ofcom has announced that 53 community radio stations will receive emergency funding through the Community Radio Fund. During the Covid-19 pandemic, community radio stations have provided valuable local news and support to millions of people. However, many have also faced severe financial challenges. In response, the UK Government announced emergency funding to help them meet the costs of continuing to provide these vital services to local communities.
So far, 111 community radio stations have received financial grants totalling around £406,000. Due to the ongoing impact of Covid-19, an additional £200,000 was made available by the UK Government for a third funding round.
The Community Radio Fund Panel, which acts independently of Ofcom, has now awarded this extra funding to 53 community radio stations across the UK, in accordance with the strict eligibility criteria and guidance issued. Ofcom has published details on the Panel's approach and reasoning in deciding which applications received funding.
The Panel awarded 53 grants totalling £200,560 (£560 having been returned to the Fund, following an amended application from Round 2).
91 applications for grants were considered;
The funding requested by applicants totalled £470,205;
The total amount available was £200,560;
53 applicants were awarded grants totalling £200,560;
The grants ranged from £1,100 to £7,440, with an average of £3,784.
Finally, the Panel welcomed applications from those stations who demonstrated that they were taking steps to tackle loneliness and isolation within their communities.
The Panel wishes to commend those stations who have gone to extraordinary lengths to support their communities in difficult times: setting up online chat-rooms, hosting virtual awards ceremonies to mark local heroes, providing live coverage of religious services, carol concerts and Remembrance Day services, performing music outside care homes and at gravesides, and offering telephone support to those listeners who simply want to talk to a friendly voice from their community radio station.
DCMS Funding Up to £25,000 for Windrush Projects
DCMS is looking for organisations in England to develop and run projects seeking to celebrate, commemorate and educate about the Windrush Generation and their contribution to British economic, social, and cultural life. This includes those who arrived on the ship, their contemporaries, and descendants.

There is a budget of up to £500,000 to fund activities across England. Past years have focussed on smaller-scale projects, and DCMS remains keen to fund these but this year it also wants to hear from consortia with larger proposals with a lasting impact across a wider community. The minimum amount available is £2,500 and the maximum is £25,000. The deadline for applications is at 23:59 on Wednesday 10 March 2021. More here.

National Lottery Community Fund UK Portfolio –
Growing Great Ideas Programme
A total of £25 million is available for
this programme
until March 2022 with more funding expected beyond that. The minimum grant is £150,000. The minimum length is two years. Funding can be available for up to 10 years in some circumstances.
The funding awarded will reflect the stage of the proposal and is for consortium bids.
Proposals will need to:
Be about people, communities and organisations working together to further a mission or purpose that goes beyond anything a single project or organisation can achieve alone.
Clearly demonstrate something transformational, alternative and able to challenge the current rules and create the conditions for change.
Gloucestershire longest running community radio station, GFM 96.6 has been broadcasting to the citizens of Gloucester and beyond for over 20 years with a vision to empower, educate and entertain, through music, news, information & advice. Now the station is doing its bit to persuade more people from Gloucester's Afro-Caribbean community to come forward to get their Covid-19 jabs.

Carole Francis, who runs the community station based in the Barton and Tredworth area of the city, blames a lack of certainty on the cautious uptake adding: "We did a program on GFM aimed mainly at the Jamaican community and the feeling (about the vacination) is more of uncertainty. Yes there are people who are against it and like everything else, you've got for, against and not sure, but I think it's more the community is unsure." Carol was interviewed for ITV News on this topic. You can watch the clip on the ITV News website here.
Platform B Launch New Youth-Led Breakfast Show for Brighton and Hove
Platform B, the Brighton based next generation radio station broadcasting online since 2016 and on 105.5 FM and DAB since October 1st 2018 has just launched a brand new youth-led breakfast radio show called The Rising to empower and uplift the voices of the city. The station is directed by a new WAVE of DJs, producers and presenters who are re-imagining and diversifying the medium with music and youth programming from a studio based in the Green Door Store, a music venue underneath Brighton station.
During this year of radical adjustment and political upheaval, Platform B has pioneered youth-led radio across the city, broadcasting live and pre-recorded shows centring fresh perspectives and original, innovative content. Backed by Youth Music's Incubator Fund, The Rising launched on February 15th, fronted by Platform B presenters Jordi Carter, Erin James, and Elsa Monteith and produced by Eva Lunny and Bobby Brown.

The Rising will broadcast live from 9-11am (GMT) every weekday, bringing new music, current affairs, and local news to the front and centre. The team aim for The Rising to wake up the city with optimism, ambition, and a curated selection of untapped global and local talent. Read more here.

Photo by Lauren Mabbett Photography (L-R Jordi Carter, Elsa Monteith, Erin James - Platform B - The Rising)
Talking men, music and mental health – the 12th Man Radio Show returns to Future Radio
After an absence of almost a year due to the Covid-19 pandemic, the 12th Man Radio Show is back on Future Radio, starting Thursday 18th February.

The 12th Man campaign is a Norwich-based men's mental health campaign which aims to get men talking more about mental health. The 12th Man offers training and support to businesses and interest groups who work with men, to increase awareness of mental health and get men talking about feelings and emotions. Suicide is the biggest killer of men under 45 and Norfolk has one of the highest suicide rates in the UK. The pandemic has brought mental health into even sharper focus for everyone.

The 12th Man Radio Show is presented by the founder of the campaign, Nick Little, and features guests and great music. The 12th Man uses the idea of a football crowd to get men talking, focussing on the positive values of unconditional support and being proud to show emotion. The 12th Man Radio Show is a partnership between 12th Man and Future Radio. Read more here.
Salaam Radio in Peterborough set to relaunch from new studio

Salaam Radio is set to relaunch on 22nd February and will broadcast from a new studio and location. The station will introduce some new shows and stick with some firm favourites.

Salaam Radio, in common with many community radio stations, has experienced a challenging 12 months since the start of the pandemic and the various lockdown measures which have adversely affected volunteer participation and the capacity to fundraise. Read more here.
Former ExmouthAir Presenter Passes Away
Former presenter on ExmouthAir, Terry Mills has passed away after falling ill with Covid19. Terry, aged 38, was put into an induced coma after falling ill on a business trip to Mexico earlier this month and died in a hospital in Cancun.

Terry was involved with ExmouthAiR (then Bay FM) from 2007, broadcasting every year with his popular mid-morning show. Terry then started his entertainment business from his bedroom and eventually expanded into London and New York as an agent for many big names in America and the UK including Pamela Anderson and cast members of EastEnders.

Station manager Andy Green said "He was a natural and completely loved being on the radio. I would have loved to have kept him on the team but he was so determined to be successful with his business. We're all completely saddened by this dreadful news. Terry was such a colourful character, full of life and a great radio presenter. This news has devastated us and our thoughts go out to his family and friends."



Image: Terry pictured left with station manager Andy Green in 2008.
World Radio Day
was proclaimed by the Member States of UNESCO in 2011 and adopted by the United Nations General Assembly in 2012 as an International Day. This year, the 13th February marked the 10th anniversary of World Radio Day and more than 110 years of radio.
Audrey Azoulay, Director-General of UNESCO, on the occasion of World Radio Day said:"More than ever, we need this universal humanist medium, this vector of freedom. Without radio, the right to information and freedom of expression and, with them, fundamental freedoms would be weakened, as would cultural diversity, since community radio stations are the voices of the voiceless."
CMA Chair,
Dom Chambers
, recorded a special podcast for World Radio Day 2021 in which he talks to
Alex Airnes
of
K107FM
in Kirkcaldy, Fife about this year's themes of Evolution, Innovation and Connection and how they impact community radio and media. Listen to the podcast on Audioboom
here
.
Six of the projects funded from the Audio Content Fund's recent Winter Loneliness funding round are being offered to community radio stations for broadcast for free before the end of March 2021.

While bids to the Audio Content Fund must come with guarantees of broadcast at the time of application, they are always eager to help producers grow their broadcast network beyond their initial bid if its possible. With this recent funding round having urgent aims around combatting loneliness during this Covid Winter, the ACF would like to see this content reach as widely as possible and support as many listeners as it can. The six projects on offer are:

Soundlife (6x 10min)
A six-part series of short radio features, made for and by young people about youth loneliness. The aim of the features will be to: connect young people; encourage the expression of feelings and vulnerability; reduce the stigma around loneliness; help young listeners to recognise if and when they are lonely; and to develop coping strategies to help them if they do.

Lightning Birds: A Game of Sonic Tag (1x 1hr, on 8 March)
A unique, fast-paced radio production challenge, responding to the 2021 International Women's Day theme of 'Choose to Challenge'. 30 artists from around the UK will make a short radio feature in a day. Creating meaningful connections through remote, artistic collaborations, this format is designed to fit with women's overstretched lives and the increased pressures of being isolated at home during lockdown.

House Rules (20x 13min, from 1 March)
Every morning for a month, House Rules will highlight issues and negative thoughts that might be going through the minds of listeners, and respond to them with ideas for ways to cope. Each day will present a different topic, followed by short, sharp, practical tips, with an underlying message of positivity.

The Wellness Workout (24x 4min)
Imagine a Joe Wicks workout for the mind. The Wellness Workout is a two-week series of twice-daily features with mindfulness experts at breakfast and in an evening or weekend spot. Highly produced packages, designed to absorb the attention and focus the mind for a few minutes each day, will act as a talking point for presenters and bring mindfulness, mental health and wellbeing into the soul of each station.

Homeschool Helpers (15x 3min)
Presenter and mum-of-two Helen Skelton is joined by different education and homeschooling experts, to help parents discover the best ways to manage to homeschool their children. The series of features is designed to give very clear, practical help and advice to support homeschooling during this difficult time when many parents are feeling isolated with the challenge of full-time parenting and teaching. Expect tips and tricks to keep your kids focused, alongside guidance on how to look after your own mental health during this challenging time.

I Have A Dream (20x 3min)
A series of honest and heartfelt conversations with young people sharing their goals, dreams, aspirations, influences and hopes for the future, as a way of connecting listeners across long distances at a time of isolation that challenges livelihoods and mental health. The project will target college and university students, musicians, creatives, writers, radio presenters, artist managers, event promoters, DJs, notable figures and personalities across Greater Manchester, Midlands, and Yorkshire, all sharing what steps they are taking to realise their dreams in challenging conditions.

For more information visit the Audio Content Fund's website here.
Photo by Nicole Wilcox on Unsplash
Famous Faces Star in New Soap Opera for Community Radio
Actor John Altman is to star in a new soap which tells the story of a village whose inhabitants try to rebuild their lives as the country emerges from the coronavirus pandemic. The series, which is titled Greenborne, is set in the summer of 2021 and will air on community radio stations across the UK.
Former EastEnders actor Altman is joined by Bergerac star Louise Jameson and Emmerdale actress Corrine Wicks in the cast. Altman said: "I am very excited about Greenborne as it's not only a part I could really get my teeth into, but it is also about hope and rebirth, amongst many other things, and will appeal to the whole family." Adding "It is a little bit of escapism at a time when we need it most."
The soap plays out in the shadow of the virus but the drama sets out to celebrate the lives of people as they overcome the dark times and emerge into the light. The series begins with Jameson's character Evie emerging "from a long Covid-19 imposed exile, threatening to ruffle feathers. Altman plays John, a man who is trying to get his business back on its feet.
Greenborne has been created by Colin Brake. He said: "At their best soaps offer up a mirror to society, allowing us to see our daily hopes and fears played out amongst a cast of characters that we can empathise and identify with. Covid-19 has had a dramatic and long-lasting effect on all of us, but Greenborne has been created and designed to take a positive look at how we may begin to heal and rebuild our 'normal' after the trauma of the coronavirus crisis."
The soap will be broadcast on more than 20 community radio stations including Link FM Sheffield, Bolton FM and Radio Tyneside.
The Radio Academy will be celebrating Women In Radio & Audio this spring, with a series of lunchtime webinars highlighting inspiring leadership and creative achievement.
The programme of six talks will launch on Wednesday 24th February with a leadership panel hosted by Head of BBC Radio 2, and Chair of The Radio Academy, Helen Thomas. She'll be hearing the inspirational stories of leading women in the business, including
The launch event will be followed by five in-conversation talks, each taking place on a Wednesday lunchtime during March – International Women's Month. The talks will explore a broad range of areas of radio and audio, and confirmed guests include:
BBC Radio 2's Sara Cox and her producer Louise Molony
Podcasting pioneer Helen Zaltzman
More names will be announced in the coming weeks.
The events will be produced by Laura Rawlings, a Producer and Presenter known for starting out with radio station Bradford Community Broadcasting.
Free Legal & Compliance workshop with PaulChantler and The Radio Hub via Zoom - Saturday 27th March, 10:30am for 11am start. This half-day seminar covers offensive and discriminatory language, the rules about running contests on-air and the separation of advertising and editorial as well as an outline of Ofcom, the way it works and the Broadcast Code. The seminar also includes a discussion about the important issue of listener trust.

This event is held just before election purdah begins so this will be ideal for presenters and managers as election broadcasting rules will be covered.
Email dannylawrence@gateway978.com to register to attend.

And on 22nd May, during Dementia Action Week, there will be a Zoom workshop on how to 'Become a Dementia Friend' - more details below.
Upcoming Training Events from The Radio Hub
Please email radiohub@gateway978.com to sign-up.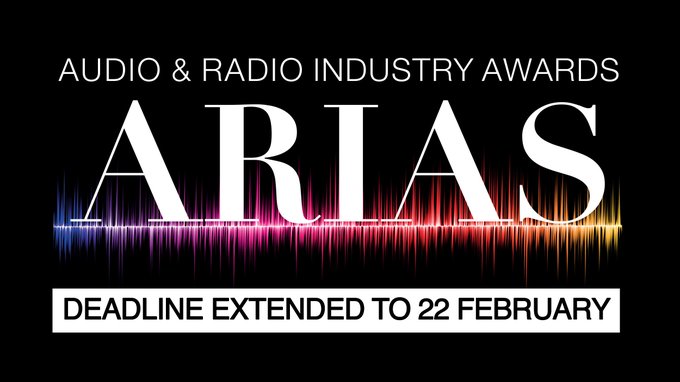 The closing date for entries to the Audio & Radio Industry Awards (ARIAS) has been extended until 12 noon on 22nd February. The ARIAS recognise the talented individuals and teams in UK audio and radio who excel at their craft and produce the very best body of work in the world.

The categories cover a diverse range of genres, talent and output from public service radio, commercial radio, podcasters, community radio, student radio, independent production, audiobooks and beyond.

The ARIAS are open to all UK based content creators who are members of The Radio Academy. CMA members may apply for free affiliate membership of The Radio Academy here.
The British Podcast Awards
The British Podcast Awards, now in their fifth year, will open for entries from Monday February 22nd until Monday 29th March. Podcasters will be able to find information about the categories and how to enter on the website and the Awards ceremony will be held in July.
New York Festivals Radio Awards
Every year, New York Festivals Radio Awards carefully evaluates and updates the category roster to provide the most current categories to reflect the innovative content produced. New categories for 2021 include:
Best Social Justice Report
Social Justice Reporting
Social Justice Documentary
Best Regularly Scheduled Social Justice Program
Best Social Justice Special
Social Justice Promo
Best Digital Social Justice Program
Social Justice Podcast
Social Justice Student Content
For a complete list of the 2021 Radio Awards Categories and how to enter, visit: here.
Rob Hopkins, a keen Community Media News subscriber from Canada, developed and maintains the Pyrate 3.0 software IMG for Raspberry Pi (Ver 2 - 3) which is available at no charge from Openbroadcaster.com to help media as well as relief organisations, governments and rural communities with broadcast tools during COVID19.

This can be used in the UK and it has a GUI to set the local time. There is a check box to turn off emergency alerting (non-applicable in UK) and Pyrate 3 will handle playout, an online media library with smart ingest, scheduling, and so on. There is a generic feature to play priority announcements like a low-level weather warning. Just copy the software IMG to SD card, pop in your Raspberry Pi and you are broadcasting.
Photograph: RupertNeve.com
'He was the Steve Jobs of audio' - Rupert Neve
Last weekend the
audio community said farewell to a key innovator in the development of the mixing desk
: Rupert Neve, the British-born audio engineer and innovator whose beloved designs over a staggering 80-year career changed the sound of recorded music. Neve, who has died aged 94, was to music what Steve Jobs was to computing and Terence Conran was to design. "Rupert Neve. I can't describe your influence on everyone who has ever made music," Matty Healy of 'The 1975' posted on Instagram on Sunday. Said songwriter Frank Turner: "The sound of every record you like was shaped by his work."