Dear <<First Name>>,

We hope this email finds you well. In this newsletter, read on to find out about important news and learning opportunities. For more information and interesting lessons, follow the VBCI Linkedin page, Facebook page and Instagram. Enjoy!


Prof. Colin Clark - Director, VBCI

Assoc. Prof. Weiliang Zhang - Chinese Coordinator, VBCI
What's On?
🎑 VBCI hosted another Chinese Cultural Talk on Thur 4 Aug with the theme of dating culture in China. The Talk also celebrated the Chinese Valentine's Day, the Qixi Festival. Participants had a fun afternoon learning and chatting. Follow our social media for more upcoming Chinese Cultural Talk.
👩‍❤️‍👨 Join us for the next Chinese Cultural Talk: Mid-Autumn Festival. The event is now hybrid!
Register here
.
👩‍🏫 We are ready to take on a new cohort of learners to our free VU non-award units that introduce you to the basic Chinese language and culture. Register
here
.
📅 The next HSK test date is 17 Sept 2022. Still time to register. Sign up
here
.

What's new in the Doing Business with China Hub


The Doing Business with China resource hub provides you with a toolkit to understand China and keep you updated on the most recent trends. This month, we have updated the hub with the new
Hainan: Free Trade Port Investment Guide
published by the Hainan Provincial Department of Commerce, Hainan Provincial Bureau of International Economic Development and Deloitte, and
Forward impact of COVID-19 on Australian higher education
. Start exploring!
Access the website here
You might also be interested in
Event Recap: Qixi Festival
On 4 Aug, the VBCI team hosted a Chinese cultural talk workshop on how Chinese young couples celebrate the Qixi Festival, the Chinese Valentine's Day. Participants joined us to discover the dating culture in China and learned about the subtle romance between couples in China. It was such a fun event! Register for our next Culture Talk
Save the Date: VU Open Day 21 Aug 10am-3pm


VBCI will participate in Victoria University's Open Day 2022! We will be at Building L, Room L105.
Open Day will be held on Sunday 21 August from 10am – 3pm at the Footscray Park Campus.

It is designed to showcase Victoria University (VU) and Victoria University Polytechnic—promoting all campuses and programs and positioning us as the preferred choice for prospective students. Through a range of educational, interactive and high-quality experiences targeted at prospective students, we will highlight the unique advantages of VU and VU Polytechnic courses to the primary target market of school leavers.

Feel free to stop by and say hi!
Register to attend the Open Day
Student Success Story:
Dr Keshara de Silva
Lecturer and Transnational Education Coordinator, Victoria University Business School

I've recently completed the Basic Chinese 1 course delivered by VBCI. I had the absolute pleasure in learning Mandarin from a highly skilled and engaging Mandarin teacher – Laoshi Betty, as I dearly call her. Within a few weeks into the Mandarin lessons, I was able to put the skills I've learnt into practice by initiating a dialogue in Mandarin with a new Chinese student that I met at Orientation. I'm grateful for being offered the opportunity to take free Mandarin lessons at Victoria University and I'm delighted to share my journey as a Mandarin student.

As a bilingual speaker, I've always appreciated the benefits associated with learning multiple languages and developing cultural intelligence in an increasingly converging world. I've especially had an interest in learning Mandarin since my travels to China and as a lecturer teaching and working with a diverse group of students and staff at Victoria University.

During my travels to China, I tried to use a few words to haggle at Chinese markets and order food from street vendors and restaurants, it was a struggle to say the least 😊. I've never had the opportunity to undertake a well-structured Mandarin language course that would assist me at work and outside work. When I came across the VBCI language course with flexible delivery, I was ecstatic. I jumped at the opportunity and enrolled in Basic Chinese Level 1 course. The lessons are well-structured, interactive, and entertaining at the same time, making it very easy to learn one of the hardest languages to learn in the world. I can't wait to progress into Basic Chinese Level 2.

At the recent Orientation events on-campus, I was able to initiate a dialogue with a commencing Chinese student that had recently moved to Melbourne. We met while we were waiting to get some food and we were able to connect instantly through those few words of Mandarin. The dialogue went a little like this.


Me: Hi, Ni Shi Zhong Guo ren ma?
Student responded with a smile, Yes, I'm from China.
Me: Hen Gao Xing Renshi Ni, Wo Jiao Keshara, Wo Shi Daxue Laoshi
Student: Ni Hao, Oh wow!, you speak well, Wo Jiao Cindy.
Picked up our food from the food truck and sat down
Me: Cindy, Hao Chi Ma?
Student: Hen Hao Chi, ni ne?
Me: Hen Hao Chi, Wo Xi Huan Zhong Guo Cai


With the support of the excellent teaching team at VBCI, I'm highly motivated and inspired to progress in my journey as a beginner Mandarin learner and someday be able to converse in Mandarin with ease in a casual or a business setting.

Learn more about our course

Hybrid Event-Chinese Cultural Talk: Mid-Autumn Festival
Thu., 8 Sept 2022,
In-person: Level 10, VU City Tower, 10.30-11.30AM
Online via Zoom: 1:00 pm – 1:45 pm AEST

The Mid-Autumn Festival is one of the most important holidays in Chinese culture. Join us for another culture talk to learn more about the upcoming Moon Festival and explore how the modern Chinese community enjoy the moon! Register

Business Webinar: What are the implications of China's shrinking & ageing population?
Wed., 14 Sept 2022
1.00pm - 2.00 pm AEST

This workshop will discuss the implications of the shrinking and ageing population. It will also present the policy options that the Chinese government could take to mitigate the negative effects of the shrinking and fast ageing population. Register

HSK Test Open for Registration
17 Sept 2022

The upcoming HSK test on Sat. 17 September is open for registration now. All six levels will be offered at this round and the test venue will be at VU's City Tower Campus. Register here or contact us if you have any questions.

Semester 2 Chinese Language Program
05 Sept - 03 Dec 2022
Time varies

Registration Now Open! Semester 2 Chinese language program will run from September to December 2022, and participants will also gain an overview of China's changing environment and current business practices. FREE. Register
Economy Corner


China's trade data in the first half of 2022
The China Customs Statistics released data in July showing that in the first half of 2022, China's foreign trade achieved steady growth, and the total import and export value of trade in goods was 19.8 trillion yuan (AUD$ 4.21 trillion), an increase of 9.4% year-on-year. Among them, China's exports were 11.14 trillion yuan (AUD$ 2.37 trillion), an increase of 13.2% year-on-year; imports reached 8.66 trillion yuan (AUD$ 1.84 trillion), an increase of 4.8% year-on-year, resulting in a trade surplus of 2.48 trillion yuan (AUD$ 0.53 trillion).
Specifically, in terms of trade modes, the proportion of general trade imports and exports continued to increase. China's general trade import and export was 12.71 trillion yuan (AUD$ 2.70 trillion), an increase of 13.1%, accounting for 64.2% of China's total foreign trade import and export value.
From the perspective of major trading partners, China's imports and exports to ASEAN, the US and the countries along the Belt and Road Initiative maintained double-digit growth.
The major export products included: mechanical and electrical products; textiles and garments; plastic products; shoes and other labour-intensive products; while the import of energy products included crude oil, natural gas, coal and other energy products.
It is expected that China's foreign trade will continue to maintain steady growth in the second half of 2022 due to the unchanged fundamentals.
China Customs data also shows that the bilateral trade volume between China and Australia was 684.26 billion yuan (AUD$ 145.58 billion), down 4% year-on-year. Among them, Australia's exports to China fell sharply by 13.1% in the first half of 2022 to 452.2 billion yuan (AUD$ 96.21 billion).

(Source: China Customs; Ministry of Commerce) (Note: $1AUD=¥4.70 yuan)
Phrase of the Month
Did you know that
the Mid-Autumn Festival (中秋节)
falls on the 15th of the 8th lunar month every year? In 2022, the festival will be celebrated on the 10th of September. This is one of the most important holidays in Chinese culture. Since it is at harvest time in the northern hemisphere, it is a good occasion to celebrate the abundance of Mother Nature. Moon Festival is a time to gather with family and friends under the full moon sky while eating moon cake, pomelo fruit, and other delicacies.
The traditional food of the Festival is
Moon Cake (月饼)
, which is a pastry filled with a filling such as egg yolk, lotus seed paste, red bean paste, coconut, walnuts, or dates. The tops of Moon cakes usually have Chinese characters representing longevity or harmony.
中秋节 Zhōng qiū jié
Mid-Autumn Festival
中 Zhōng (middle)
秋 qiū (autumn)
节 jié (festival)
月饼 yuè bǐng
moon cake
月 yuè (moon)
饼 bǐng (cake, pastry)
Chinese traditional music instrument - Guzheng
The
GUZHENG
(古筝)
is a Chinese traditional music instrument with 21 strings. It dates back to 2000 years ago, originating in the Qin Dynasty during the Warring States Period.
Guzheng music is diversified and dynamic and considered charming by many. Practising the Guzheng can cultivate your gracefulness and help you to become more resilient in life.
Our partner, Australian Guzheng Academy by
Sinobeats
, has an ongoing series on how to play Guzheng. Feel free to check out their performance below.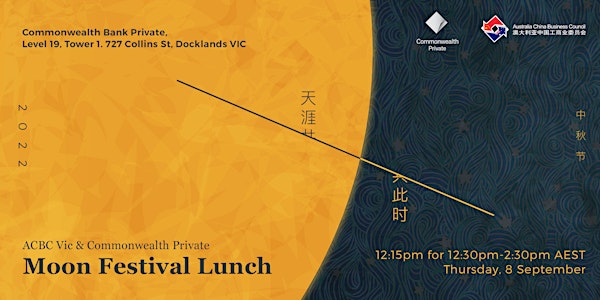 Executive Women's Moon Festival Lunch | ACBC Vic & Commonwealth Private
Thur., 8 Sept 2022, 12:30-2.30 pm AEST

Join ACBC Victoria and Commonwealth Private for a delicious sit-down lunch to celebrate Mis-Autumn Festival, and hear from female leaders in their fields of expertise to discuss respect, inclusiveness, and diversity in the workplace for executive women. Register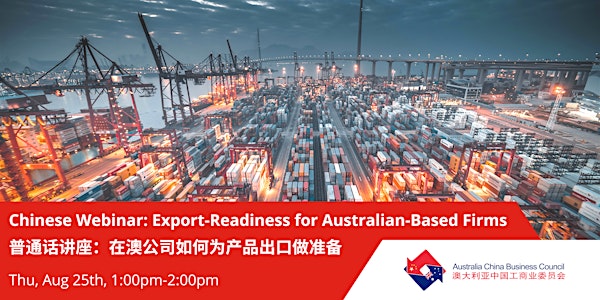 普通话线上讲座:在澳公司如何为出口做准备 (Chinese Event: Export Readiness for Australian Firms)
Thur., 25 Aug 2022, 1:00 pm AEST

In this webinar, Austrade Trade Commissioner Chuyang Liu, alongside several prominent industry experts, will dissect these questions and answer any burning audience queries. Register

Mid-Autumn Festival Museum Open Day
Sun., 11 Sept 2022, 10.00 am – 4:00 pm AEST

This festival program explores moon legends and traditional practices such as lantern making, riddle guessing, moon cake making and the Chinese tea ceremony. 5x 45 minute programs commencing at 10:30am, 11:30am, 12:30pm, 1:30pm, 2:30pm Learn More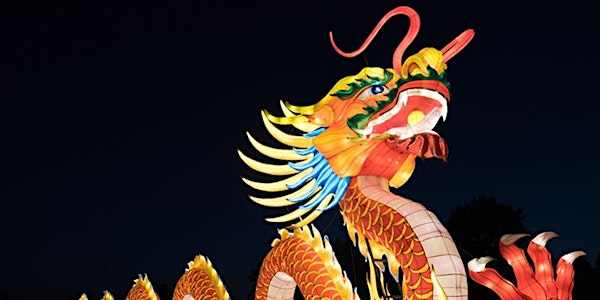 Moon Festival at Richmond Theatrette
Sun., 4 Sept 2022, 1.30 pm - 4.00 pm AEST

Join the Richmond Library to celebrate Moon Festival at Richmond Theatrette, where a variety of music, singing and dancing will be performed by local artists.

请来图书馆参加中秋庆祝活动, 观赏精彩的文艺演出. Register