We faced trials in the past, we will face trials in the future, as we trust each other more we will get through this trial that is present. Illness may keep us apart but we will soon be together again. We encourage you to keep in touch with family, members and friends during these times.

Kindness
Charlie
Are you looking to hold a meeting these next few weeks? Have you considered using ZOOM?

Our friends at the Beaufort UU put together this great set of instructions for using ZOOM!



If you have never used ZOOM before, you are in for a treat. This is a widely used and very user-friendly video conferencing tool. It is easiest to use from a computer, but you can also use it from a smart phone. You can call in to the video conference from any phone but that is harder for everyone. The Zoom account is free and lasts forever...you might discover other uses for it, like meeting with far-away family members.

First steps, Computer:
1) If you have a fairly new computer, or know that the one you have has a camera and microphone, then on your computer, go to https://zoom.us/.
2) Click on Sign Up It's Free




3) Sign up for an account – it will prompt you for information including your name, email address, etc.


And/Or, if you have a smart phone or tablet
1) Go to App Store or Google Play
2) In search box, type the word Zoom
3) Download the ZOOM Cloud Meetings App
4) Sign up for an account, or sign in, if you already created an account

| | |
| --- | --- |
| App Store | Android |
| | |

Once you create an account, check your email. You'll receive a confirmation email, asking you to confirm your account by clicking on a link. Once you do that, it will take you to a screen like this, where you'll be asked to put in your name and password. After that, just continue to follow the prompts, as you wish. For instance, it may ask you if you want to invite others to zoom, and you can just click "skip."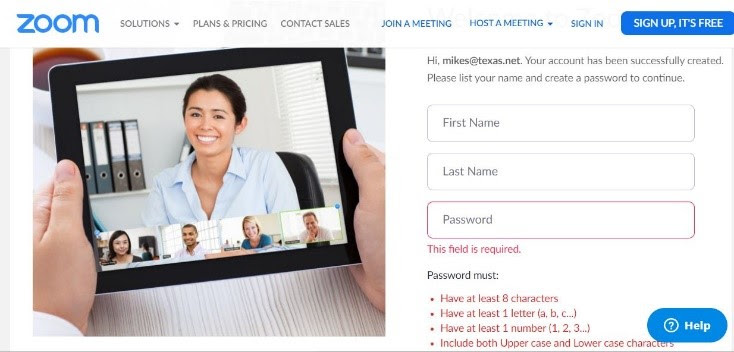 Please do your downloading and experimenting at least the day before your first call.

Join a Meeting

When we have a meeting or other gathering, a host will send you an email




It's that easy!
Pastoral Minister
Rev. Charlie Tyler

Charlie's telephone number is 803-473-6048. You can call him to schedule an appointment for pastoral counseling. Please be mindful that Charlie is the chaplain for Hospice of the Lowcountry, a full-time job. He is not able to engage in lengthy telephone conversations when he is working.




Our Minister Emeritus - Rev. Manuel Holland











Our team of three rotating ministers (Rev. Dick Hood, Rev. Charlie Tyler, Rev. Pat Jobe) share a moment together.
Photo by Molly Hood
****UUCL Office Hours****

Tuesdays 8:00 a.m. to noon
Wednesdays 1:00 p.m. to 5:00 p.m.
Thursdays 8:00 a.m. to noon
Until Further Notice our Sunday morning Contemplative Meditation sessions will not take place.

Watch this space for notice when practice resumes.
UUCL Notes:

Thanks to all of you who viewed our Online Service last weekend. We are working to improve the sound quality of our transmission.

Remember, you can use the 'Donate' button on our website (uulowcountry.org) to continue to support UUCL. We ask that you don't use this button for your pledge contributions. You can continue to mail pledges directly to UUCL.
A reminder from the Care Committee~~

The CARE Committee works closely with our ministers to provide support and assistance to members and friends of the Congregation. If you or someone you know is facing medical issues or other difficulties, and could use help with meals, transportation to appointments, or other support, let the CARE Committee know.

Our members and others who have offered to help are available as appropriate to avoid unnecessary risks of viral exposure. Please let us know how we can help, even if just a friendly phone call would be useful during this time of retreat and isolation. We hope you are healthy and thriving and we keep you in our thoughts and prayers until we see you again…

Jana Stiles
603-785-6187 phone or text
UPDATED 3.19.20
March 29th: Rev. Dick Hood
The Bluebirds are still Making Their Nests
Let's finding out what is important and what is permanent.
April 5th: Rev. Pat Jobe
Heroes and Heroines

Mary Chapin Carpenter has not only had an impactful career as a singer/songwriter, many of her songs have offered a prophetic vision. Though Heroes and Heroines was never a big hit on the radio, the song speaks to UU values that require courage and steady adherence to the best we find in ourselves and others. Rev. Pat Jobe returns to talk about the song and members of the Seven Principles will perform it at the end of the service.
April 12th: Rev. Dick Hood
The Easter Dilemma

Is it resurrection? Is it renewal? Is it joyful? Is it uncomfortable?
April 19th: Kathleen Kelly and the UUCL Book Club
Justice on Earth

Today we will explore the book Justice on Earth which connects to two of our 7 principles:
The first and seventh UU Principle: (1) The inherent worth and dignity of every. person;
(7) Respect for the interdependent web of all existence of which we are a part.

April 26th: Dick Hood
These Roots are Made for Walkin' , Our Universalist roots (part 1)
Loving God, inherent worth, no hell, soft seats...these are a few of our Universalist roots
May 3rd: Rev. Dick Hood
These Roots are Made for Walkin', our Unitarian roots (part 2)
One God, Mother's Day, truth seeking, the neighborhood of Boston...these are a few of our Unitarian roots
Our Saturday March 28th show featuring Kyshona Armstrong has been cancelled.

***********
Our next scheduled Music on Malphrus show is...

Sloan Wainwright – Saturday, 4/18/2020

Defying standard categorization, singer/songwriter Sloan Wainwright, consistently demonstrates her easy command of a variety of American musical styles — pop, folk, jazz and blues — held together by the melodious tone of her rich contralto, with the end result being a unique and soulful hybrid.
Her family tree (brother and folk-music luminary Loudon Wainwright, nephew Rufus Wainwright, nieces Martha Wainwright and Lucy Wainwright Roche) reads like a who's who of contemporary folk music. Sloan's incredible gift is not only her unique songwriting ability but also her dramatically voiced rendition of original songs.

Click the links below to explore some of Sloan's Music:
Live Out the Best of Your Life
Dear George
My Song
At The Unitarian Universalist Congregation of the Lowcountry
110 Malphrus Road, Bluffton, SC, 843-837-3330
www.uulowcountry.org; info: MusicOnMalphrus@gmail.com or uucl.office@gmail.com
Tickets $20 at the door (unless otherwise noted) – General Admission
As you have seen, for the last many months we have been live streaming our UUCL Sunday services. If you would like to learn how to use the equipment and join the Streaming team please contact David at UUCL.OFFICE@GMAIL.COM.
Photos courtesy of Hank Haskell
Happy Birthday Mary Moser!
Our UUCL Book Club is scheduled to return Tuesday April 21st at 10:00 a.m.

The book will be: Difficult Women by Roxane Gay available for $9.00 at Amazon.

A national bestseller from the "prolific and exceptionally insightful" (Globe and Mail) Roxane Gay, Difficult Women is a collection of stories of rare force that paints a wry, beautiful, haunting vision of modern America.

Difficult Women tells of hardscrabble lives, passionate loves, and quirky and vexed human connection. The women in these stories live lives of privilege and of poverty, are in marriages both loving and haunted by past crimes or emotional blackmail.
Please see Peter Kandis for more information.
If you are in the habit of bringing food on Sundays to donate to the Sandalwood Community Food Pantry and would like to continue supporting the Pantry during the COVID19 containment phase, please purchase $10 Publix gift cards and mail them to Sandalwood. Thank you.

Sandalwood Community Food Pantry
P.O. BOX 5061
HHI,SC 29938

https://ww4.publix.com/gift-cards/publix-gift-cards
2020-2021 CANVAS KICKOFF GALA
Saturday, March 21 at 6:00 p.m. has been postponed

Please watch this space for a reschedule date.
General Assembly is coming to Providence RI in June. Watch this space for more information.
Musicians Unite
Can you sing a song? Do you play an instrument? Would you like to share this talent with the congregation?
If you would like to work with any of our regular musicians contact UUCL.OFFICE@GMAIL.COM to discuss options.
Photo by Ron Titus
Photo by Carla Golden
We now Live Stream our services. You can view many of our services from our UUCL Facebook Page.

We also record audio of our services. You can listen to many of our services on our website. If you like what you hear, you can request an audio CD of the service.
Last Weekend Bill Newby presented "Pursuing Poetry."

This service was
Live Streamed on our Facebook Page and Recorded
.
You can learn more about our services by visiting
uulowcountry.org
.
If you would like to request an audio CD copy of one of our recorded services - you will find an order form in the office of our Congregational Administrator. Leave your name, contact information and date of the service on the form. For a small handling fee a CD copy of most services can be available within a week of the request.
Please Note: Due to certain technical and other issues specific services may not be available.
Check out the Services / Sermons page on our website to see which services were live streamed and are now available for viewing.
http://www.uulowcountry.org/blog/category/sermons
You can also go directly to the video section of our Facebook Page to view these videos.

https://www.facebook.com/uulowcountry/
Board Meeting: Thursday March 19th at 6:00p.m. (CONFERENCE CALL)

Compassionate Friends: Sunday March 22nd at 2:00p.m. (CANCELLED)
Membership Committee: Wednesday March 25th at 6:30p.m. See Val Bridges.