FYI: The photos and articles in this newsletter are best viewed on a computer screen or an iPad.
But please use anything... we really want you to read it!
Oh, and read it with your children, if possible.
Korey's Corner
Welcome to a new year at Children's House everyone! It is so great to be back, surrounded by these incredible children every day! After 37 years, I still am in love with what I get to do each day and that is because of the wonderful friendships that your children and you bring to my life.
Last Thursday, 9/21, was International Day of Peace and if the world heard your children sing, it would have brought world peace for sure. We were joined by 150,000 people from 65 countries around the world. Montessori schools, among others, sang the song "Light a Candle for Peace" during their designated time according to their time zone. It went from New Zealand to Hawaii in 24 hours. Please ask your child to sing "Light a Candle for Peace" for you and, together, please visit the website www.singpeacearoundtheworld.com where you can watch children from around world singing!​



















As part of our Peace Day ritual, we announced our Children's House Buddies! Every elementary student was paired with a younger buddy. They got to know each other a little bit already but they will meet throughout the school year for events, activities and just to read a book or draw a picture. There is nothing more special than a Children's House Buddy. Please look for our adorable Buddy Bulletin Board in the foyer, coming soon!
In peace,
Korey
It has been an amazing start to the new school year! Whitney and I are so glad to be in the Toddler Classroom together sharing our days with the littlest friends here at Children's House.
The children in our classroom have been adjusting beautifully to all of their new friends, learning how our days flow and how fun school can be (even when we are missing our Moms and Dads ). Each child has already been working on many new skills in our environment and we are thrilled to see the progress each of them is making throughout these first two weeks.
A huge "thank you" to all of the amazing parents who support us, communicate with us and share their adorable children with us each day!
~Jen
🎵🎶
Do you remember, the 21st night of September!
We are dancing the day away! The primary room is having a fantastic first two weeks of school, and we are so thankful to all our parents for helping our classroom run smoothly. This month we are studying apples and worms, next week the Kindergarten and Primary children will be making their own applesauce.
The school year has started off very busy and filled with excitement for our Kindergarten class!
Here is what some of the children have been working on so far...


I was holding the compass flat in my hand and it turned North.



I sanded the wood then hammered it.



I stacked the work.


I like cutting with the real knife. Snack is yummy!
from the Lower Elementary...
Cooperation, compromise, communication, adaptation, improvisation, awareness, and inclusivity are just some of the tenets of good teamwork! A new year brings a newly configured Lower El classroom team and we must hone our skills and master the art of team-building if we plan to share the environment and shelf materials. Our weekly team challenges address these skills in a noncompetitive format ("you can't help your own team if you are keeping tabs on your neighbor's") that involve every team member and require the team to articulate a shared vision, use foresight to devise a plan before engaging, and utilize the various strengths of the team members to achieve a common goal. And when every team gets pretty good at these skills, we mix them up and form new teams. Tantamount to the team game philosophy- no grown-up intervention or assistance allowed…EVER! Last week's challenge was "the Bridge Over Hot Lava" with 1 "Safety Square" removed after each crossing. Last week we introduced these skills to our younger buddies as we tackled the team challenge at our Peace Day celebration.
Elementary Parents...

Elementary Poetry Recital
Friday, October 6th
We will start at 1:00, in order to allow time for each child.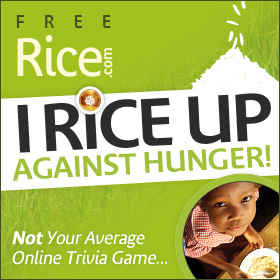 TRY IT! IT'S FREE AND IT'S FUN! When you play at Freerice.com, you help fight hunger worldwide! How? For every answer you get right, you raise 10 grains of rice. So far, over a million Freericers have raised enough to feed almost 5 million people. You will also have fun building your vocabulary!
| | |
| --- | --- |
| | from the Upper Elementary: |