Fill your body with this breath

expand your heart with this message

you are such a good mother.

via International Women's Day: Prayer for Mothers | Talk Birth.

In Uganda there is a special word that means "mother of a newborn"–nakawere. According to the book Mothering the New Mother, "this word and the special treatment that goes with it apply to a woman following every birth, not only the first one. The massages, the foods, the care, 'they have to take care of you in a special way for about a month.'"

There is a special word in Korea as well. Referring to the "mother of a newborn child," san mo describes "a woman every time she has had a baby. Extended family and neighbors who act as family care for older children and for the new mother. 'This lasts about twenty-one days…they take special care of you.'"

Dana Raphael, the author of Breastfeeding: The Tender Gift, who is best known for coining the word "doula" as it is presently used, also coined another valuable term: matrescense. "Nothing changes life as dramatically as having a child. And there was no word to describe that. So we invented the word–matrescence–becoming a mother."
Our Mother's Day Gift to you in this newsletter is a new set of printable birth affirmation cards. Along with the cards we offer a helpful breath-based centering practice to use during labor (or to distribute in birth education classes or workshops). Enjoy and feel free to share with others!
---
New Product Announcements
Introducing…The Red Tent Resource Kit…
Our unique, signature Red Tent Kit includes ALL of the following resources:
Womanrunes Book and Card set: ideal for personal guidance and self-development, or for the inspiration and renewal corner at your Red Tent Circle.
Red Tent Goddess Sculpture: symbolic of self-care and of both receiving and giving.
Carnelian Pendulum (kit exclusive!)
Brand new 58 page book: Restoring Women to Ceremony, The Red Tent Resource Kit, written exclusively for this kit. In this collection of essays and ritual resources, you will find a complete Red Tent "recipe," circle leadership basics, moontime musings, and readings, quotes, and poems to help you facilitate a rich, inviting, welcoming, creative space for the women of your community.
Moontime pendant with silver-tone, solid crescent moon charm
Red altar cloth
Red organza bag to store your resources
Coupon for $100 off the companion Red Tent Initiation online training to be held in July-August
Extra surprise bonus goodies intuitively chosen for you
The contents of this Kit are valued at $100 when sold separately.
Watch for our Mother Blessing Boxes and Kits coming this summer!
---
New Squatter's Rights Sculpture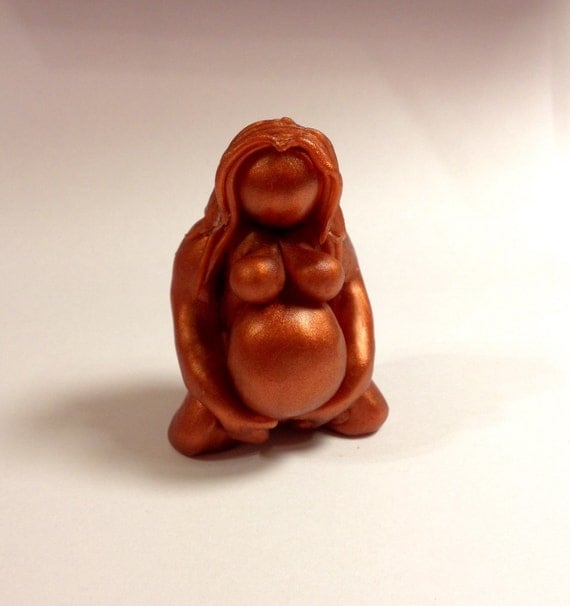 We are also delighted to introduce our new "Squatter's Rights" sculpture of a mama catching her own baby. This sculpture has a lot of personal significance to me and I have found her image tremendously empowering for a long time. I have made a variety of different versions all expressing the same message: reach down and catch what's yours.
...Would the new child coming from me be slippery like soap? I rubbed my fat belly. I loved each pound I gained, each craving I had, and every trip to the bathroom. Okay, maybe not every trip to the bathroom. But, I loved this growing baby. Tucked away like a pearl in the sea just waiting to be discovered. I was in a constant state of marvel.

Would I be able to physically do this? No, I don't mean the labor, nor do I mean the birth. I knew I could do that. I got lost in thought as I planned in my head every moment that would come after my body did the work of labor. The moment would come once my body was ready and the crown of a child's head pushed itself from me, the moment the child would emerge. That's what I was planning for; I planned to catch my own baby...
It is hard to express how much I love knowing about how these figures "speak" to the women who receive them. I started making them to express something within me and to speak to myself or remind me of my own power. I absolutely love knowing that they carry these messages to other women as well, not just me! An early customer of the Squatter's Rights sculpture gave me permission to share her feedback on it:
I LOVE THIS!!! <3 I JUST got my lovely statue, she's gorgeous, I am in awe of your work, and I caught myself choking up a bit at how I look at her and it pulls me back to that most empowering of moments, Me-birthing my little rainbow.. Completely uninhibited.. THANK YOU!…They will be in a sacred space, helping watch over me as I go through Midwifery school… <3 Thank you, thank you!! <3
What a tremendous honor to be a small part of another woman's journey in this way. It feels like a sacred trust.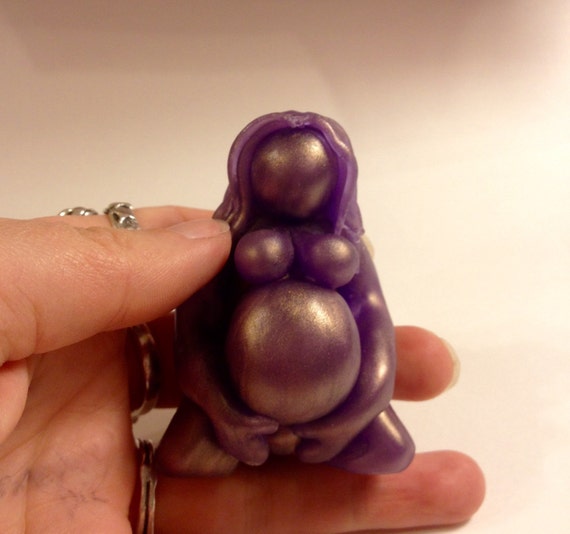 ---
And, finally, we're pleased to introduce a new branch of our offerings: The Creative Ceremony Academy
The Creative Ceremony Academy is a community of members who celebrate lifecycle transitions and pivotal moments through art and ceremony and use artistic expression as our means of story-telling and experience-sharing. We create art and ceremony in order to "tell about it." Our first programs are:

Womanrunes Immersion (beginning June 21)
Red Tent Initiation Program (beginning July 15)

Additionally, if you want to make sure you see our posts regularly, to engage with the birth art community, and to ask questions or share ideas about seasonal rituals, mother blessings, women's ceremonies, or life cycle ceremonies in a safe space, feel free to join our Facebook group! You will also be the first to know about new classes, books, and projects and will get sneak peeks of new sculpture designs and special bonuses not available to the general public.

---
Song of the May
I am the blossom, I am the bee
I am the branch, I am the squirrel
I am the acorn, I am the oak
I am the breath, I am the words
I am the space, I am the fullness
I am the song of the May.

I decided to gift myself with 30 Days of Bringing in the May for my birthday this year. I enjoyed the Brigid course I took in February so much and I'm now blogging daily about the themes of the 30 Days of May course. I've been reflecting a lot recently about how one of the primary tasks of ritual and ceremony is in creating the container. This is what I do with women's circles and retreats and Red Tent gatherings. The 30 Days courses do the same for me—create the container and give "permission," in their way, for an experience to unfold. It is incredible how easy it is to rush through the day without taking needed pauses, time outs, or stillpoints. I read the prompts for the course each morning and then reflect on the themes all day. One of the most magical things about these 30 Days courses is how very many connections and synchronicities emerge during the day that bring the themes to life. It is really powerful to observe.

You can follow my 30 Days of May journey on Instagram.
---
Our Mother's Day Gift to you in this newsletter is a new set of printable birth affirmation cards. Along with the cards we offer a helpful breath-based centering practice to use during labor (or to distribute in birth education classes or workshops). Enjoy and feel free to share with others!
Our June newsletter will celebrate fathers! We have free birth affirmation cards for fathers, some amazing new sculptures honoring fatherhood, an article + resources for fathers at birth and more.