cloudahoy.com Connect with us:
​
View this in your browser
.

Ahoy <<First Name>>,

A wonderful year is coming to its end - and we just added two new features to make your debrief better.


It has been an amazing year for us at CloudAhoy -
We introduced P-FOQA, added new features to debrief, and continued to improve the accuracy of the analyzer. Collaboration with you, our users and partners, continues to be the fuel which takes us to new heights.
To all of you all around the world -
Happy New Year!
Read on :)
---
*NEW*: See Terrain and AGL in Debrief
We recently released this new features - display of the terrain and AGL.
This in available in CloudAhoy Standard and CloudAhoy Pro.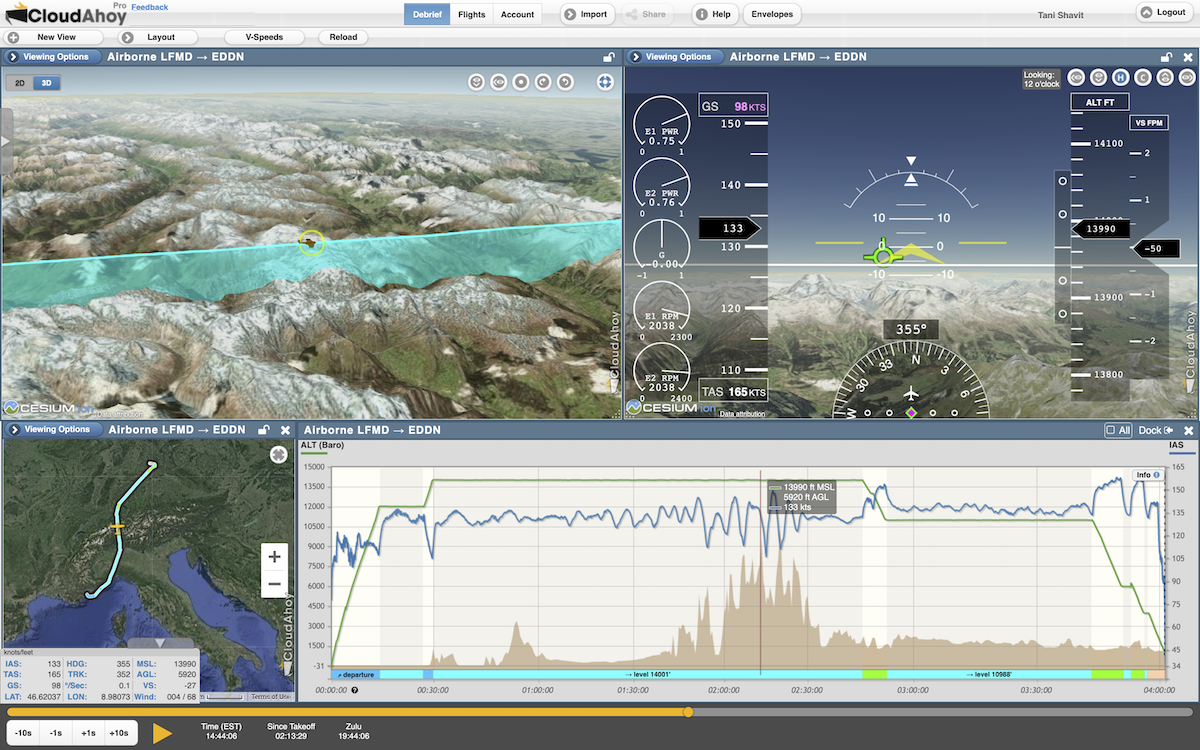 Example: Crossing the Alps
Terrains is shown in brown. Notice the IAS graph (blue) becomes unstable over the peaks, as mountain waves cause significant variations in airspeed.
More details and examples in
http://blog.cloudahoy.com/2022/12/21/terrain-and-agl/
---
*NEW*: Debriefing Eights on Pylons in CloudAhoy
Eights on Pylons is a challenging ground maneuver. It requires accurate maneuvering of the airplane and keeping it coordinated, while dividing attention between the flight path and the selected points on the ground.

We recently added to CloudAhoy the capability to automatically identify and score Eights on Pylons.
We developed this feature in collaboration with Paul M. Cairns, Assistant Chief Flight Instructor at Embry-Riddle Aeronautical University, Daytona Beach Campus. Paul says
"This maneuver is the most beneficial to grade, because it is a challenge to grasp conceptually and visually. It is an exercise in division of attention, manipulating all the flight controls simultaneously, and the effect of wind on ground speed and pivotal altitude."
Identifying Eights on Pylons is available in CloudAhoy Standard, scoring is available in CloudAhoy Pro.
Example: A well executed Eights on Pylons
A training flight - the Eights on Pylons maneuver is selected in the Segment Manager
(on the right), the Segment Info showing the score (which takesAGL into account).
More details and examples in
http://blog.cloudahoy.com/2022/12/13/eights-on-pylons-in-cloudahoy-commercial-maneuver/

---
Map showing CloudAhoy users

---
As always, comments are welcome; simply reply to this email, or use the Feedback link. We reply to every email!

Chuck Shavit
and the CloudAhoy team
cloudahoy.com

A gift that would be appreciated for 12 months!