SUBSCRIBE HERE
Keeping Kentville Connected
Joseph Barrs - One of the Greatest Privateers!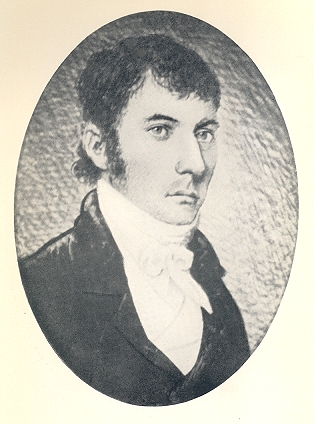 Joseph Barss (21 February 1776 – 3 August 1824) was a sea captain of the schooner Liverpool Packet and was one of the most successful privateers on the North American Atlantic coast during the War of 1812.

In 1804, he married Olivia DeWolf, the daughter of judge Elisha DeWolf (after whom Wolfville is named). After the war of 1812, Barss settled near Kentville, and part of his land became the Oak Grove Cemetery, where he and Olivia are buried.
Read more of his amazing exploits.

What's Happening in Town?
Event Highlights!
1.
Plant, Yard and Bake sale at the Glooscap Curling Club
, May 16
2.
Cookie Walk fundraiser
at the Kentville Salvation Army, May 16
3.
Kings Historical Society monthly meetin
g (AGM) Guest Speaker Paul Illsley will share his experiences with a photographic tour of Isle Haute, May 26
4.
Hallelujah Girls
playing at CentreStage Theatre
5. Kentville Market moves outdoors to Centre Square on May 20!
Find out about what is happening in Kentville by visiting these websites:
In the News
An Annapolis Valley teenager has been selected to represent Canada in the 2015 Toyota Dream Car Art Contest!
Reilly Fitch describes his dream car as a mobilized vehicle that enters places facing natural disaster, war or crisis and provides an instant play area for children.
Read more.
Kentville publisher racks up more book awards.
Book designer Andrew Steeves, co-owner of Gaspereau Press in Kentville, has racked up another three national awards for his designs.
Kentville gymnast to compete at Atlantic, Eastern Canadian championships.
Rayna Davidson recently qualified to compete for Team Nova Scotia in artistic gymnastics at the Atlantic championships!
Read more.
In the Community
Recreation News
Youth Discovery Rides: Learn the fundamentals of mountain biking during this five week program for ages 9-13. Thursday afternoons 4:00 - 5:30 from May 14 until June 11 at The Gorge in Kentville.

Outdoor Stroller-fit at Miners Marsh, Kentville: Get fit with your little ones in tow!
Stroller-fit is a child-friendly, full-body workout for parents. Each 60-minute class includes intervals of cardio drills and functional strength training including postnatal-specific core work and flexibility. Come out and meet other parents in your community, moms and dads alike! All fitness levels are welcome. People without children looking for a great workout in the outdoors are also welcome to attend.
May 19 to June 26, 2015
Daytime: Mon/Wed/Fri 10:00 to 11:00 am
Evenings: Tues/Thurs 5:45 to 6:45 pm
Location: Miners Marsh, 77 Barclay St., Kentville
Cost: $40 for a 10-class pass (can be purchased at Kentville Parks & Recreation, 354 Main Street, Kentville) or $5 drop-in
Instructor: Ashlea Coleman
MOMentumconditioningandpt@gmail.com, 902-321-1251
Facebook

Trail Repair: there is some work happening on the rails-to-trails system outside of the Town limits on the east end. Just a heads up, so you don't come barreling down the trail only to come upon a backhoe rather surprisingly (and potentially painfully!)

Spring Tennis Programs with CANgaroo Tennis: Kentville Spring Program!
Begins May 18th. $5/ class. Drop-In!
Equipment provided.
3pm class meets the coach after school at KCA to walk down to the courts.

Monday
3-4pm: Primary - Grade 2
4-5pm: Primary – Grade 2
5-6pm: Grades 3-5
6-7pm: Grades 6-8

Tuesdays & Thursdays
3-4pm: Primary - Grade 2
4-5pm: Grade 3-5
5-6pm: Grade 6-8

Friday
3-4pm: Primary - Grade 2
4-5pm: Primary – Grade 2
5-6pm: Grade 3-5
6-7pm – Grade 6-8
For more information info@cangarootennis.com

Summer Recreation Registration Night: There will be a mass registration night for all of our summer programs on June 2nd from 5:30-7:30pm in Town Hall! Stay tuned for more details!
Arts and Culture
CentreStage Theatre Presents:
The Hallelujah Girls
Hilarity abounds when the feisty females of Eden Falls, Georgia, decide to shake up their lives. The action in this rollicking Southern comedy takes place in SPA-DEE-DAH!, the abandoned church-turned-day-spa where this group of friends gathers every Friday afternoon. After the loss of a dear friend, the women realize time is precious, and if they're going to change their lives and achieve their dreams, they have to get on it now! Join Carlene, Nita, Mavis, Crystal, Sugar Lee, Bunny ,Bobby Dewayne and Porter in this side-splitting, joyful comedy that will make you laugh out loud and shout, "Hallelujah"!
The Hallelujah Girls
is written by Jessie Jones, Nicholas Hope, and Jamie Wooten. It is directed by George Henry and Peter Booth.

The Hallelujah Girls
plays on May 15,16, 22,23,24m,29,20.
Showtime: Evenings 8 PM; Matinee 2 PM on May 10 and 24
Doors open at: 7:15 and 1:15
A Comedy
Tickets $15/$12 (Call 678-8040 for reservations).
For more information visit www.centrestagetheatre.ca
Kings Historical Society Annual General Meeting
Plus Isle Haute "The mysterious and lonely island"
May 26, 2015, 7:30 pm
Kings County Museum, 37 Cornwallis Street, Kentville
Paul Illsley will share his experiences with a photographic tour of Isle Haute, the sheer-sided and solitary isle that sits midway between Nova Scotia and New Brunswick. A well known but rarely visited island in the mighty Bay of Fundy. Free Will Offering.
www.kingscountymuseum.ca
KCA School News
Liam MacLeod, a grade 6 student at KCA, was the 1st prize winner of the Rotary Club of Kentville, District 7820's writing contest. The topic was: "Fair play, respect, cooperation- how do these themes play a role in your life? How do your actions impact your friends, family and community?" 1st prize was $100. Way to go Liam!
Citizen Question
Question
:
I enjoy browsing your website for the Town of Kentville, but I am also interested in reading the Minutes of Council and CAC on a regular basis. However, the minutes from Council have yet to be posted for January, February or March, 2015; and the last CAC minutes posted were for the month of February, 2015. Why is there such a long delay for these to be posted for public viewing?
Answer
: These minutes were approved during technical upgrades to the Town's server at the first of the new year, and had been inadvertently overlooked. These minutes should be uploaded soon.
The CAC Minutes of April 13
th
will be approved at the upcoming meeting of CAC – May 11
th
.
Draft copies are not made available to the public prior to their approval.
Agendas to both CAC and Council meetings are typically uploaded to the Town's website during the Friday afternoon prior to the meetings.
Agendas are a "work in progress" and often change many times leading up to and during the meetings, so they are marked a "draft" copy for that reason.
Kentville Businesses!
Workplace Essentials is the one stop shop for supplies, office furnishings, equipment, service, and copy and print, for anyone who wants business done their way.
, and consisting of "good people who know", Workplace Essentials provides an authentic and warm customer experience that people will not find with any other workplace solutions provider. The Workplace Essentials experience is consultative, friendly and reliable, and completely customer focused, providing the workplace essentials and solutions for your business.
Important REMINDER: Please Don't Take Turtles from the Wild!
It is shocking to hear that families have been taking turtles from the wild (like Miner's Marsh in Kentville) home for pets. Local turtle expert and biologist explains why they should be left in their natural environment:
For the next month our more common turtle species will also be emerging from their nests along lake and pond shores, river banks and gravel road shoulders throughout the province. As they begin their wanderings to find a suitable place to spend their first winter, you might encounter them in roadside ditches or the shallow margins of ponds, lakes and streams. For people of all ages, baby turtles are very appealing, and it is tempting to bring them home as pets. But, as cute as they are, they deserve a chance to live full and long lives in the wild, where they belong and fit so well. So, if you're fortunate enough to encounter one, savour the experience, use it as a teachable moment with your children, and leave the turtle in its natural habitat for others to enjoy for generations to come.